Woman in Adventure Sports Business
Image Courtesy Almanac-Adventure-Nest

A story of a woman in adventure sports business who has been sustaining  her passion for more than three decades.  For every hurdle she  faced,she found a solution.She never gave up.Grit was the DNA of Rhea.
Passion to adventure sports business
Rhea was passionate about rock climbing, rowing and all other  outdoor activities from her younger days.  It was natural step for her when she started a voluntary  adventure youth club. 
Expert Quote
 "The biggest adventure you can ever take is to live the life of your dreams." 
― Oprah Winfrey
Camping Kits for adventure sports business
Entrepreneurs find solutions when they face a problem and Rhea is no exception.  She had difficulty in procuring good quality life jackets, tents, sleeping bags etc. She decided to start making the entire camping kit herself.
She herself tested the life jackets, being a good swimmer

First Step- A business woman
The youth who participated in the adventure sports purchased the camping kits from Rhea.
An adventure sports business was born.
Challenge on personal front

 
When her business was just picking up, her spouse met with an accident in his work place. He was at the hospital for a long time. Rhea had to take care of her three children and  meet family expenses.
She took up a job in a unit manufacturing water proof jackets. She learnt how to purchase materials and also, to get the best out of tailors.
Entrepreneur Reborn 
How long can Rhea be an employee? The entrepreneurial bug bit her and she quit the job. Armed with the new skills, after two years as an employee, Rhea set up a manufacturing unit at home. She took a small loan and purchased three tailoring machines.  It is not surprising that she again manufactured camping gears but added additional products like seat covers for automobiles. However she could not find enough time to manage the business as family required more attention.  She closed shop.
 I think the key is for women not to set any limits. — Martina Navratilova
Image Courtesy Almanac-Adventure-Nest
 Location advantage
Rhea's house was close to a mountain range and a perennial river. Corporate and academic institutions wanted outdoor activities on weekends.  The aim was to promote team work, risk taking ability and leadership skills among their executives.
The changes in the environment provided Rhea an opportunity to continue with her passion.
She  organized weekend adventure camps like river rafting, rock climbing etc. This helped her to focus on her family during weekdays.
She became President of local chapter of adventure sports association and executive member of national association. This network helped her to expand her business.
How can life be without surprises?
Wheel turning full circle:
The adventure camp weekend business ran successfully for six years. However family circumstances required Rhea to be at home. She had to put an endto her travel even during weekends
Have a Plan B ready 
Rhea wanted to continue with her passion. She decided to set up an organization which would work even without her day to day presence. Rhea revived the manufacturing of camping gears business at home by hiring the tailors and a supervisor.  Rhea continued with the outdoor activities by hiring a retired army major as its head. She employed a two member marketing team to procure orders for both camping gear and outdoor activities. She has won many awards as a successful woman entrepreneur. Don't you agree that Rhea is really a gutsy woman?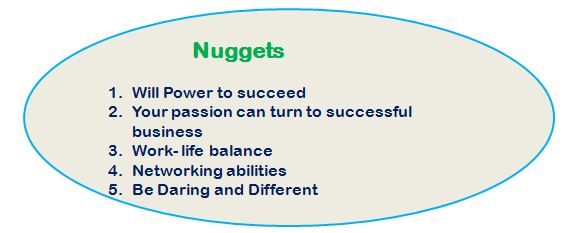 ​