Accelerators and Startups
Accelerators and  Startups is a recent addition to the entrepreneurial ecosystem, especially, for tech. startups. Technology has enabled many revolutionary startups and some of them have less asset intensity. The traditional system cannot fund or provide support for such new age ventures.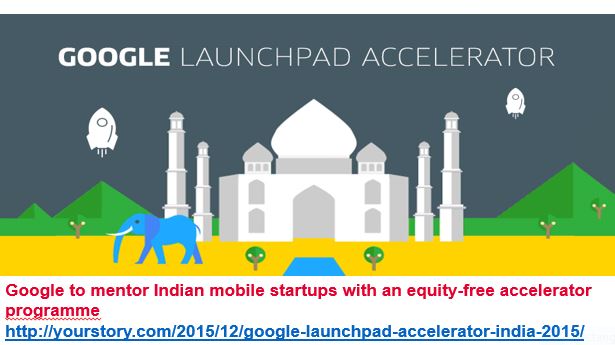 Accelerators and Startups- Definition
Startup accelerators are fixed-term, cohort based programs, that include mentorship and educational components and culminate in a public pitch event or demo day."
"Quality mentorship is the secret sauce behind a great accelerator." - Alex Iskold - Managing Director of Techstars in NYC
Accelerators and Startups- Evolution
The first seed accelerator Y Combinator was started by Paul Graham in the USA in 2005, and is currently based in Silicon Valley. It was followed by TechStars  in 2006 ,Seedcamp in 2007 and  Startupbootcamp in 2010, 
Accelerators - Incubators- Difference
Accelerators "accelerate" growth of an existing company, while incubators "incubate" disruptive ideas with the hope of building out a business model and a company. Accelerators focus on scaling a business while incubators are often more focused on innovation.
The success rate of admission into accelerator program varies from 1-3%.
Accelerators and Startups - Benefits
The business gets mentored by experienced entrepreneurs/ investors. It is time bound ranging from 3-4 months. It helps the startup business to get access to network, markets and enhances the reputation as they are associated with well-known names. Normally the investment is INR 3 million for an equity of 5-8%
 The motto of one of the accelerators is- "Move Fast! Break Things! We will take the blame." 
Accelerators and Startups- Indian Scene
The following are some of  the accelerators in India spread over Bangalore, Chennai, Hyderabad and Gurgaon which are the cities witnessing explosive growth of technology startups.
Source:  inc42.com
1.Catalyzer- Hyderabad
Founded – 2014
Focus Area – Technology, Brick & Mortar, Social Enterprises and Non Profits.
Program-is for 101 days' mentorship driven entrepreneurship cohort accelerator program for startups. Twice each year, they select up to 12 startup teams (or individuals) and help them navigate the crucial first stage. Selected startups receive financial support in the form of pre-seed capital, work space, IT facilities and other resources.
Funding – INR 5 – 10 lakhs on 7 – 12% equity
2.Health Start-Hyderabad
Founded – 2014
Focus Area – Healthcare
Funding – $100k
It is India's first accelerator program dedicated to supporting startups in healthcare industry through funding, mentorship and other requisite support. It is launched by HealthStart & ISB's human centered design-focused incubator, DLabs. Its a 20 week program providing selected startups with investment capital to develop their ideas further. 
3.Freemont Partners- Mumbai
Founded – 2012
Focus Area – Mobile, Internet & Cloud
Freemont is India's first Global accelerator and incubator, which provides seed funding to entrepreneurs focused on technology driven startups. It provides mentorship, strategic direction and access to local/global mentors and partners.
Funding – Seed capital of up to INR 50 Lakhs
Notable Startups – Natural Mantra
4.GSF Global Accelerator - Gurgaon
Founded – 2012
Focus Area – Internet and Mobile
Funding – $25k – 30K for 5 – 8% equity
Runs a 13-week program, it aims to provide select startups with unparalleled access to venture and business networks, personalized & intensive mentoring, and initial capital. GSF Accelerator is designed to help product-oriented startups.
4.Kyron Accelerators- Bangalore
Founded – 2012
Focus Area – Web and Apps
Kyron has introduced a new concept of pre-accelerator, which will admit about 20-25 startups. Such startups will be put through a six-month incubation period after which Kyron handpick the companies for its accelerator batches.
5.Microsft Accelerator - Bangalore
Founded – 2012
Focus Area – Cloud, Internet and Mobile using Microsoft technologies
Focused towards promising early-stage startups or first-time entrepreneurs, Microsoft Accelerator runs program of 4 months, starting in January and July every year. , selected startups get strong mentoring, technical guidance and connections to other startups.
6.500 Startups - Mountain View, San Francisco, and Mexico City
Founded – 2010
Focus Area – Open for all domains
Funding – It invests $100k in exchange for 7%, and charge a $25K program fee for a net $75K investment. (Mountain View & San Francisco). And $40k in exchange for 10%, and charge a $12K program fee for a net $28K investment. 
Founded by Dave McClure famous angel investor from Silicon Valley, 500 Startups run 4 – month accelerator. It's like a Startup MBA on steroids providing startups access to a network of 1000+ founders, 200+ mentors, and its staff for guidance and mentorship
Though not an Indian accelerator, but 500 Startups is quite active in the Indian startup space and has accelerated and invested in a good number of Indian startups over the past 2 years.
Accelerators and Startups- Books
What do Indian Startups Expect from Startup Accelerators? [Report] Kindle Edition- Ashish Sinha 

There are close to 50 startup accelerators in India and interestingly, most of them offer a mix of services - some just focus on mentorship and some on real estate. Few accelerators have just focused on getting the team investor-ready, while some of them provide a lot of soft support (motivational/team building) to the startups.
Accelerators and Startups- Conclusion
Traction is the holy grail of progress. The accelerators are a great boon for technology startups. The funding is from successful entrepreneurs. Accelerators help in reducing the risk of tech. startups
The vast network of mentors, market access and support provided by accelerators has helped in the growth of many startups.
The Indian Scene is quite encouraging. The entrepreneurs should have a proven concept and market acceptance before they can apply for the accelerator program.
​