Bootstrap Startup
 Bootstrap Startup- Why ??
First-time entrepreneurs often have trouble getting funding without first showing some traction and a plan for potential success.

 It is due to limitations in securing external funds for untested ideas.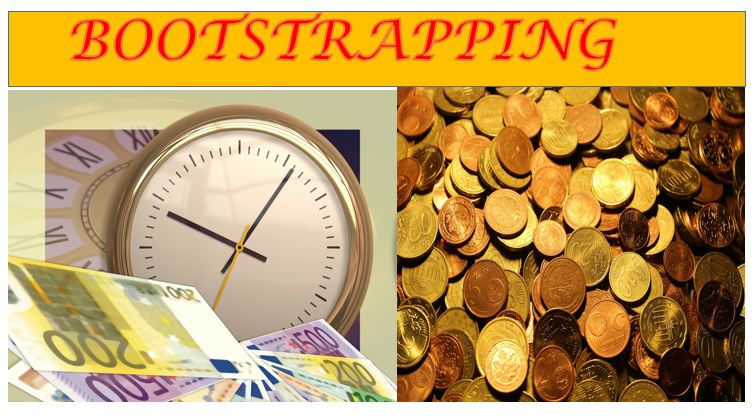 Bootstrap Startup- What is it?
Bootstrapping in business means starting a business without external help or capital. Such startups fund the development of their company through internal cash flow. The fund can be own or borrowed from friends and relatives.
1B37C2
 

 Bootstrap Startup- How to Go About it??
1.Tips
 DESIGN A BUSINESS MODEL THAT GENERATES CASH QUICKLY
Not all businesses are equally ripe for bootstrapping. The most successful bootstrapped companies have a business model that generates cash as quickly as possible. Without any cash inflow, you'll burn your reserves before gaining any real traction.
2.PICK A COFOUNDER WISELY
Having two perspectives heading the company can be critical. When bootstrapping, the vast majority of the work is done internally, so cofounders need to complement each other's skill sets. If you're good at different things, you have a better shot at being able to do everything between the two of you, keeping expenses low.
 3.BE THRIFTY
 Source:fastcompany.com
 Bootstrap Startup
- Teaches the Startup Entrepreneur Many Important Lessons
Money: You really don't know whether you will have enough money to pay salaries or take some money for yourself for food/office etc.
Resources: You don't have money to use third party services, you can't hire people you want
The value of money: Every penny you spend will be after thinking twice. The company will be very lean.
The value of not-outsourcing: We do everything in-house. If we don't know, we learn and do.
Manage Time and multiplex: Many studies say it is bad to multiplex, but we, entrepreneurs, know that either multiplex or die. Our brains might be getting screwed up a bit. But screw it, just do it.
Partnership 
This can provide both capital and complimentary skill for a bootstrapped company startup.
https://inc42.com/resources/simple-guide-startup-bootstrapping/
Bootstrap Startup
 Advantages
Ø Bootstrapping means greater control over both your business and your partners. 
Ø Makes you innovative and creative to find solutions that will not burn cash
Ø Boot strapping may not provide enough investment for the company to become successful at a reasonable rate.

Bootstrap Startup
-
Limitations 
Å      Personal Risk
Å      Limited Network
Å      Growth cannot be accelerated
Å       Hiring  specialized human resources
Why Bootstrapping for Startups



10 Successful Bootstrapped Startups of India
https://www.startupworld.com/startups/indian-bootstrapped-startups/

Why Bootstrapping for Startups

A Case Study: Quick Heal
Source; Company website
To be the trusted Global Leader in securing the Digital World.
Quick Heal Technologies Limited which was formerly known as CAT Computer Services (P) Ltd started as a computer service center in 1995. Through constant innovation and technology adaptations it established itself as a complete IT security solutions provider and renamed the company as Quick Heal Technologies Pvt. Ltd. in 2007.
A business that was solely started with trials and errors, along with empathy towards its users.
Highlights
Went public after 21 years
Venture capital Investment after 15 years
2010:
·         Private Equity Investment Firm Sequoia, invests in Quick Heal
2011:
·         Incorporates Quick Heal in Kenya
·         Incorporates Quick Heal in Japan
·         Quick Heal acquires 'Surf-Canister' Sandbox technology from 'Appruva Technologies, India'
2016:
·         Completes IPO. Listed on NSE and BSE stock exchanges
FY16
·         Revenues grew by 18% on YoY basis to Rs 3,380.7 million
·         EBITDA grew by 12% on YoY basis to Rs 1,024.6 million
·         PAT grew by 9% on YoY basis to Rs 584.0 million
What Are The Pros And Cons Of Bootstrapping A Startup?-T
odd Belveal, Founder and CEO at Washlava
https://www.forbes.com/sites/quora/2018/01/11/what-are-the-pros-and-cons-of-bootstrapping-a-startup/#12f622b338aa
 Bootstrap Startup

- Conclusion
Bootstrapping a startup is a right strategy for most business based on existing ideas. Disruptive or highly innovative products which require market development cannot be started with bootstrapped funds.
Bootstrapping gives freedom and also teaches how to get resources at a low cost.
However, beyond a certain stage funding from external sources will be a must to grow the business.
​