Words of Wisdom Series  # 

207




 
Wannabe Entrepreneurs  who have only 2 minutes for Gyan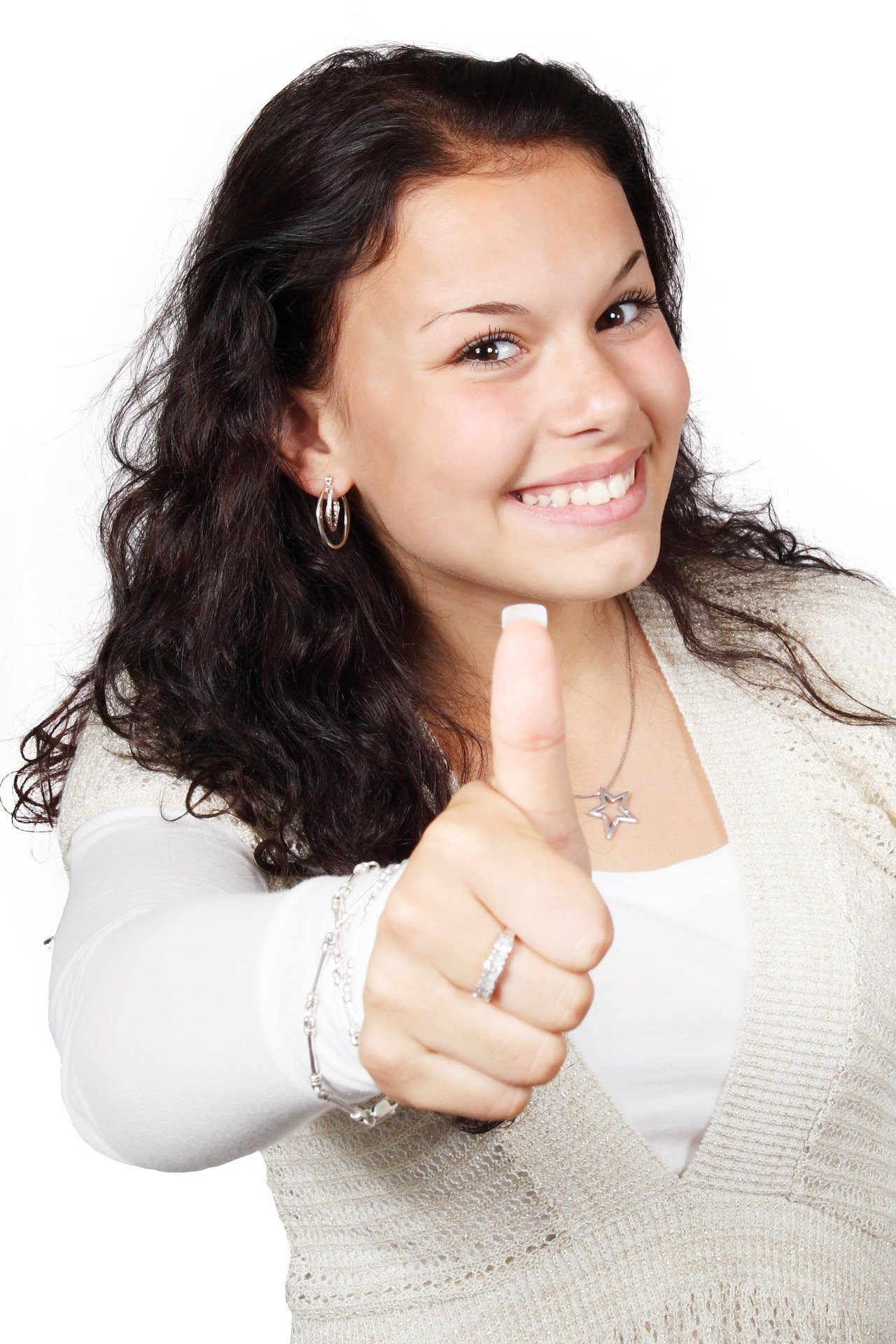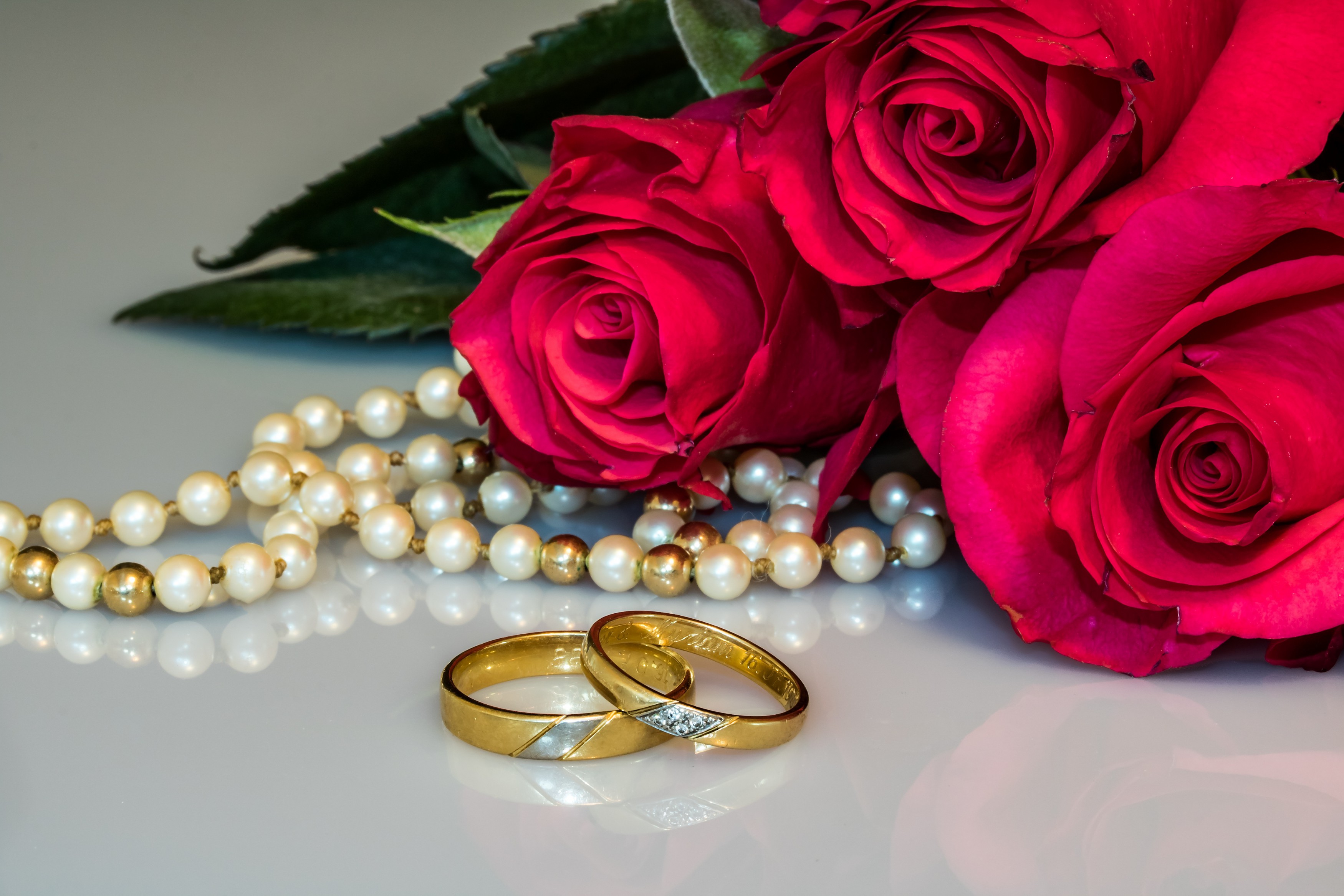 Words of Wisdom for Successful Blogging 
Constructive Comments on fellow bloggers pages-Philip Verghese Ariel

Building a solid relationship with the influences are a good point here, for this I used my comment strategy, in fact, my blogging journey started by commenting on fellow bloggers pages, and I can bet, if you post a constructive and relevant comment on the subject it will not only get the attention of the blog owner but also it will catch the attention of readers and visitors there.
I am sure if your comment is a thought provoking one surely that will work and people jump into your page. Here again this is a tedious process and you need to read a lot and equally lot of patience!
In short, I can testify that my comments on different blogs made me a blogger!
Source-successful Blogger.com

Words of Wisdom for hiring the first employee for a startup-  Start With the Numbers- Brandi Koskie-Founder-Clover Partners
Check your books to ensure that hiring your first startup employee won't crash your fledgling company.
You'll need to consider how much you can reasonably afford in salary and whether you'll provide benefits.
You may also consider offering startup equity for first employees.

Sourcemonster.com
Words of Wisdom for Aspiring   Restaurant Startups
Step by Step Guide
Follow this step by step guide that will solve all your queries on how to open a restaurant in India: 
Decide the concept of your restaurant
Get investment to fund your restaurant business
Evaluate restaurant costs involved
Decide the location of your restaurant
Get all the licenses required to start the restaurant business
Get the workforce for your restaurant business
Design a stellar menu
Arrange vendors and suppliers for your restaurant
Install the right technology at your restaurant
https://www.posist.com/restaurant-times/resources/complete-guide-opening-restaurant.html

Words of Wisdom for Aspiring  Startups- Social Media for Startups-Tips
Identify Best Social Media Marketing Channels for Your Startup-Tahha Ashraf -cloudways.com
What you need to identify at first is 'What are the best social media marketing channels for my startup'. You can't have an answer to this question without trying out the best social media channels which generate a positive impact on businesses such as Facebook, LinkedIn, Youtube, Pinterest, Instagram, and Twitter.

Words of Wisdom for Aspiring  Startups
Neil Patel's gyan on selecting business partners to avoid failure
Complements your strengths with theirs
 Has knowledge and skills you don't have 
Has a personality that you can be around for extended periods of time
Is passionate about the company you're starting together
Words of Wisdom for Aspiring 

Mompreneurs-
KARLA OF FRESH METRICS
 Karla is a digital analytics expert that specializes in well-implemented google analytics solution websites
"My goal is to have more flexibility to be with my daughters when I need to. My big dream is to spend summers in Europe with them exploring new countries and cultures."

The biggest learning curve Karla has experienced during her journey as a mompreneur is to trust her expertise. She preaches doubling whatever price we have set in our head since service providers often undervalue their work.

 Source-https://www.solstudiomarketing.com

Words of Wisdom for Aspiring Event Management Startups

Technology in Event Management
Studies show that using event technology can increase attendance by 20%, increase productivity by 27%, and decrease costs by as much as 30%.- Source- socialtables.com

Words of Wisdom on Startup Failure Rate
What can you do to be among 10% and avoid being in the 90% for your  dream startup. Blogs to support you in 10mnutesbiztools.com
According to a report by IBM Institute for Business Value and Oxford Economics, 90 percent Indian startups fail within the first five years.

Words of Wisdom on the right qualities of a startup entrepreneur to succeed
1. Focus on solutions
2. Startup is Stressful. Ability to manage crisis
3.Avoid micromanagement
4.  No blame game as you are solely responsible
Words of Wisdom on attracting Investors for a startup Idea
This is MYTH # 01
Unless you have traction  either in terms of revenue or number of customers it will not happen
Words of Wisdom on Using Influencer Marketing for your Startup
Working With Influencers: Advice For Startups-Sophia Matveeva-Startup founder in fashion tech.
The Yoke Network, an influencer marketing platform, recommends that companies work with as many nano-influencers as possible. Nano-influencers, those with 2,000 – 10,000 followers, are not often approached by brands, and can become happy and willing promoters simply in exchange for free use of your product. 
https://www.forbes.com/sites/sophiamatveeva/2019/05/28/working-with-influencers-advice-for-start-ups/#4105bcc62935
Words of Wisdom  from a failed Startup
DOZEN TIPS for you to SUCCEED from Startup Journey
My Startup Failed, I Lost Everything. Here's What I Learned.
This specific epic fail however and lessons I learned from it (although there have been many and I'm sure more to come) really helped me with some of the wins I've had and hope it does the same for you.

Don't limit yourself to starting only what you think could be a billion dollar company
2) Choosing your co-founder
3.Get clear on WHO you're making this for and how they can be reached.
Talk to your ideal customers / "Validation"
Rest of the Nine Tips-https://medium.com/@StartupJourney/my-startup-failed-i-lost-everything-heres-what-i-learned-44658a116464
Words of Wisdom   on How to raise funds


 EXPERT TIPS TO RAISE STARTUP FUNDS-

CAROLYN M. BROWN



Prioritize Your Time
"Prescreening potential investors who couldn't invest would have helped me spend my time with only investors who could. Before taking a time-consuming meeting, try to make sure that your potential investor 1) has capital 2) is the decision maker and 3) regularly and recently invests at your stage and in your market. Your time is your most valuable resource when fundraising." —Adam Lieb of Duxter
Know That Introductions Matter
"Too many entrepreneurs waste time hustling investors at networking events. I wish I would have known that most of my investors would come from my existing network, often through introductions from friends. Ask fellow founders if they know of any investors who might like what you're doing, and you'd be surprised how many are willing to introduce you. Warm intros are the key to getting a meeting." —Heidi Allstop of Spill
Realize the Difficulty of the Process
"I wish I had realized that the process of locating and pitching to angel investors and venture capitalists is not as easy as it seems. You must have a detailed business plan in place, a budget and a compelling story behind your startup. Also, knowing how to deal with rejection is a must if you want to get through the process unscathed." Andrew Schrage of Money Crashers Personal Finance
Prove Traction First
"After we landed some major clients and demonstrated our ability to bring in revenue, we had a much easier time raising money. In retrospect, I would have spent more time on business development before starting to raise outside investment." Martina Welke of Zealyst
https://www.blackenterprise.com/expert-tips-startup-capital-entrepreneurs-advicemoney-for-your-startup/
Words of Wisdom   on How to select the right Mentor for your Startup
So what does make a good mentor and how can you get the best from them? Understand what makes a good mentor, pick them thematically and appreciate your key goals and pick mentors accordingly. Pick individuals who are just a few degrees above you professionally and make sure you bring something to the table, but don't shy away from pure digital interactions. Knowledge that changes your business can come from all mediums when you have focused goals and great mentors.-Arnoo ,Founder of Fanbytes,
Words of Wisdom   on Key Performance Measures for Startups
Three Experts wisdom on Key Performance Measures for  Startup Success
"I would argue that the single most telling metric for a great product is how many of them become dedicated, repeat users." - Andrew Chen, Angel Investor
"One of the top five metrics I look for in startups that are scaling is the retention of users or customers." -Tom Henriksson, Partner at Open Ocean Capital
"If a startup has a basic product or is looking for market fit, then one of the top three metrics I always ask for is MoM (Month on Month) Revenue Growth." - William Mcquillan, Partner at Frontline Ventures
Source-www.geckoboard.com
Words of Wisdom  for Startups on Customer Acquisition
We know what our customers want (or don't want).
Perhaps the greatest inhibitor to go beyond "Have a nice day" service platitudes is the belief within a firm that its prior history and years of experience result in perfect knowledge of what customers want and do not want. Virtually every firm at one time has felt it could skip the development of requirements via "customer visioning" and go straight to implementation of new processes and channels for customers. After all, the firm has been in that business for (insert number of decades here) and no one knows their customers better than they do.There is, in fact, someone else who better knows what the customer wants -- the customer! In order to develop an ideal, customer-defined future vision of the firm, there is no other substitute.
https://searchcustomerexperience.techtarget.com/feature/Ten-myths-about-your-customers-Strategies-for-creating-customer-loyalty

Words of Wisdom  for Startups n Pricing Strategy by TOMASZ TUNGUZ-VC at Redpoint



Penetration (Market Share)
Price the product at a low price to win dominant market share. A bottoms-up strategy lends itself to penetration pricing. Price low to minimize adoption friction, grow quickly, and then move up-market after developing broad adoption. Penetration pricing leads to land-and-expand sales tactics. Expensify, Netsuite, New Relic, Slack follow this model. Penetration prioritizes market share.
Words of Wisdom  for Startups with Friends as business partners:


Maintain Clear Channels of Communication among  friends turned partners-Josh Rubin, owner and CEO of P

ost Modern Marketing
In a previous version of my company, I employed two of my best friends. I trusted my friends, so I took their word for it when they said that they were staying on top of their roles. But, pretty soon, an IRS audit uncovered that my friend was paying themselves more money than we'd agreed upon, for hours they weren't working. As a result, the relationship, and the business, were damaged beyond repair.
My one big tip for anyone starting a business with friends is: Don't start a business on promises alone.
Words of Wisdom  for Aspiring   Startups:

How to make startup partnership with friends Successful?- Tips for you!
Have a short-term memory-Eric M. Shapiro- Co-founder and CEO, ArcTouch
Source-Quartz.com 
Work conflict is a healthy part of any business as long as you work to resolve it. But if you have both a business and personal relationship with your co-founder, it can magnify the tension in any situation.
Having forums to resolve conflict is important. But equally important: having a short-term memory. Today's disagreement won't seem as high-stakes tomorrow. So, let emotionally charged disagreements rest. Resolve them the next day, when you can approach them with the necessary dispassion. Adam and I have had many disagreements, but we've found that when we logically solve them later, we sometimes forget why we were fighting so hard at the start.
Words of Wisdom  for Aspiring  Entrepreneurs from Successful Serial Entrepreneur- KEVIN BURKE- CEO- Centuria
At its founding, a business is victim to what you don't know; at adolescence, it's victim to what you think you know; and as it matures, it's victim to how willing you are to hand the reins to those more qualified.

Words of Wisdom  for Aspiring  Startups-

How do you select one idea over another?


Samuel Bacharach-
McKelvey-Grant Professor, Cornell University
Words of Wisdom  for Aspiring  Women Entrepreneurs
How to differentiate the business-

Sarah Michelle Gellar

, Foodstirs
"We are taking advantage of all social platforms to involve our customers in the experience. The Foodstirs experience does not end with purchase. We offer alternative recipes, substitutions, how-to videos, as well as original content. I believe the modern consumer not only wants transparency in their food products, but they want their voices to be heard."
Source:www.bizjournals.com
Words of Wisdom  for Aspiring Startups:  Booster for successful Negotiations- Active Listening
Leaders often have to make hard decisions, and innovation leaders must constantly evaluate what idea or prototype to move forward. Every time you make a decision, you're at risk. No matter how much data you've accumulated or how much research you've done, something will be missed. What is important is that you develop a language of justification; whether your idea has succeeded or failed, you need to be able to let others know why you choose one path over another.
The innovation leadership dilemma is a classic decision-making problem. Unless you have a template by which to judge ideas, you'll be flipping and flopping, and you'll never be quite sure how to select. In an organizational context where time and resources are essential, you need to have clear criteria to select the best idea.
In the final analysis, innovation leaders are held accountable not simply for the success of the prototype, but for their decision to move an idea or prototype forward. When you're facing that challenge, you have to give a justification beyond your gut feeling. You need to present the criteria you used to support your decision. 
Active listening not only means focusing fully on the speaker but also actively showing verbal and non-verbal signs of listening.
Generally speakers want listeners to demonstrate 'active listening' by responding appropriately to what they are saying. Appropriate responses to listening can be both verbal and non-verbal.
 https://www.skillsyouneed.com/ips/active-listening.html
Words of Wisdom  for Aspiring Startups: Tips for successful Bootstrapping-Avoid the obvious mistakes
www.forbes.com-

Kate Harrison



 Bootstrapping involves intense amounts of listening to the needs of your potential partners and customers.
Marty says: "It is crucial to remember to ask everyone with whom you come in contact if they would be willing to buy the product or service you are creating."
Just as importantly, you need to gain an intimate understanding of the business needs of your potential initial customers. And in addition, it pays to determine as soon as possible who the right people are to hire or to help you. The right partner or advisor can ensure a company's success; the wrong ones can break it.
Words of Wisdom  for Aspiring Startups: Top 5 ingredients for QSR success-Jason Tober |

Blog

, 

Restaurant reporting
To make a successful QSR, you need five main "ingredients." We'll dive into each of these "ingredients" and explain why each one plays a big role in the success of your business.

The BEST recipe for homemade QSR success:
2 cups of hire the right people
1 cup of training
2 Tbsp. of develop good leaders
1/2 tsp. of enforce the rules
Pinch of monitor the numbers 
Words of Wisdom  for Aspiring Startups:

Strategies for talking about your competitors- 

CHARLIE KANNEL, TUMML
Don't trash talk the competition
Yes, you need to communicate why your product is different from competitors. However, the age-old advice "show don't tell" is key.
Focus on your company. Whether you highlight your differentiated product, first-mover advantage, or unique expertise, stay away from insulting another company. Specifically, steer clear of negativity toward another founder, sharing any breaking scandals, or disparaging their culture.
https://venturebeat.com/2017/05/21/startups-3-strategies-for-talking-about-your-competitors/
strategies for talking about your competitors
Pearls of Wisdom  for Aspiring Startups- How to avoid

failure-

Sérgio Schüler-Teamometer 
… If there is just one thing you should learn, it is: Just speak to prospects and extract their pain, then sell the painkiller (before building the product). If they are willing to buy, do take their money and invest that money into building the product…Company: Teamometer -Author: Sérgio Schüler
Source: https://medium.com/swlh/10-failed-startups-post-mortems-from-founders-382be3804661

Pearls of Wisdom  for Aspiring  Fifty + Startups 
Jaswant KularCo-founder and Executive Chef, 

Jaswant's Kitchen
"My advice to other people in their fifties is to not be afraid. You are about to have the best time of your life. No more worrying about looking after young kids, it is finally your turn to live your life the way you want. It is a lot of work but the reward is also that much greater."
SOURCE:https://www.shopify.in/blog/entrepreneurs-over-50
Pearls of Wisdom  for Aspiring  Startups on  Effective Marketing:James Dawson- TEA +
What's your tip for effective sales and marketing ? 
Sampling and face to face interaction. Especially in the early days, and for a new category product like t plus, sampling in store, on the street or at events is critical. Letting people see that green tea can taste good, and just what makes our teas different helps spread the word and create buzz.
Pearls of Wisdom  for Aspiring Momprenurs:

Nicole Feliciano 

CEO Momtrends Media//Speaker//Influencer
Top 3 lessons for starting a business
1.   Layout your roadmap: figure out how you're going to live with less in the beginning as the business is in its growth phase. That first year is hard and you usually need to invest everything you make back into the business, so a plan on how that's going to work and what it'll look like is crucial. 
2.   Network: Get your ideas out there. Talk to other moms! If you want to launch a product, ask how much they would pay for it, what they like/don't like about other products that are similar to yours. Meet with other business minded women and don't be afraid to ask them who else you should meet with to ask questions. 
3.   Make sure your family is on board: Have open communication with your spouse and kids on what starting this business is going to look like. You may have to cut back on expenses for a while. You may also have to hire a sitter or someone else to pick them up from school. But also let them know how this is going to benefit your family and your why behind it. Most of all, reassure them you are still there for them.
Source:https://momfabulous.com/become-mompreneur-3-success-stories/
Pearls of Wisdom : Customer retention is critical for startup growth-Vivek Jaiswal-Customer Guru
When a startup is working hard to acquire new clients, and growing one customer at a time, it is supremely important that its customers stick around. Without a great customer experience, early adopters or the first few clients would never stay longer than their first contract term. For a startup, delivering an exceptional customer experience is the key to retaining early customers; without customer retention, a startup's growth is stymied.

Pearls of Wisdom :  Cash Flow Tips for Startup Success-
startupscouk
Cash flow is a valuable metric for business success. You need to keep track of 'inflows' and 'outflows' and be prepared for ebbs and flows
Understand where money's coming from… and where it's going
The first step towards successful cash flow management for start-ups is simply to understand where your cash is coming in, and where it's going out.
Pearls of Wisdom :  How to convert a startup failure to Success
Nihal Mehta, CEO and co-founder of LocalResponse

Stay in the game as long as possible. "I learned this the hard way--it was six years from my first company to my first exit," Mehta says. "Building products isn't easy, but if you keep working hard, keep throwing things at the wall, you will find a way."
Source:entrepreneurcom
Pearls of Wisdom : Lead Generation Tips from Agile CRM
Create buyer personas and revisit them often:
It's crucial to maintain insight into who your typical customer is and what they need. Revisit your buyer personas every quarter at a minimum, and ideally every month, to ensure your message stays fresh and relevant to your audience.
https://www.agilecrm.com/blog/lead-generation-tips-and-tricks/

Pearls of Wisdom: Successful Hair Salon -Vidal Sassoon
"Hairdressers are a wonderful breed. You work one-on-one with another human being and the object is to make them feel so much better and to look at themselves with a twinkle in their eye."
Pearls of Wisdom: Is Passion really Key for startup Success?
Pradeep Goyal in yourstory.com
It really does not matter what your passions are. In a startup, you do everything passionately.
You don't have to spend hours and days to find out your passion to start your company. You have to become willing to start up and then do everything passionately.
Pearls of Wisdom:Metric Design-Ben Horowitz-Co-Founder of Silicon Valley Venture Firm
Do you want to succeed in your startup?
Describe the key leading and lagging indicators
Are they appropriately pared For example, do you value time ,but not quality
Are their potential negative side effects?
What is the process you used to design them
Pearls of Wisdom: Pricing Strategy for Startups-

sequoiacap.com
Pricing Your Product
A lot of startups treat pricing as a math problem or, worse, an afterthought. Pricing is as much an art as it is a science, one that relies as much on marketing and psychology as it does on classical economics.
Pearls of Wisdom- Word of Mouth Marketing-

Derick M. David
The most valuable form of marketing , you can't buy it. You can only deliver it. Aside from the product you are offering, if for example you're deciding about merch pieces, t-shirts or hats or stickers, they have to be weill designed and cool enough for somebody to want to buy it or the wear it, walk around advertising the brand of your startup.

Pearls of Wisdom : For FOODPRENEURS:Shawn Werner

Creating Questions for Foodpreneurs
With this in mind, your first step is creating questions to get experiential information from anyone operating a similar or identical food business as yours.
For instance, if you dream of opening a restaurant, you'll create specific questions for this type of business and interview restaurant owners.
Based on the type of food business you'd like to start; the questions you create should be specific. 
Pearls of Wisdom : RIGHT MINDSET for an Entrepreneur
      Growth vs. fixed mindset:  SOLOMON TIMOTHY 
The  mindset every entrepreneur must master is a growth versus fixed mindset.
A growth mindset views the opportunities ahead as limitless.
A fixed mindset is limited by the current state of things.
Successful entrepreneurs largely focus on a growth mindset, as it allows them to think big and push forward.
Pearls of Wisdom  for startup Ideas
Take Precautions to Protect Your Idea Before showing It Around- Stephen Key
 Startups-Proactively and strategically network

The value of your network goes well beyond providing insights into the market.
Your contacts can open doors to money, customers, vendors, and high-level employees. 
Geri Stengel-president of Ventureneer
Gyan for Success of Restaurant Startups from 

Brandon O'Dell- Restaurant Consulting
Simple is more profitable



Whether we are helping you develop a menu, design a logo, website or marketing piece, or advising on how to solve employee issues, we believe that it is better, and more profitable, to keep things simple.
The simpler your plan is, the more likely you will be to follow through on it and succeed. 
When a plan is simple, it requires less time, less labor, less supervision, less planning and less money.

Key Elements of Success
Believes providing good food and service is only a 1/3 of the battle for restaurant owners – the other 2/3 is effectively marketing and managing your restaurant.
Gyan for Startups for facing Competition

 -Take Measured Risks-

Ideas Worth Spreading 
Pearls  of Wisdom Series for Startups on Blogging
Grammarly spelling and grammar checker
GYAN on  Importance of Visuals in Content Marketing
GYAN on Demand Generation
Success in demand generation is like cooking: It's the just-right combination of careful planning, meticulous measurement, and making sure the oven is always set to the right temperature. - Oracle Blog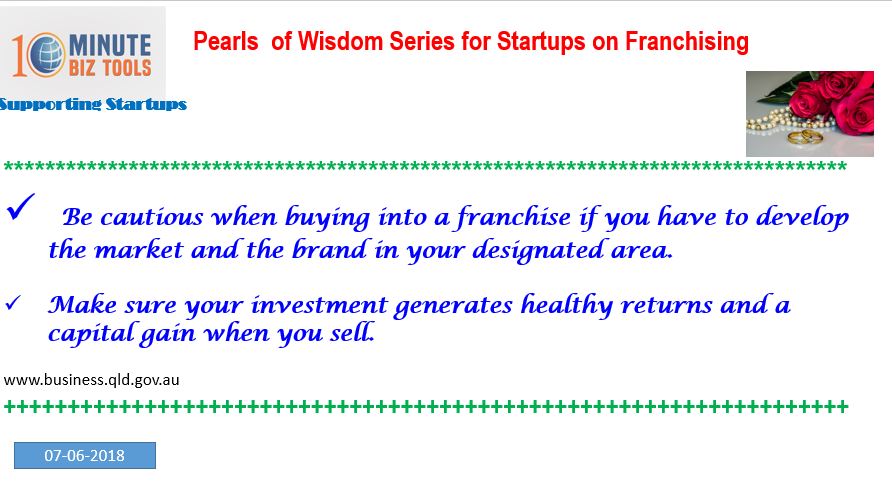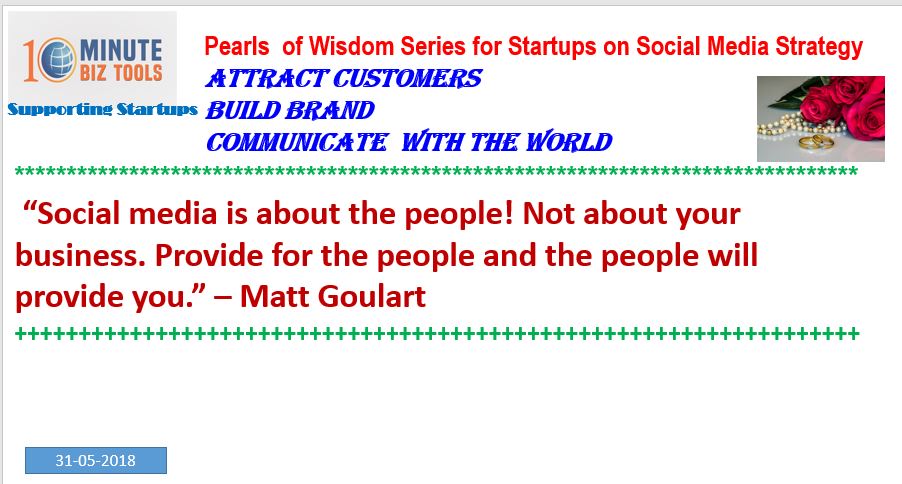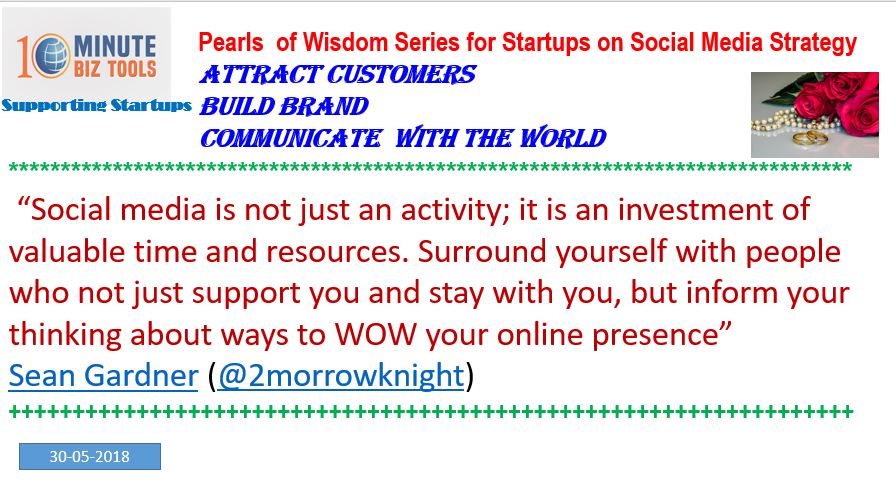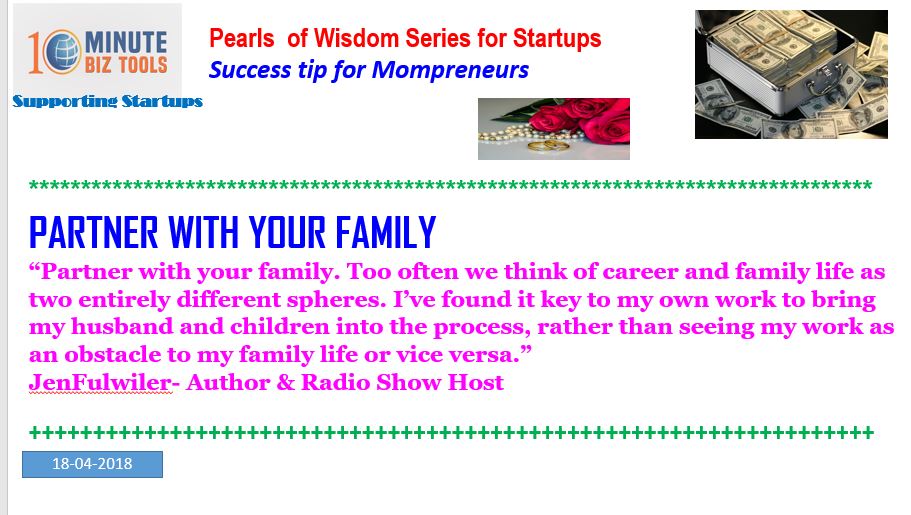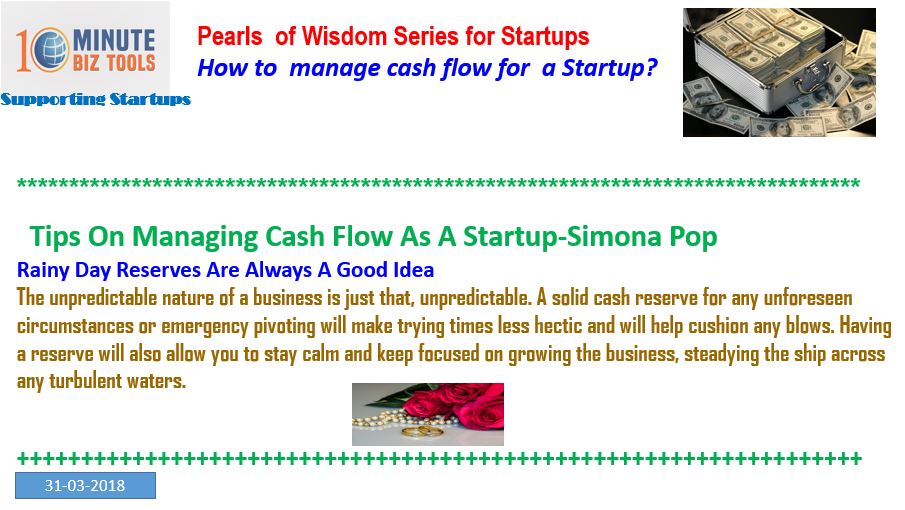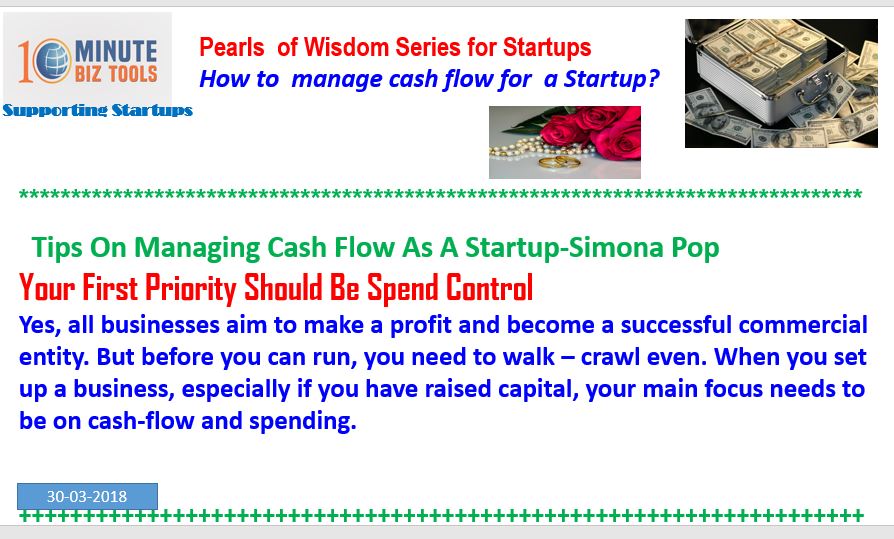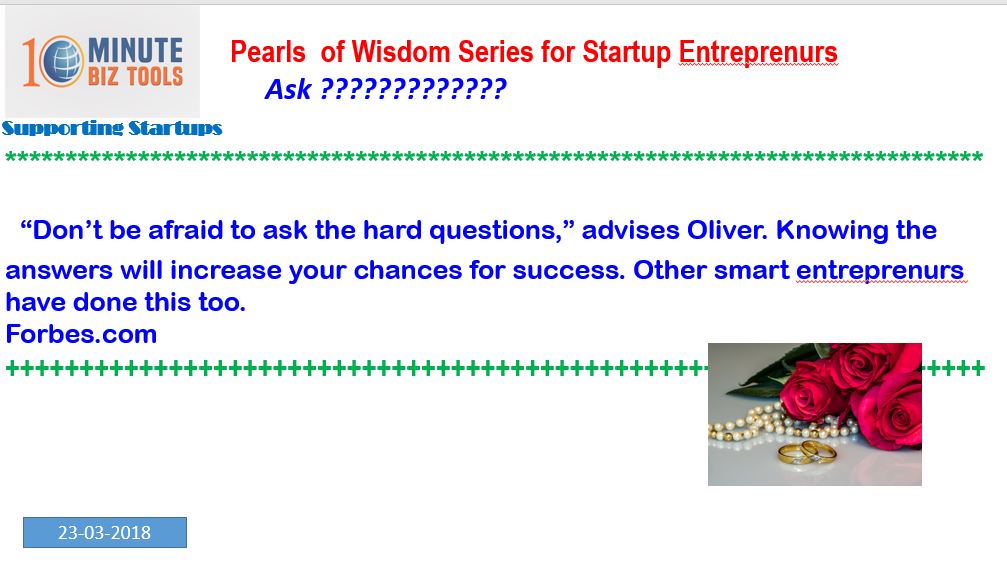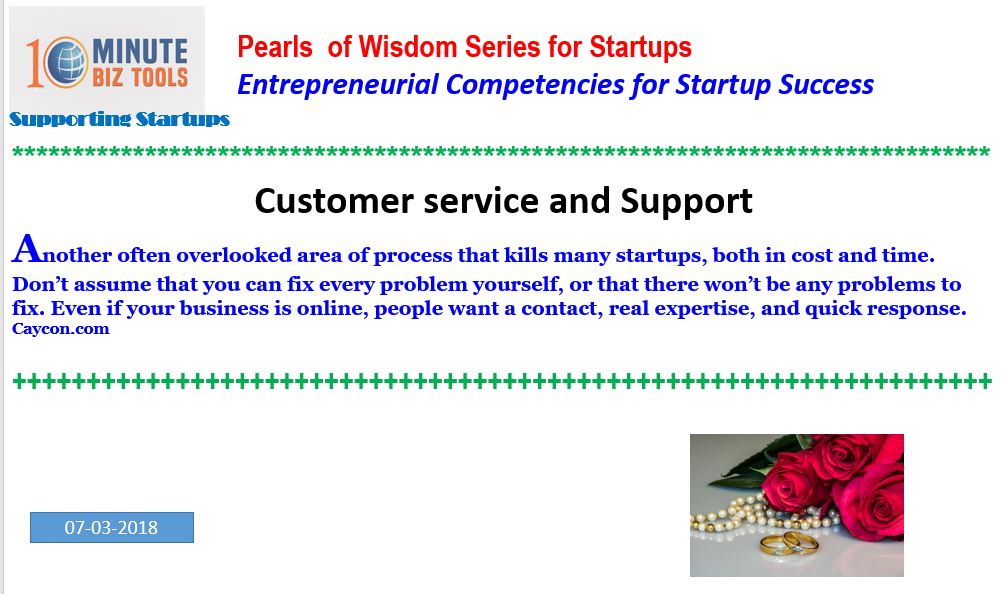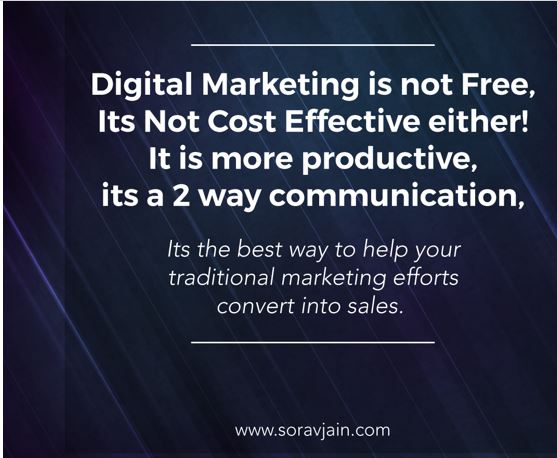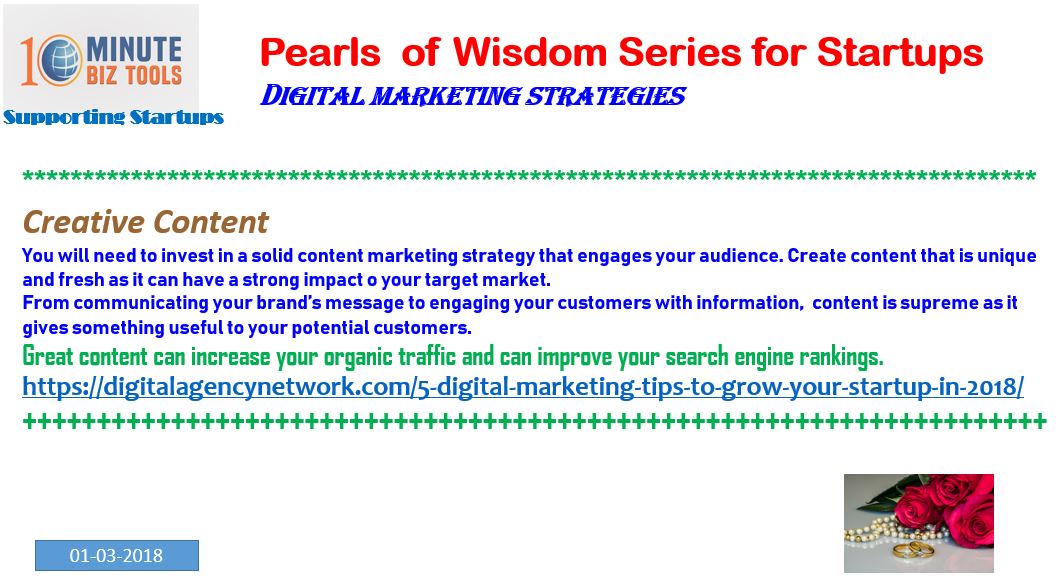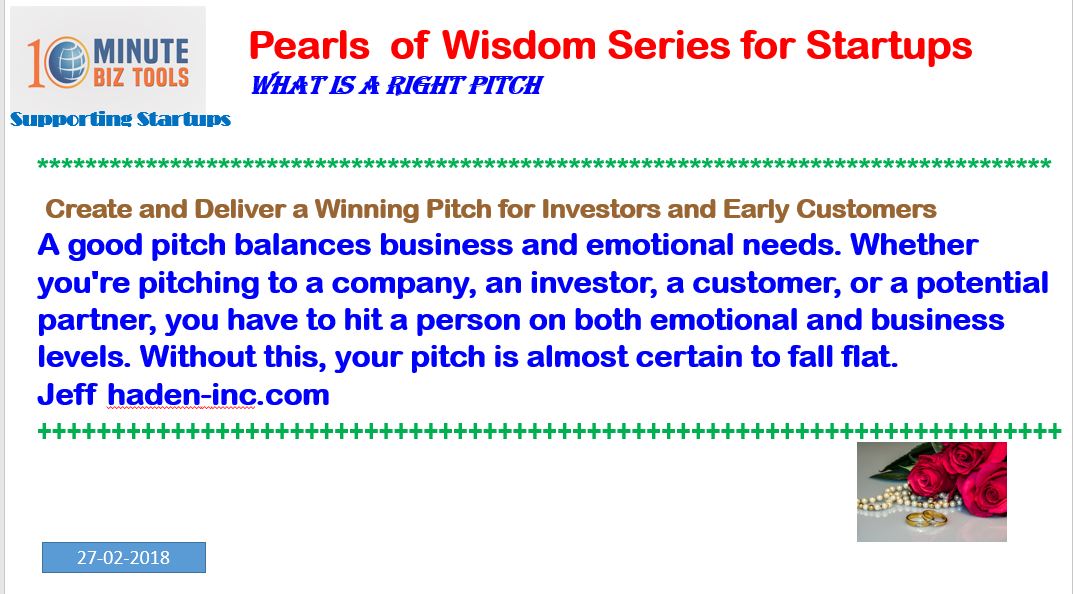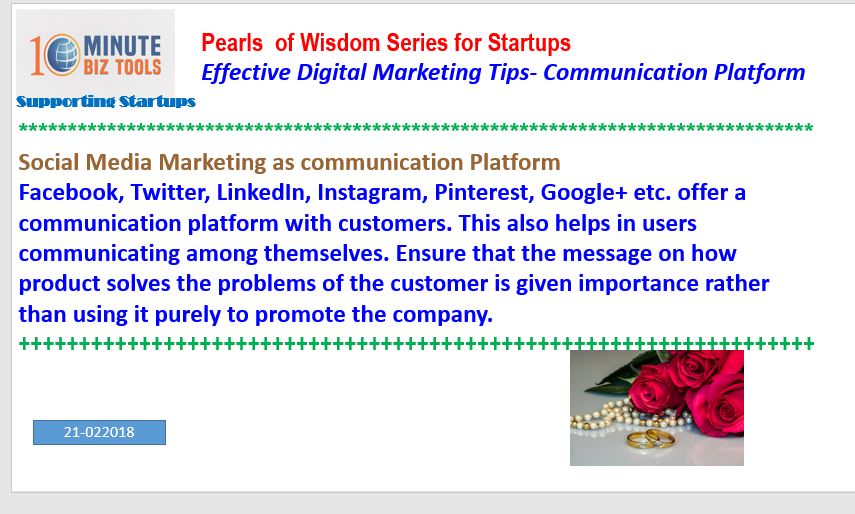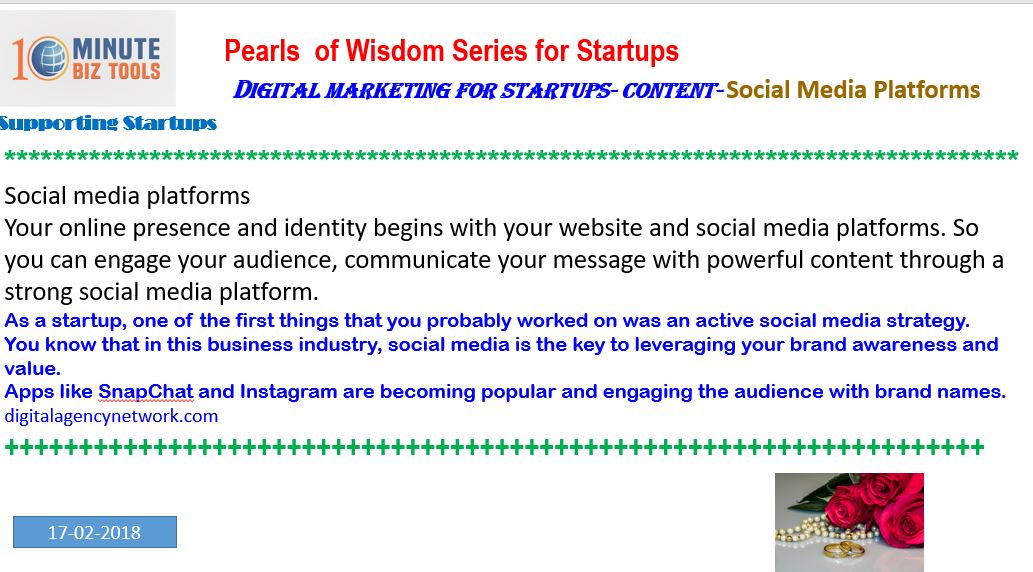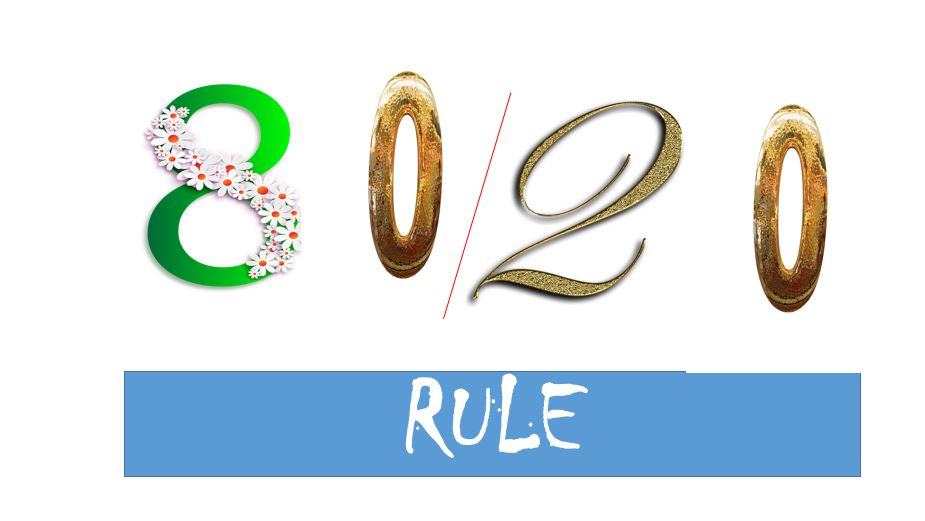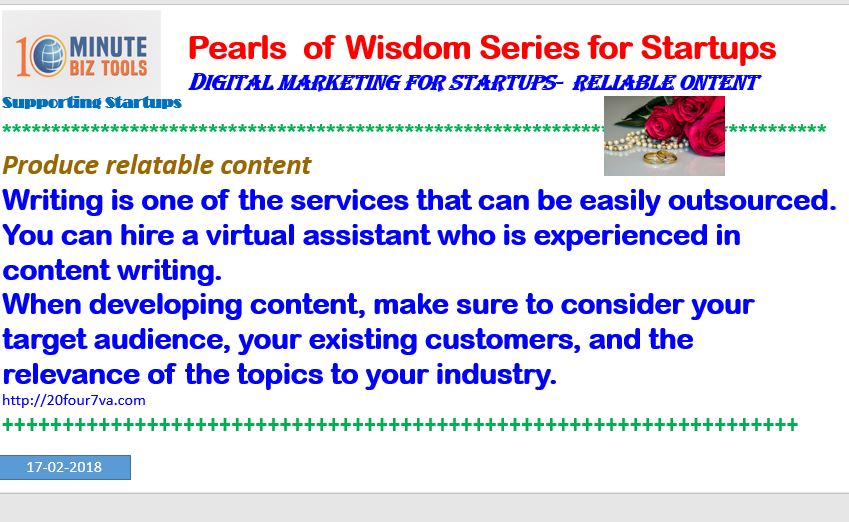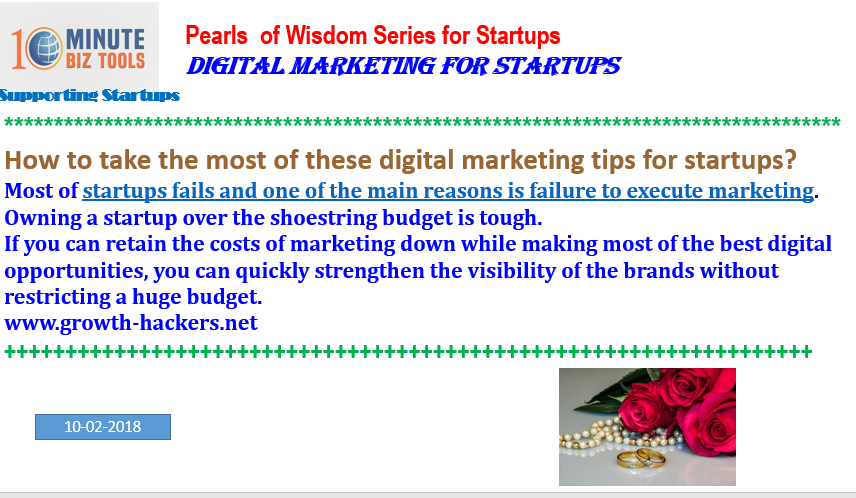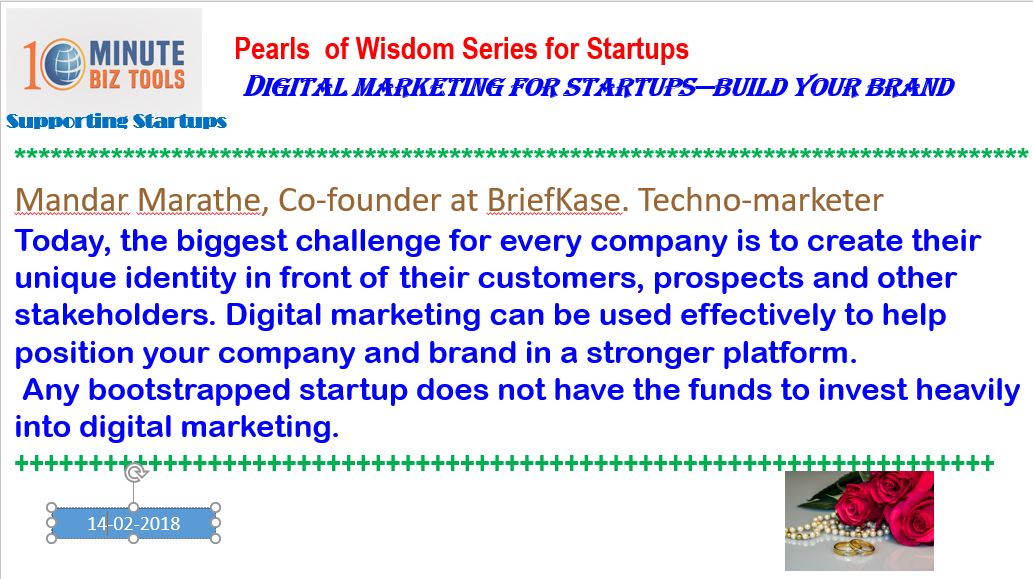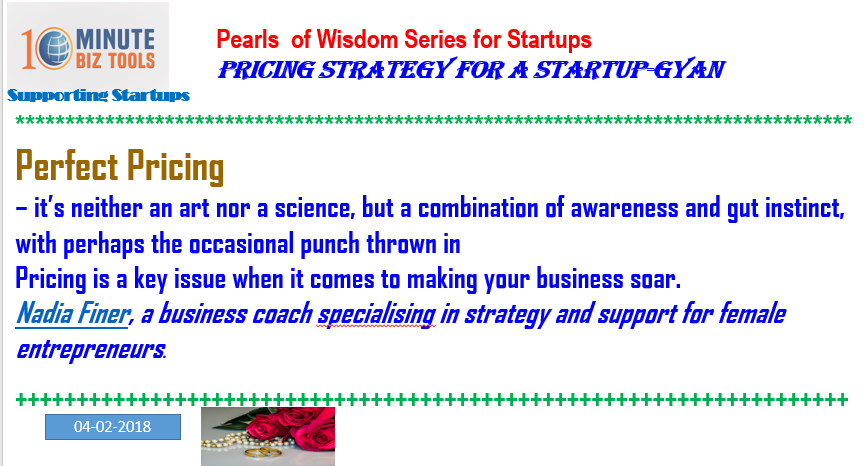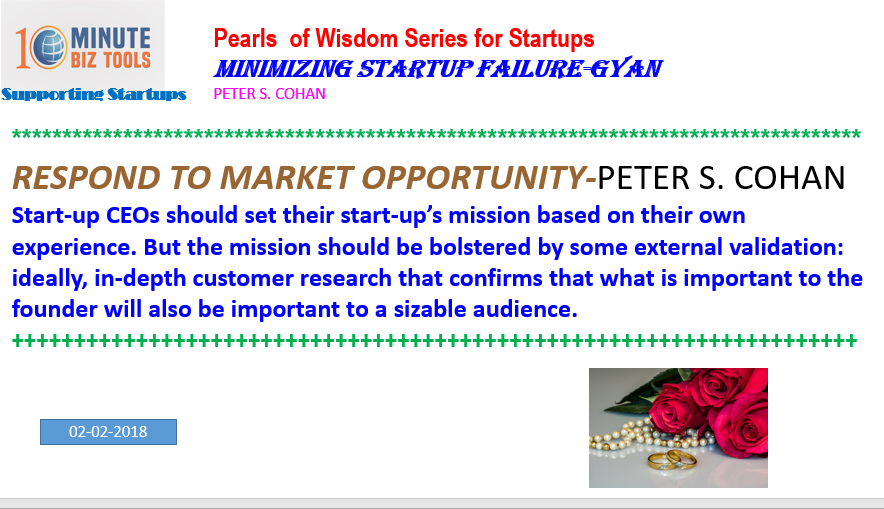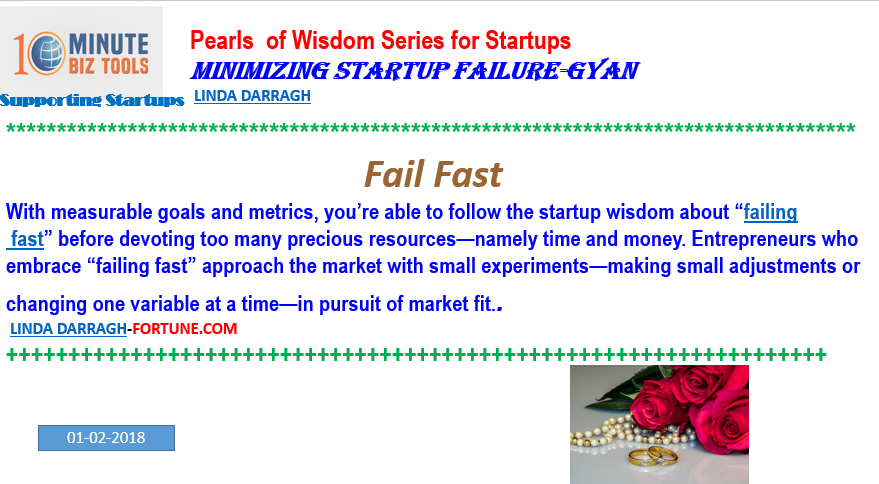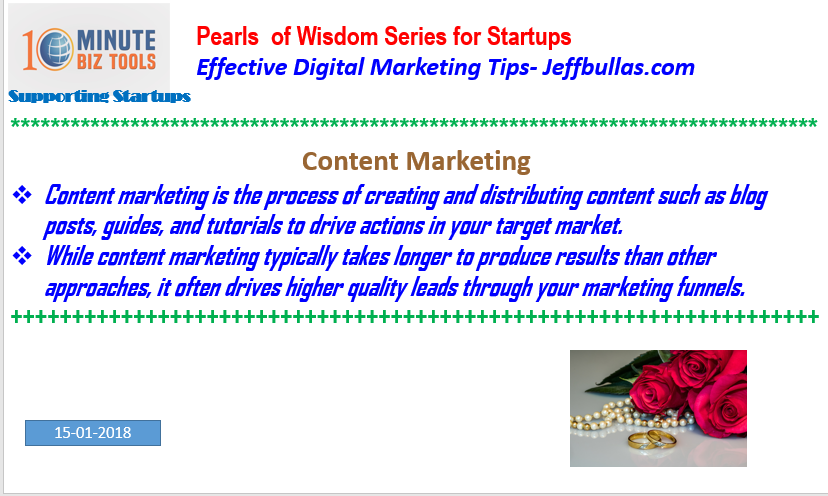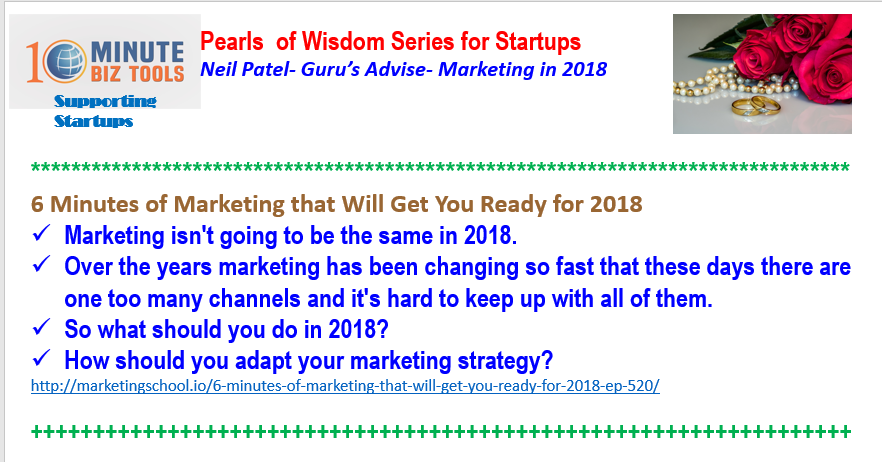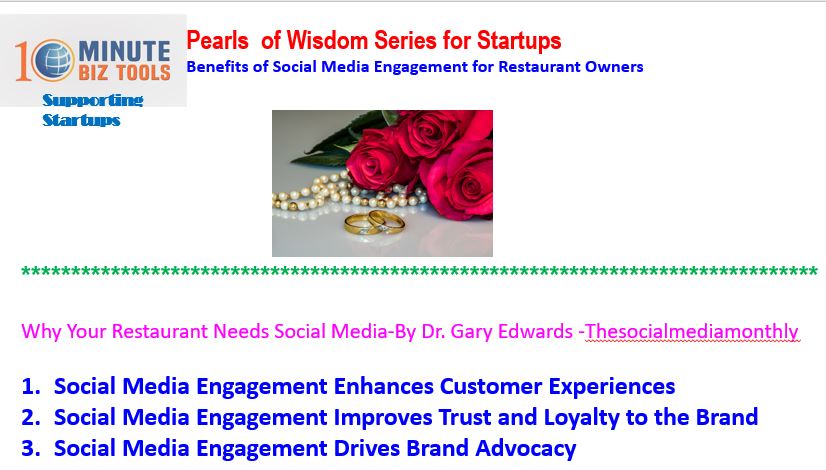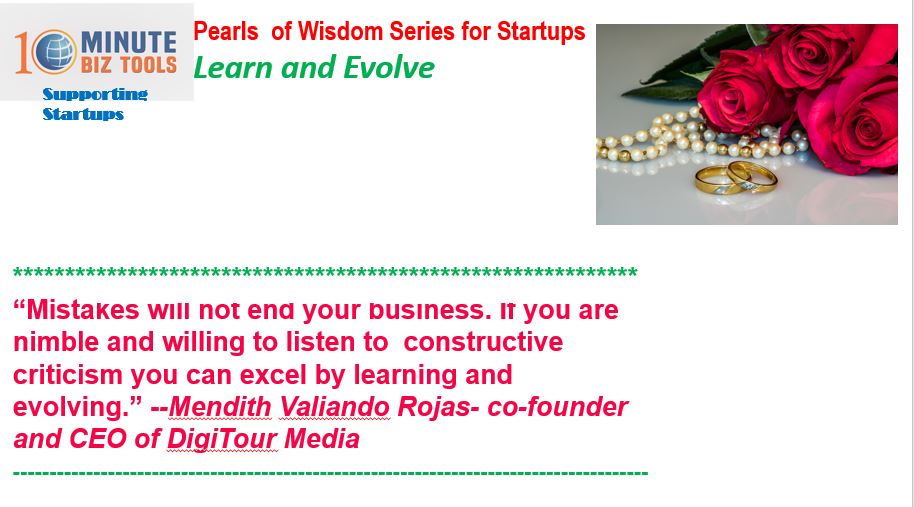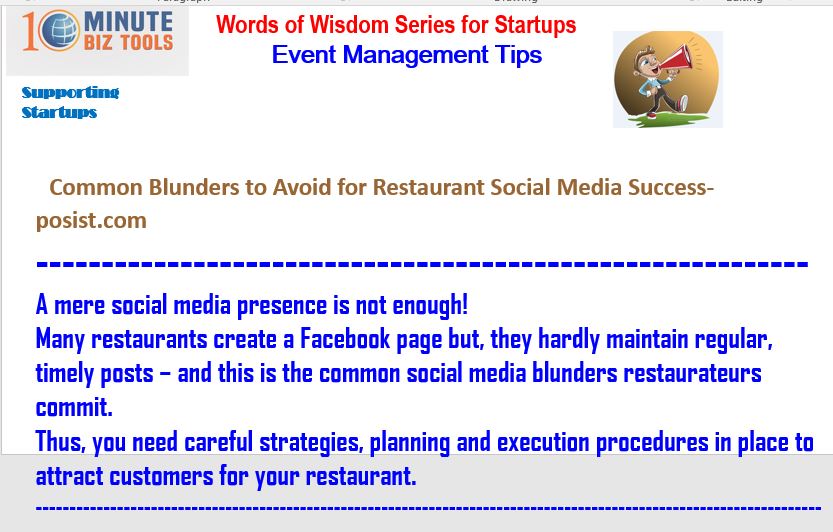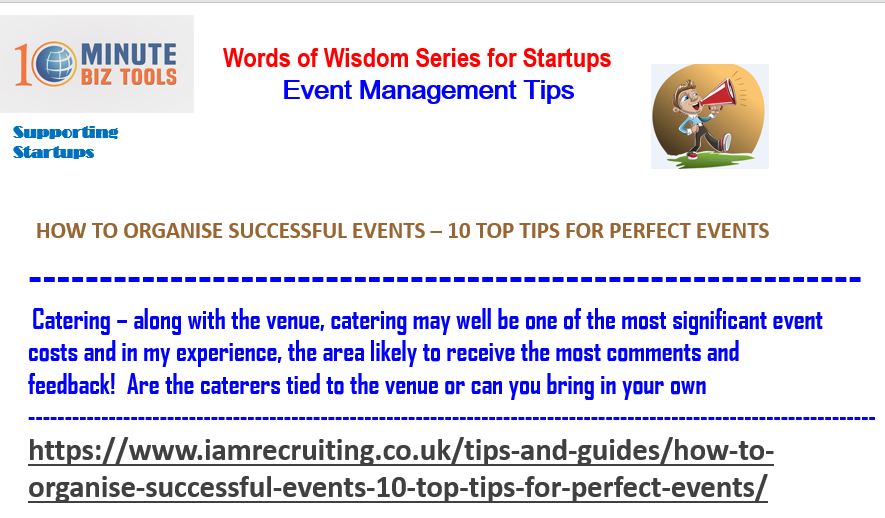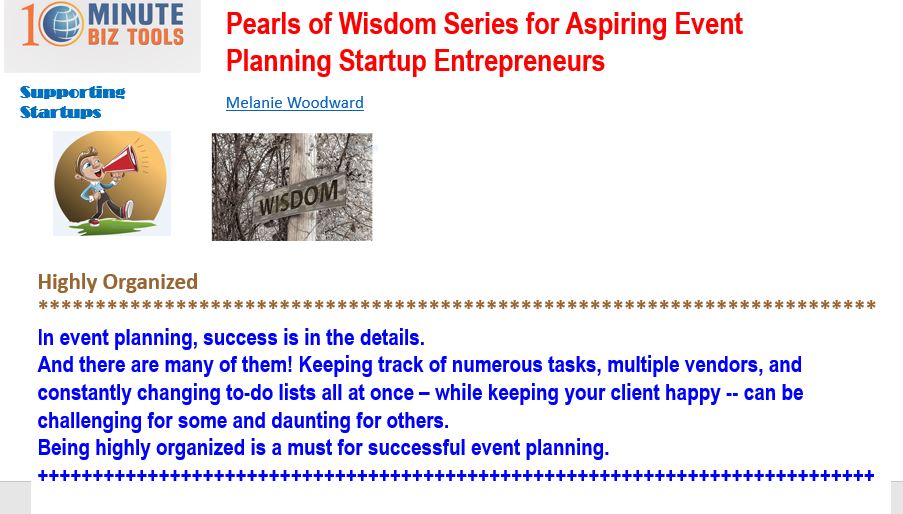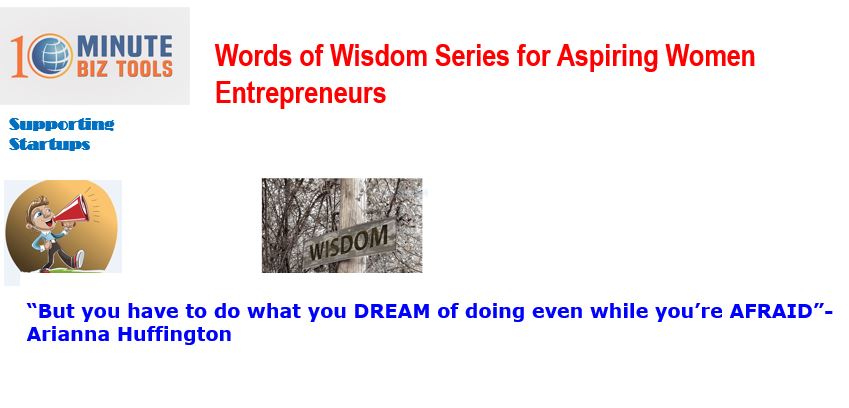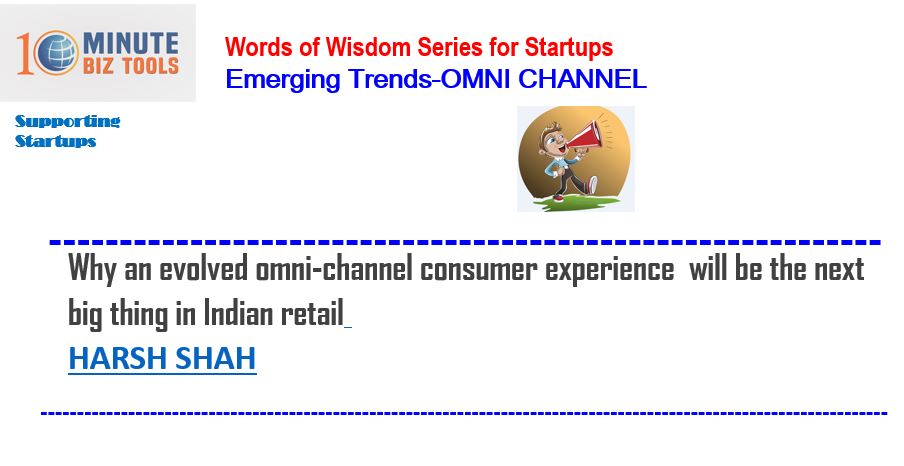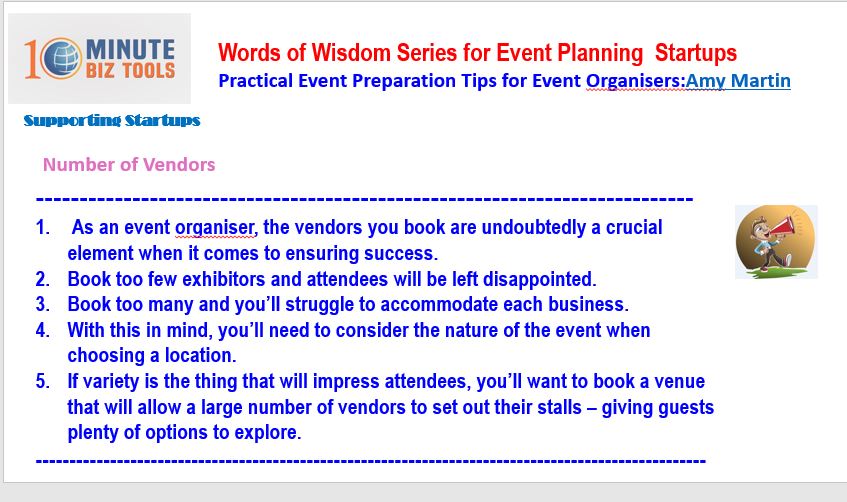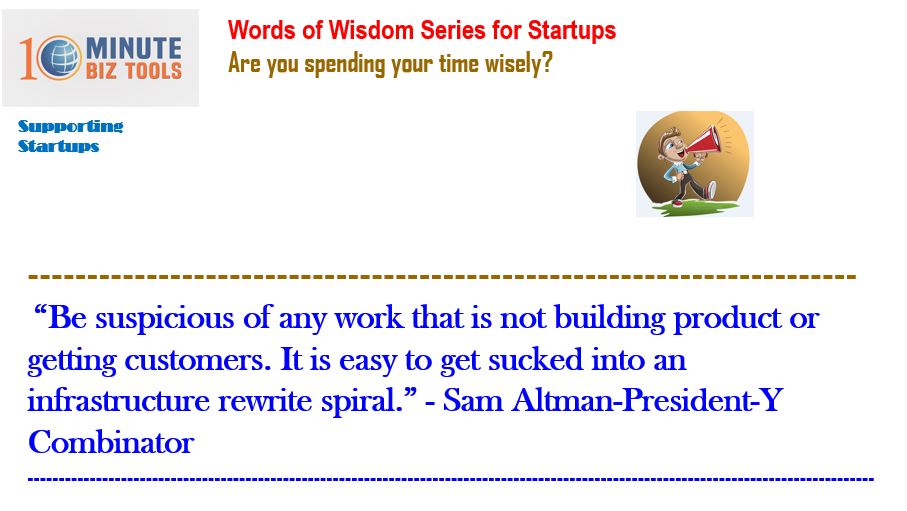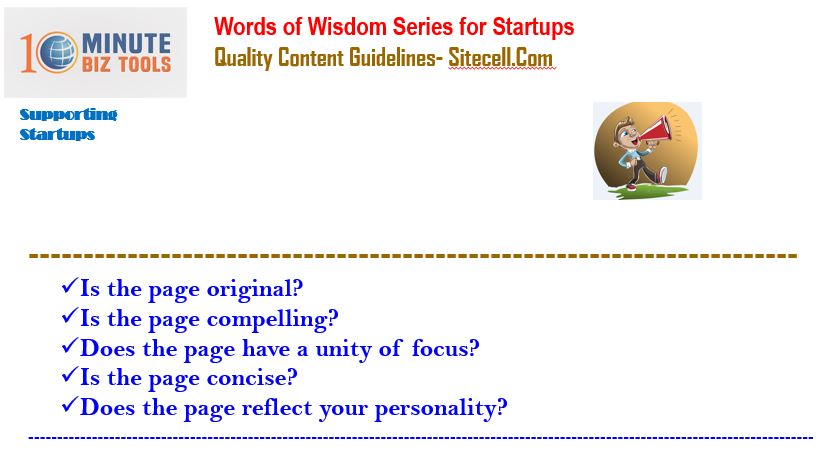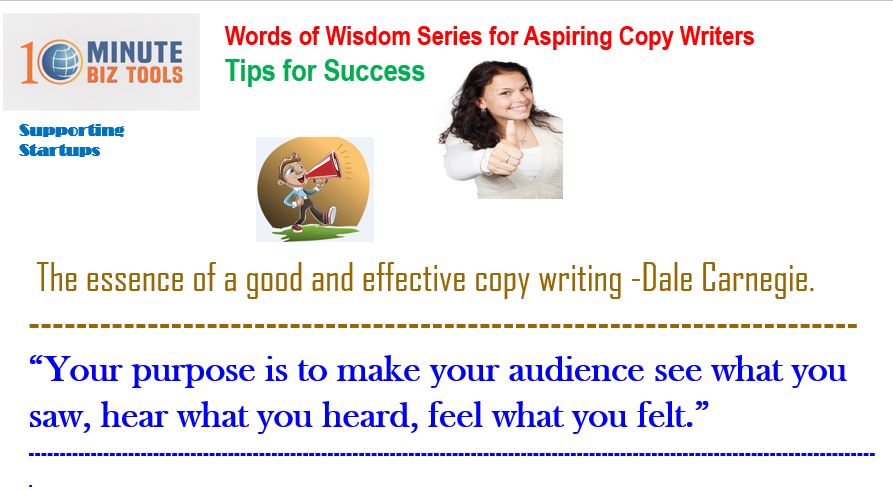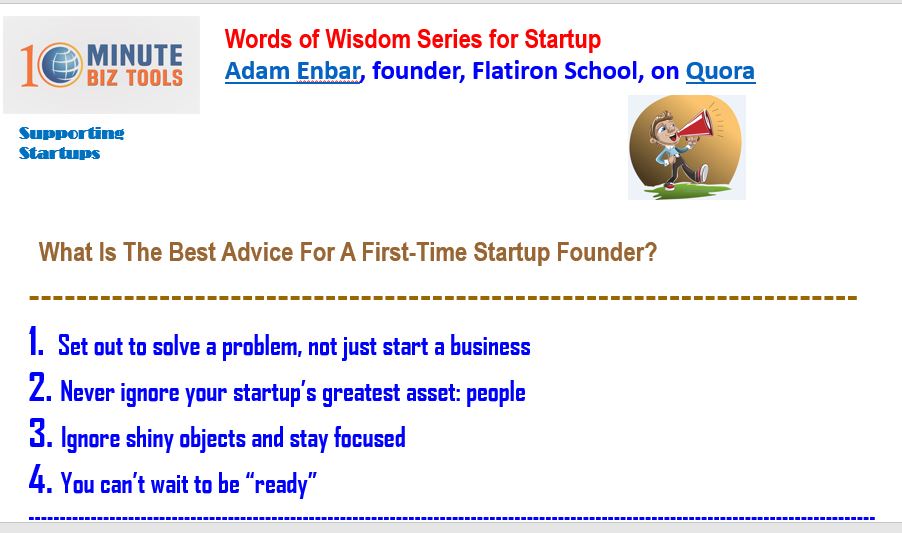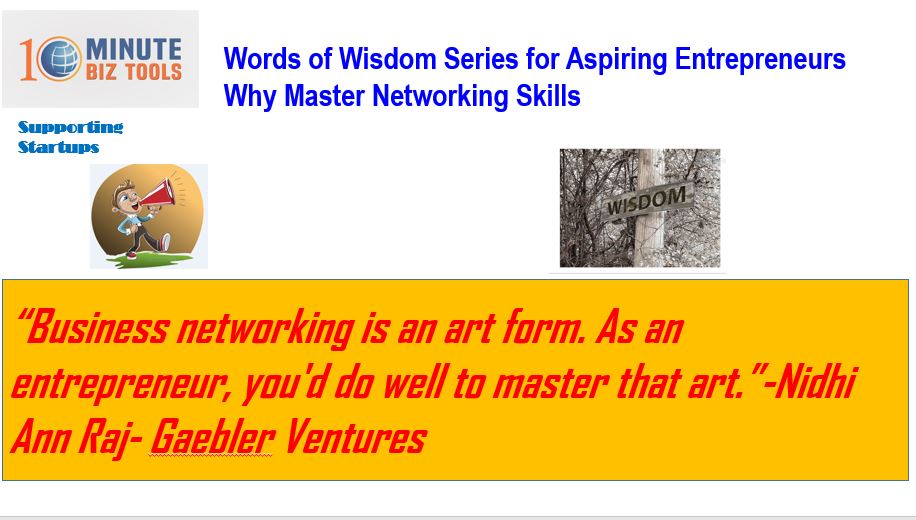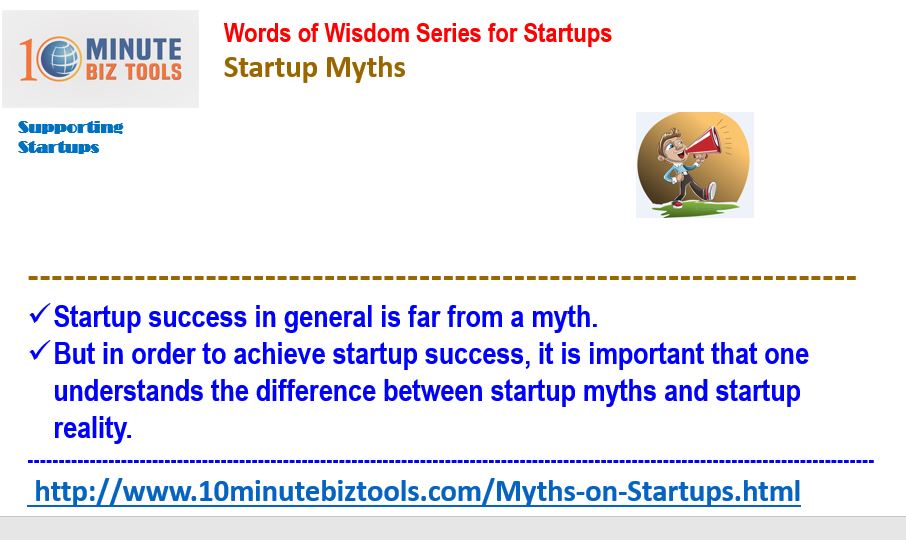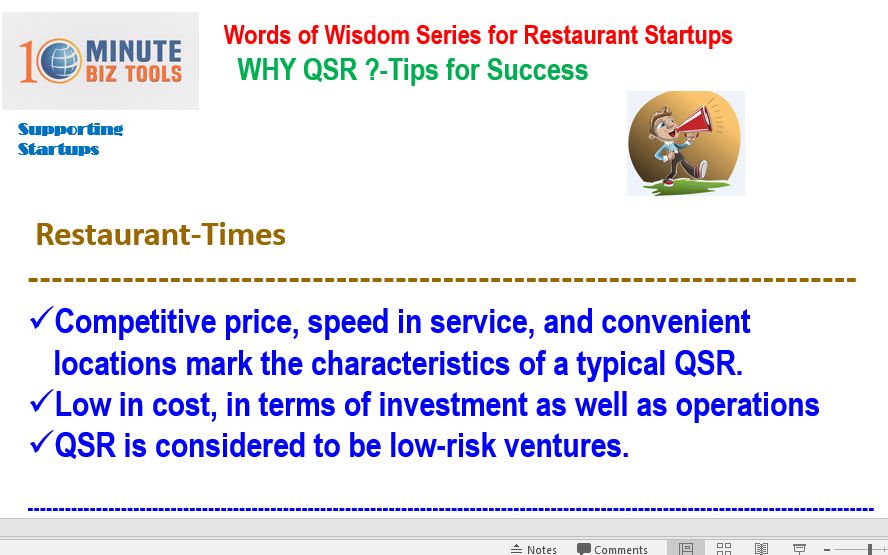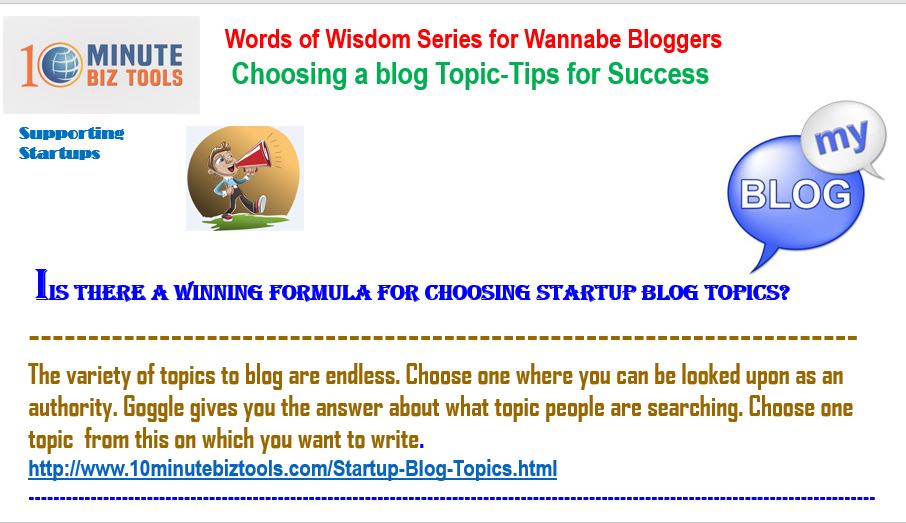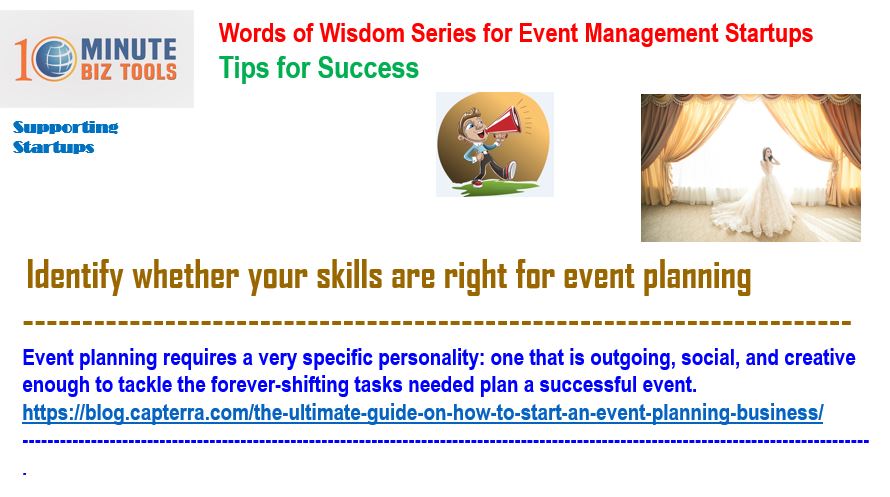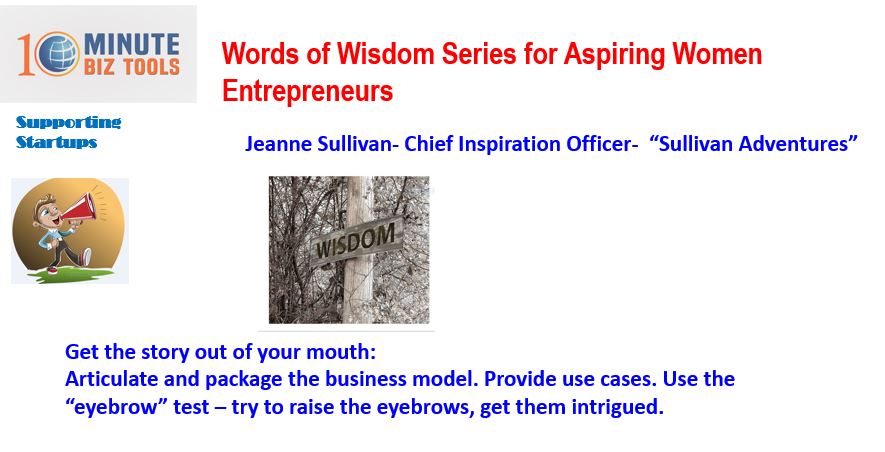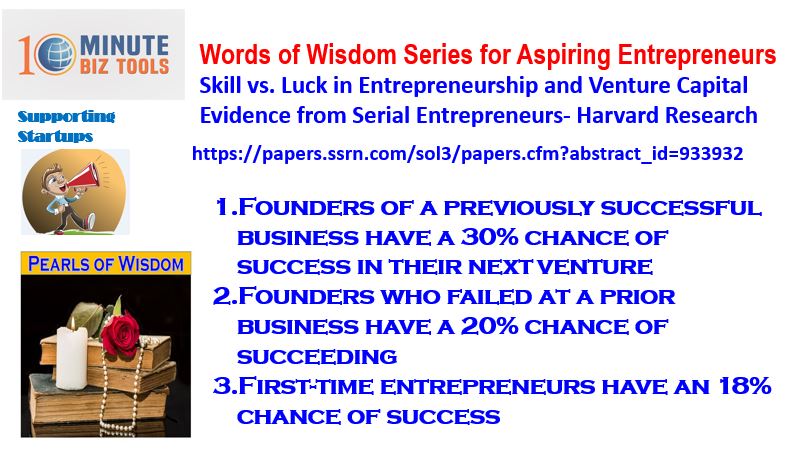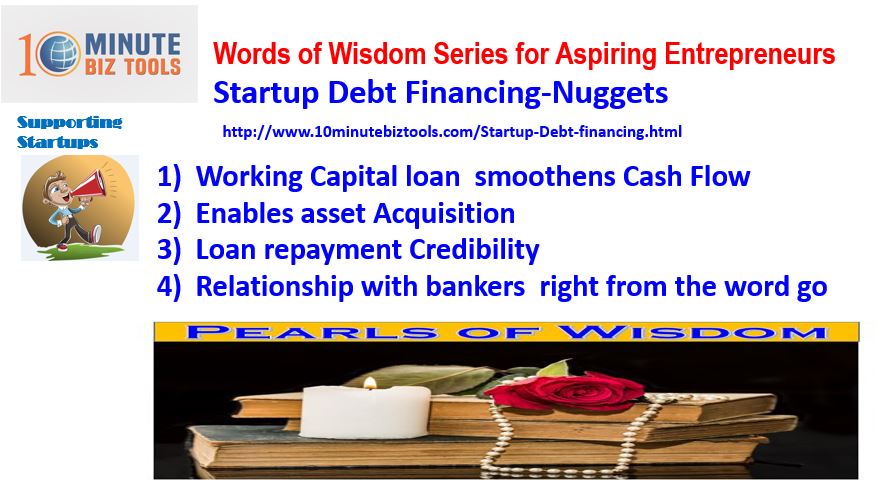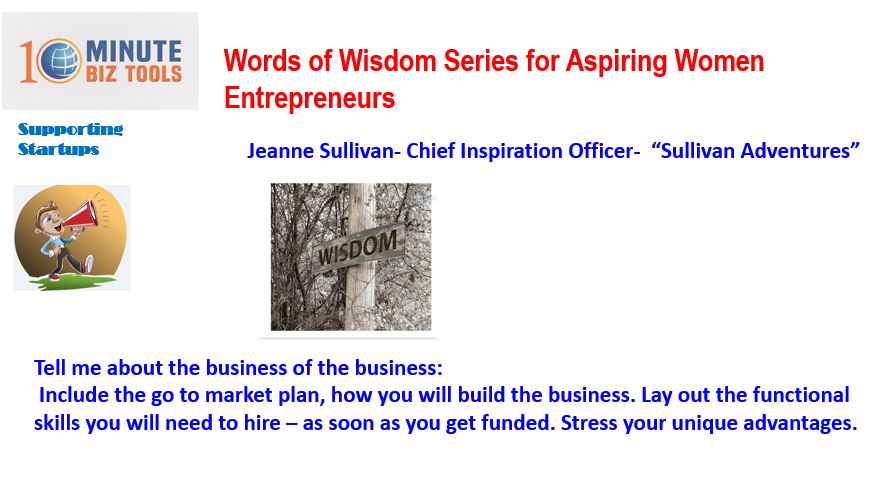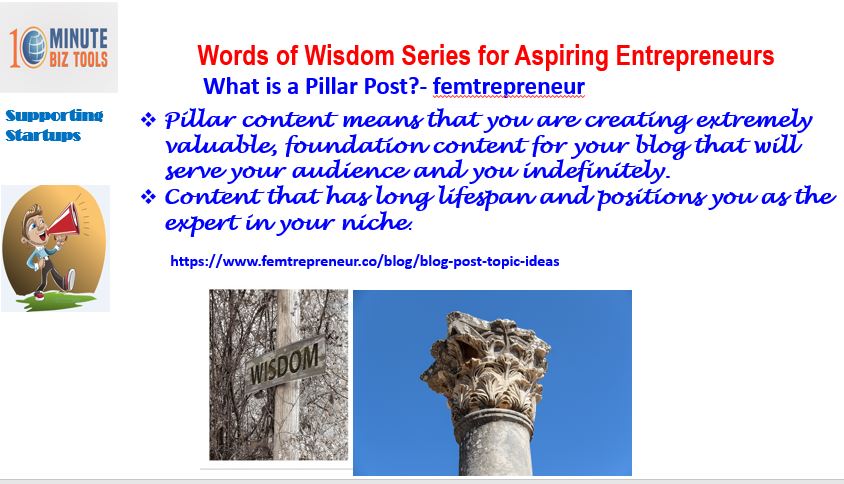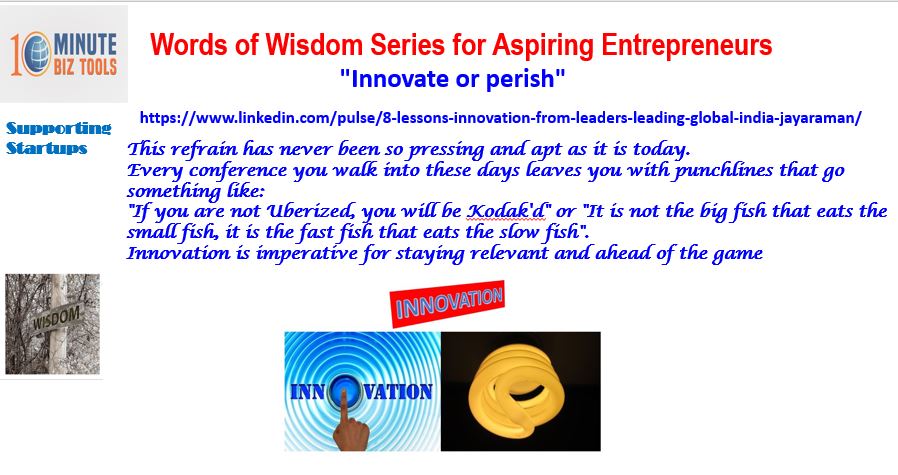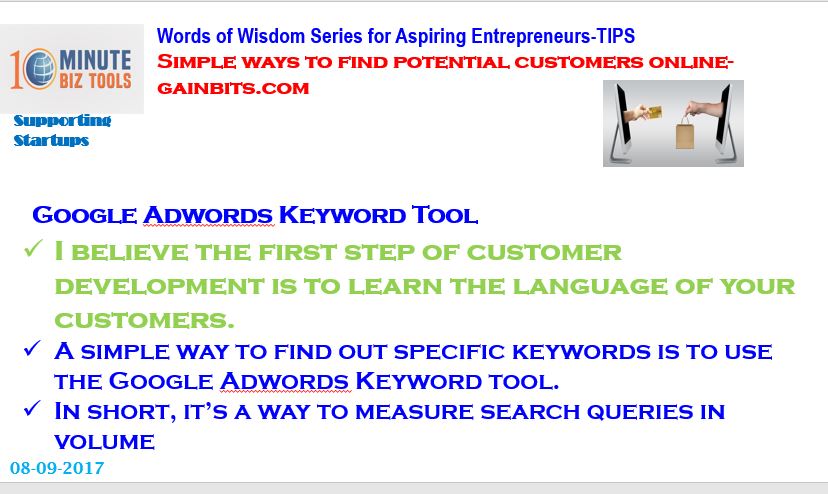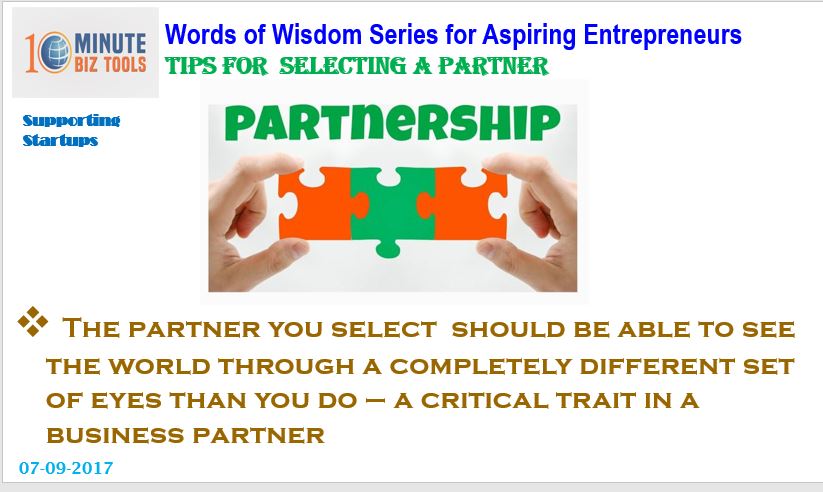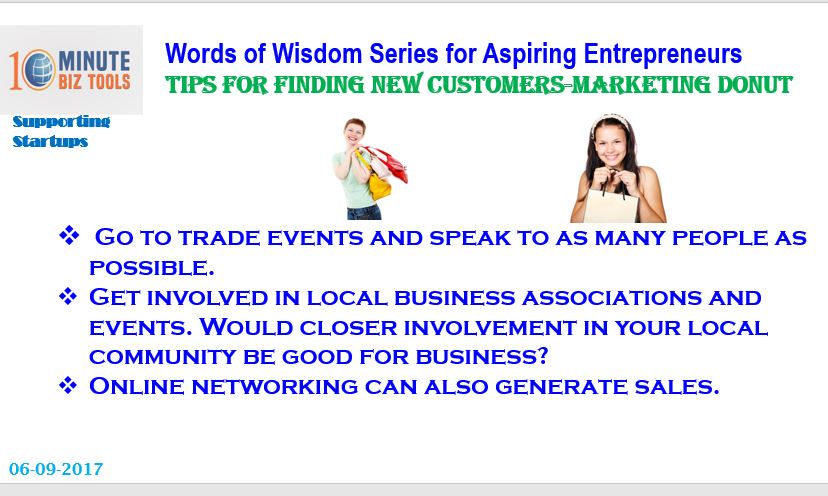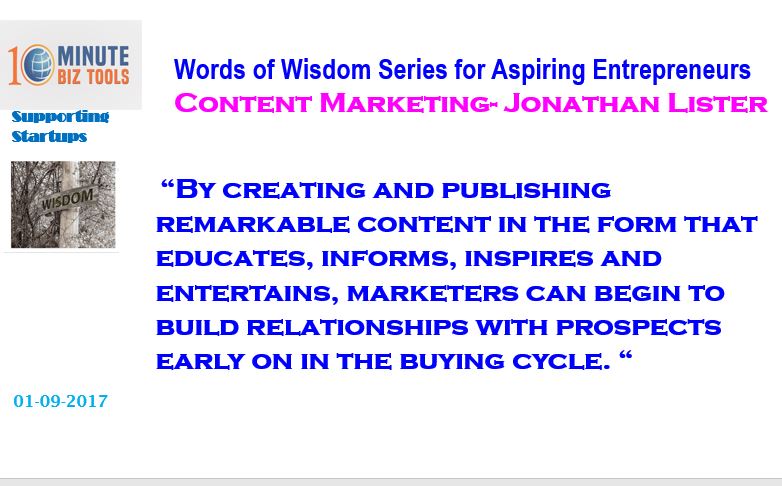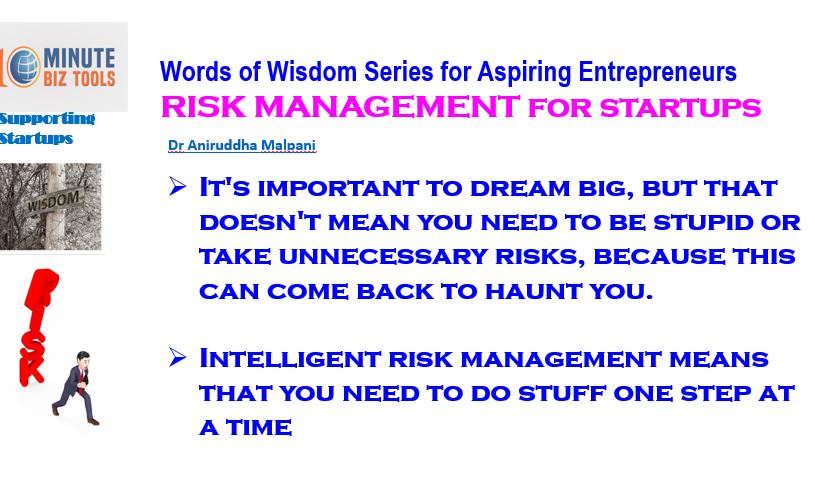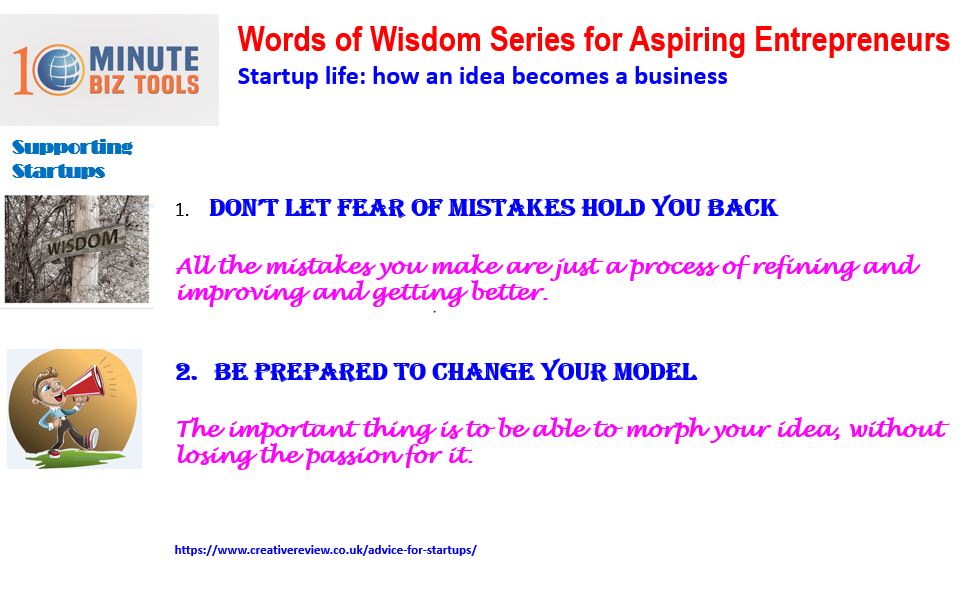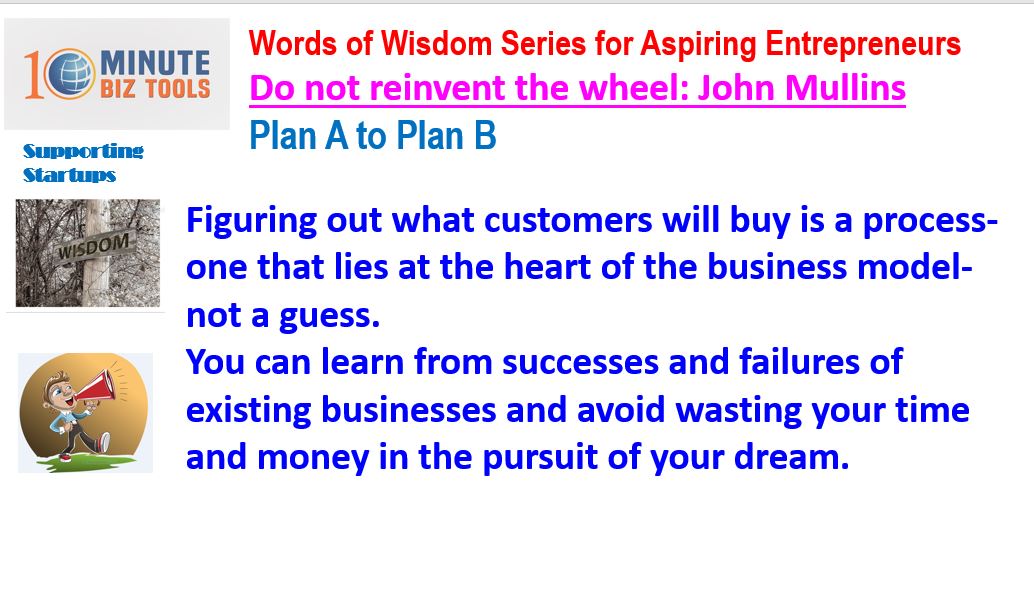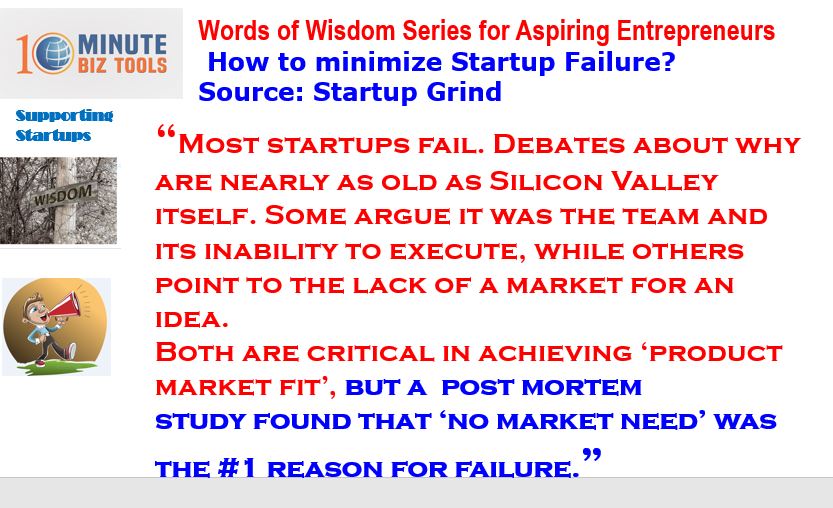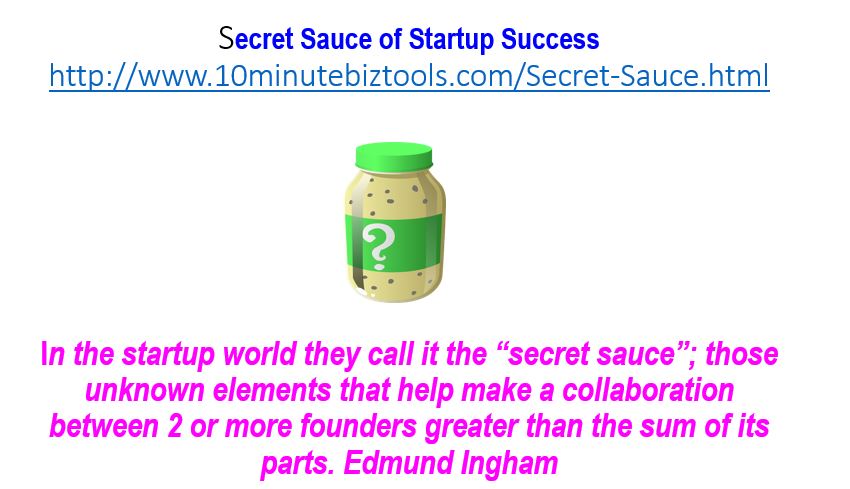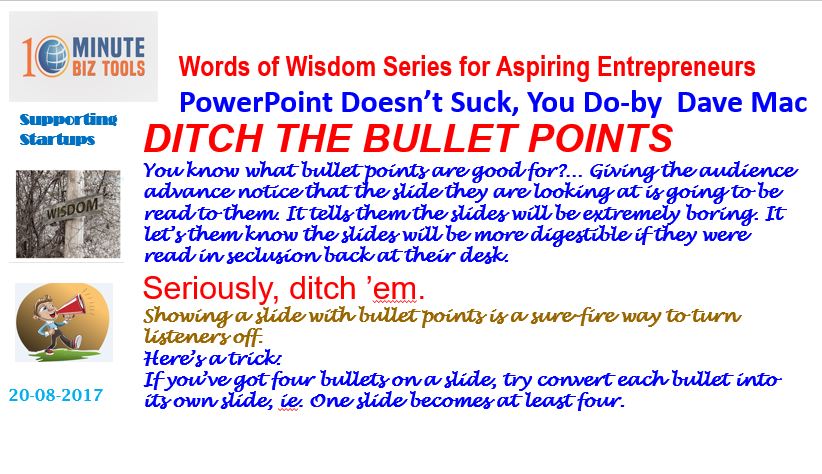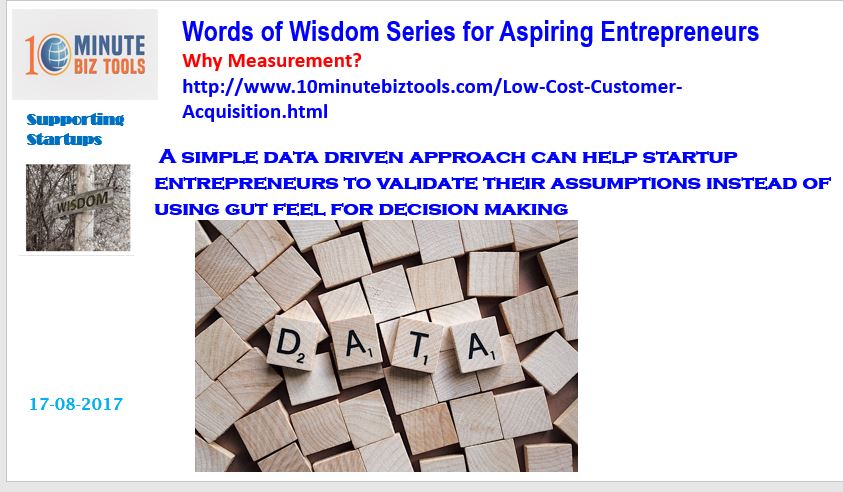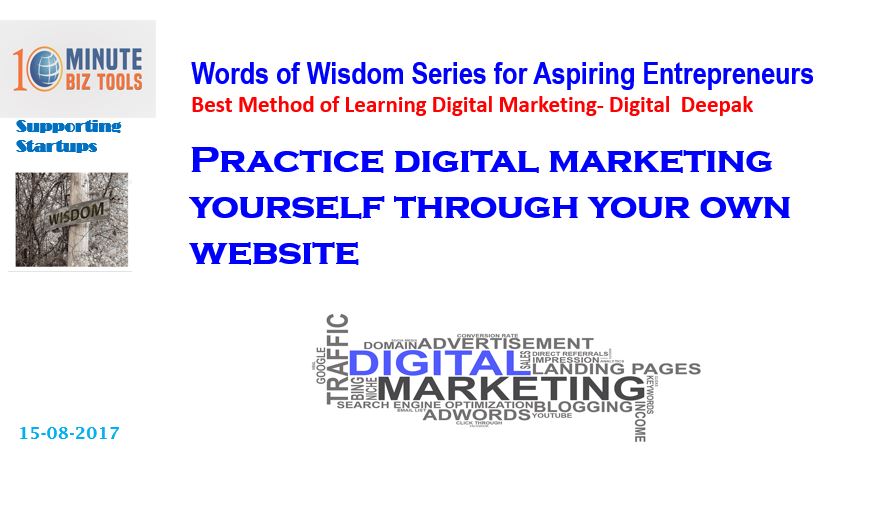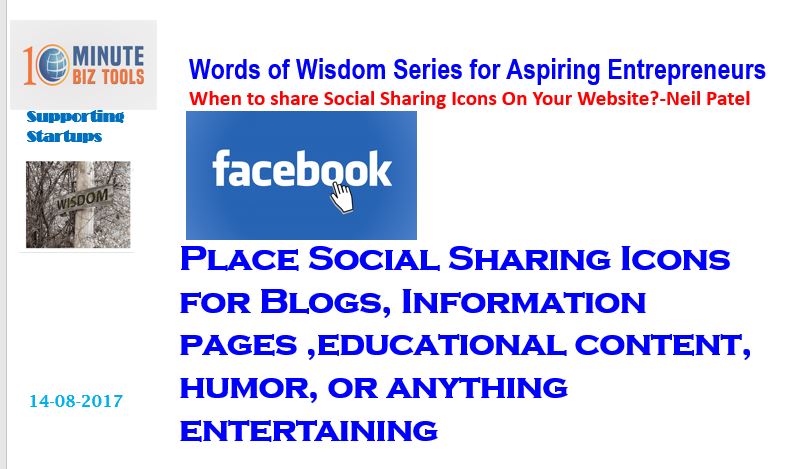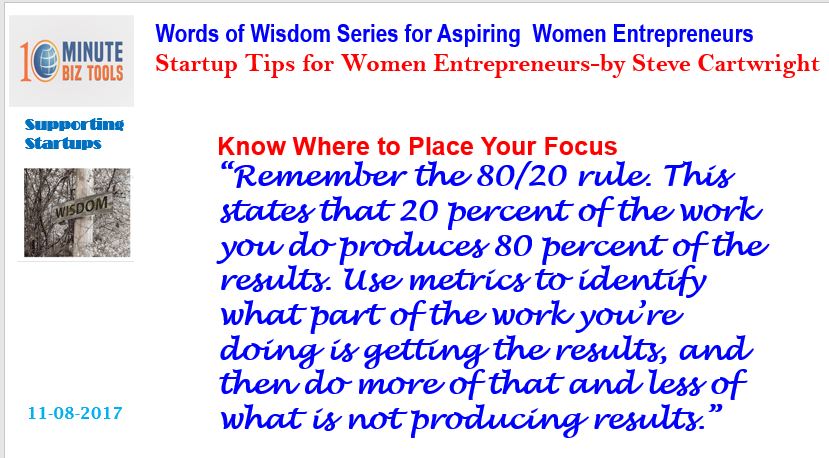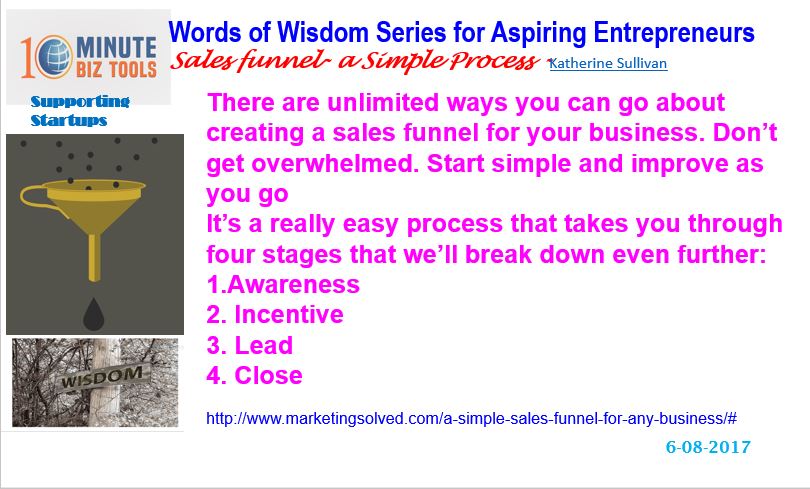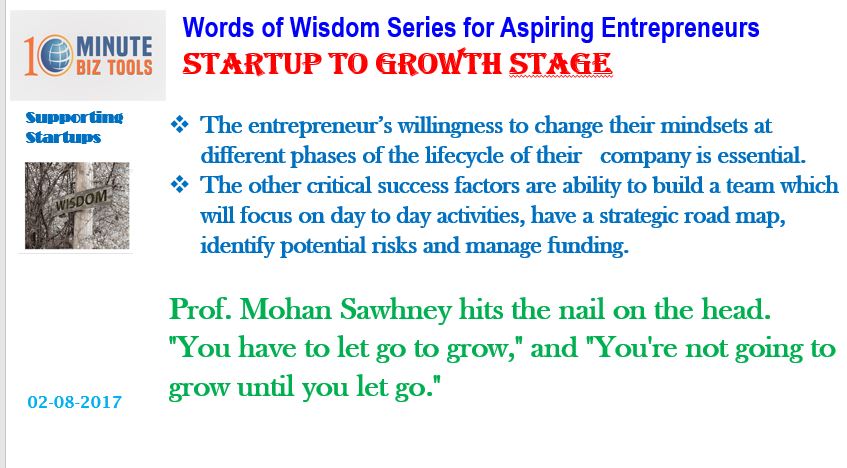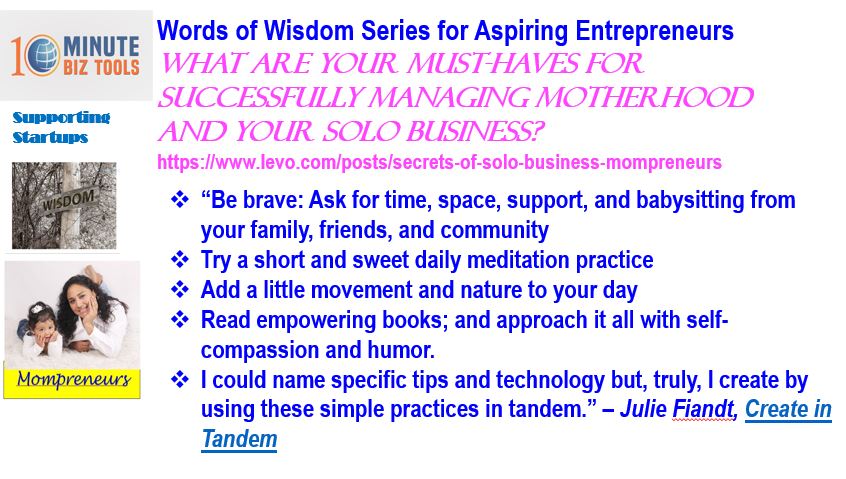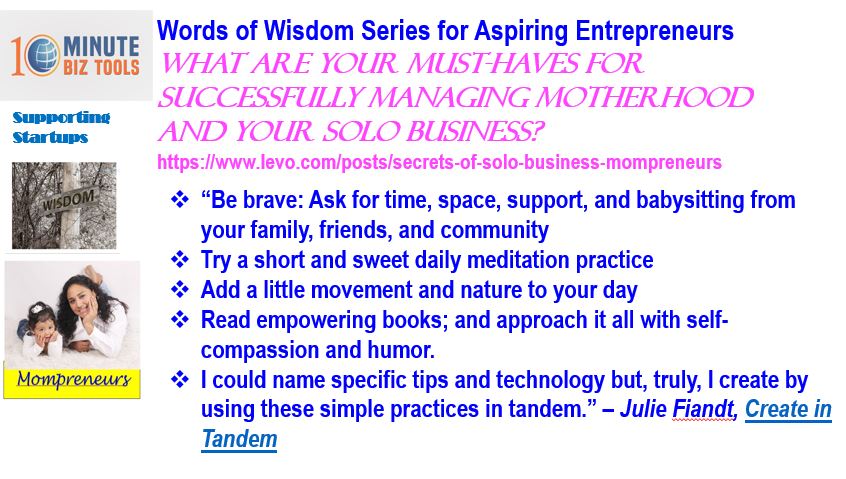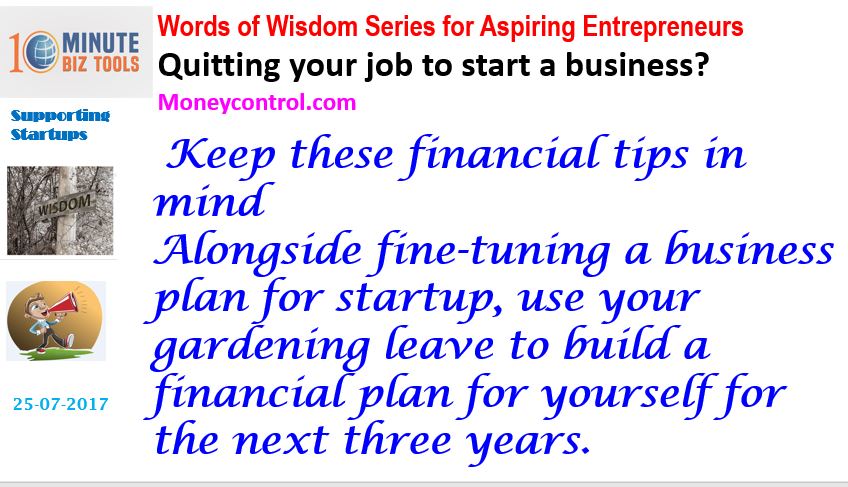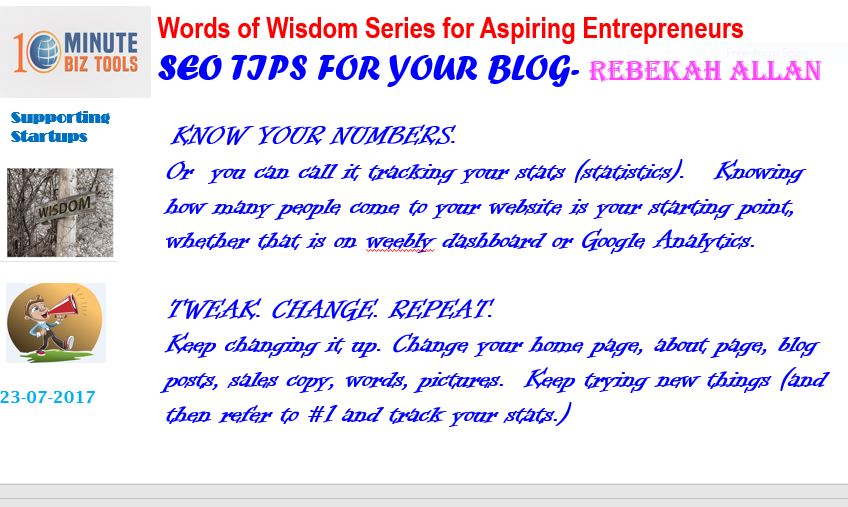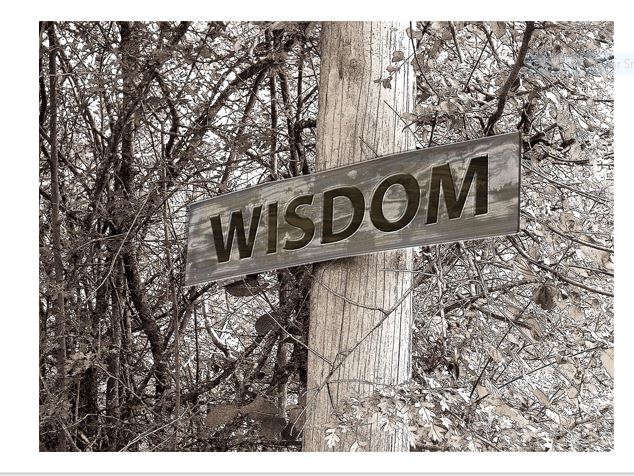 Neil Patel's Words of Wisdom for Aspiring Entrepreneurs 
Tips on How to Deliver a Pitch Investors Simply Can't Turn Down -–Part 2
3. Be laser-focused.
Investors' time is their most valuable asset. If you convey a respect for their time, they will interpret that respect as your ability to treat their funding with respect.
4. Explain exactly what your product or service is.
Show your potential investors a picture of, or give them the actual product to handle.
Neil Patel's Words of Wisdom for Aspiring Entrepreneurs 
Tips on How to Deliver a Pitch Investors Simply Can't Turn Down-–Part 1
Tips on How to Deliver a Pitch Investors Simply Can't Turn Down

v1. Take only ten minutes.
Timing is critical. The less time your pitch takes, the better.
v2. Turn your pitch into a story.
Storytelling is a scientifically-proven way to capture a listener's attention and hold it. Besides, it makes your pitch unforgettable.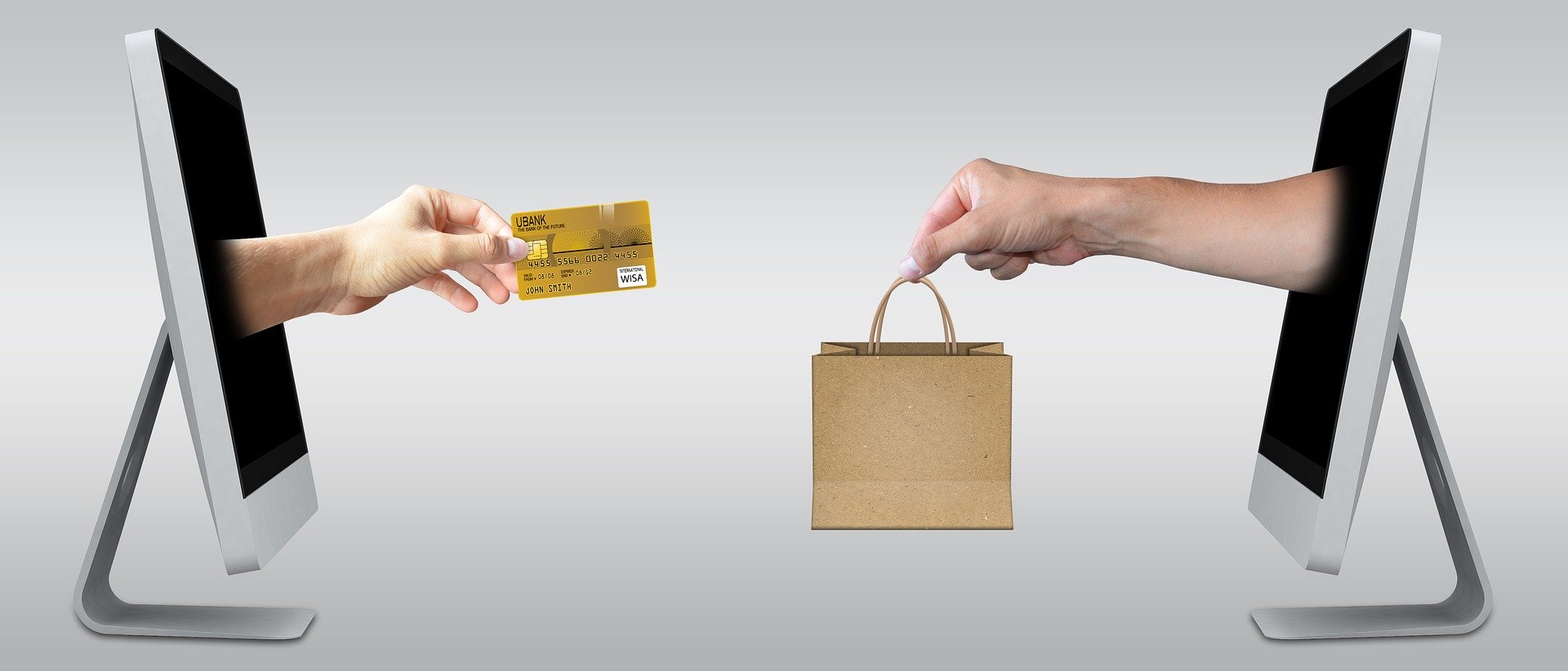 E-commerce marketing tips you should definitely follow-
Appmakerxyzblo
For an E-commerce site, not only reaching out to new customers but also to make them return to your site is important..
The chances of buying a product by a recurring customer are very much than a new client.
Customer Acquisition Mistakes - galawpartners.com
Two Common Mistakes That Startups Make…and How to Avoid Them
üReceiving Customer Feedback Too Late
üAssessing How Much It Costs to Acquire a Customer Too Late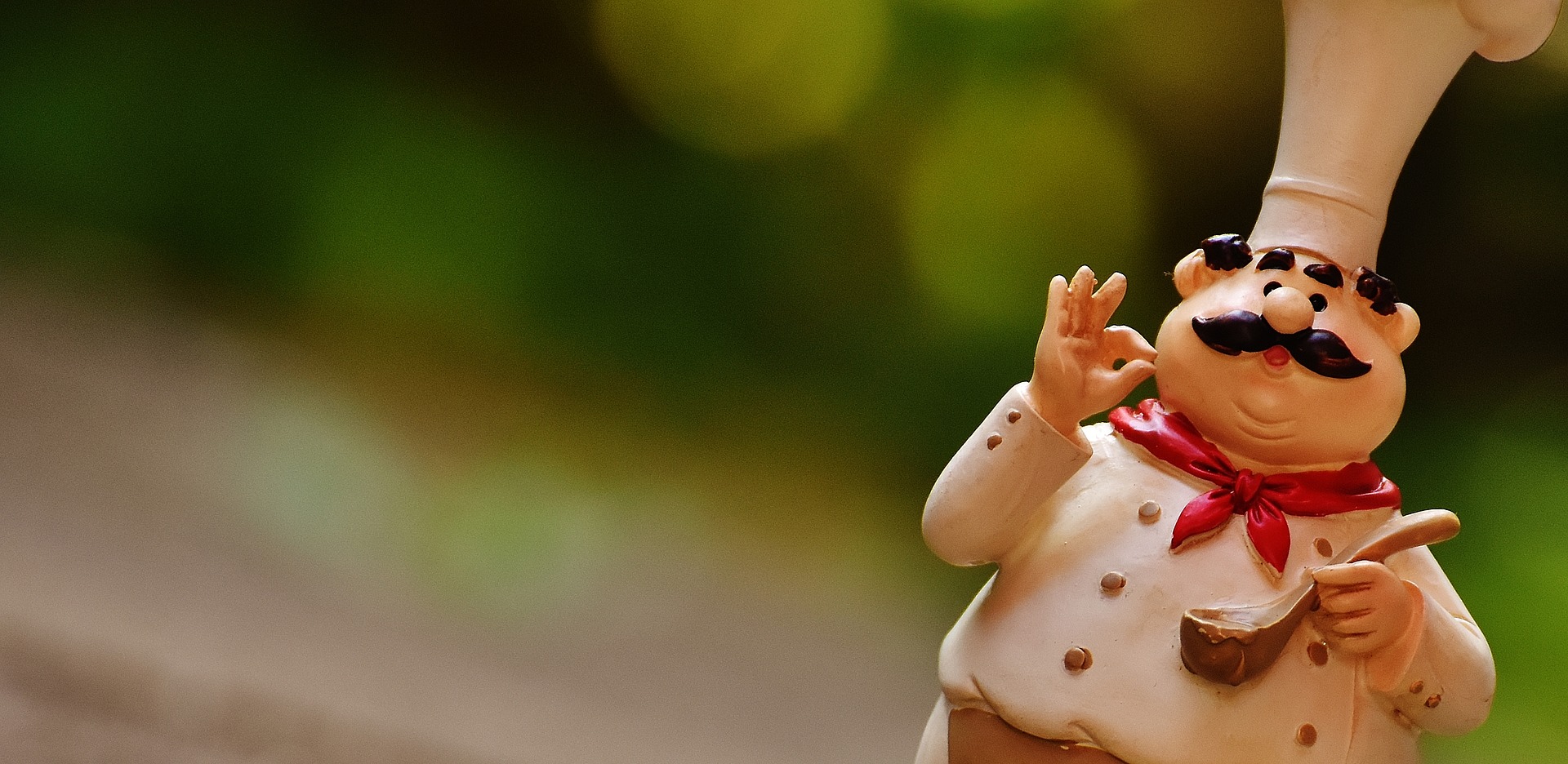 Restaurant
Startup Tips
SCOTT GINSBERG
üOwning and running a Restaurant Business requires technical and business skills very specific to that industry
üOn top of that you need the motivation to get into that trade                                                           
A Successful Chef!!
Chef Pawan Bisht-Boutique restaurant Junglee
Billii
üNo one is born a star or a successful chef and everyone starts with the basics that form backbone of a star kitchen.
üNo matter how fancy, good looking and tasty a dish is, its core depends upon the basic preparation and if it is not delicious, no one will have it.
üSo cooking a tasty meal is what is most important as a chef.
Digital Marketing
 Gyan for Startups


Innverse
Technologies
Pvt
Ltd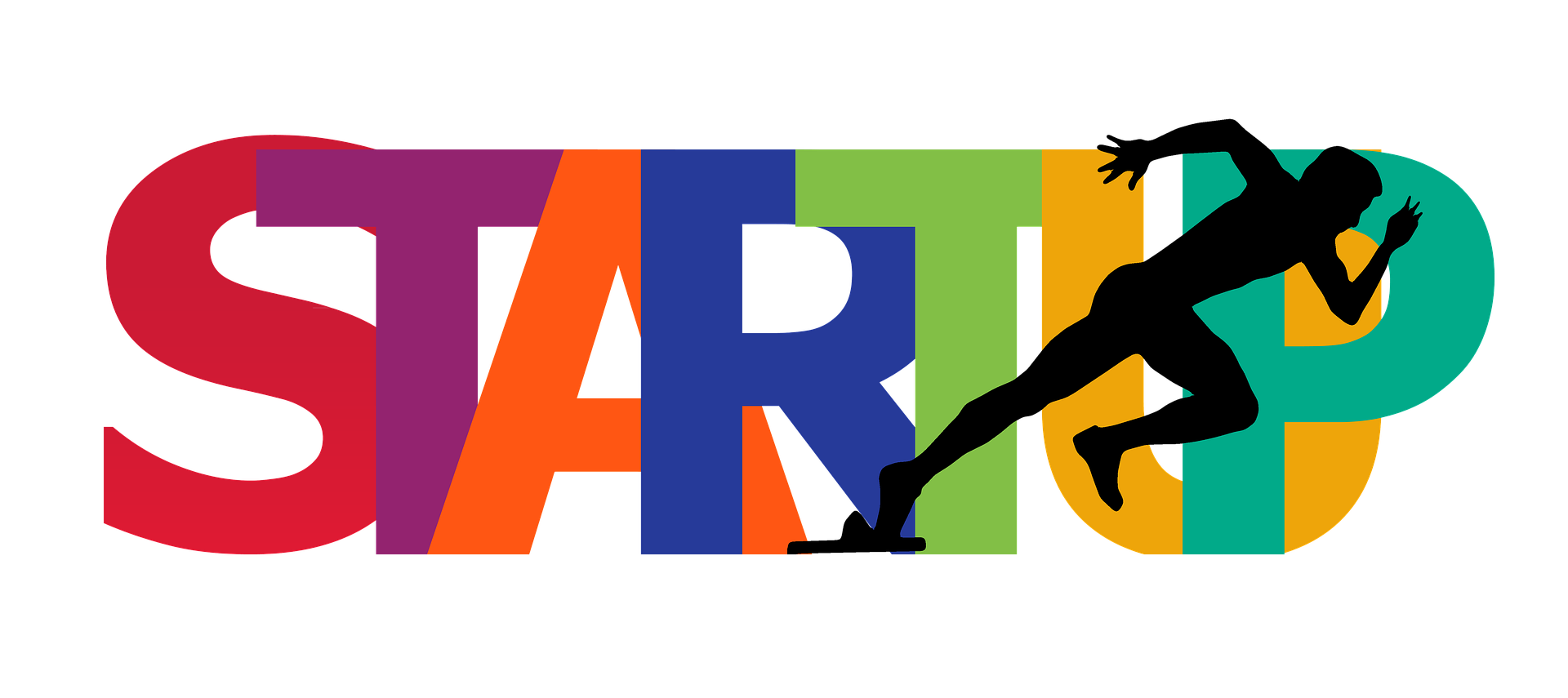 üStart-up firms, small & medium businesses, Digital Marketing is one way that can provide these businesses the chance to compete and attract their share of targeted traffic.
üThese small firms and the start-ups have very less resources as well as capitalization to explore.
üHenceforth, it is Digital Marketing that provides them with a cost-effective marketing platform that delivers best results and Business goals.
Laura Thomas-Founder of Pretty Presets
Advice to other moms starting a business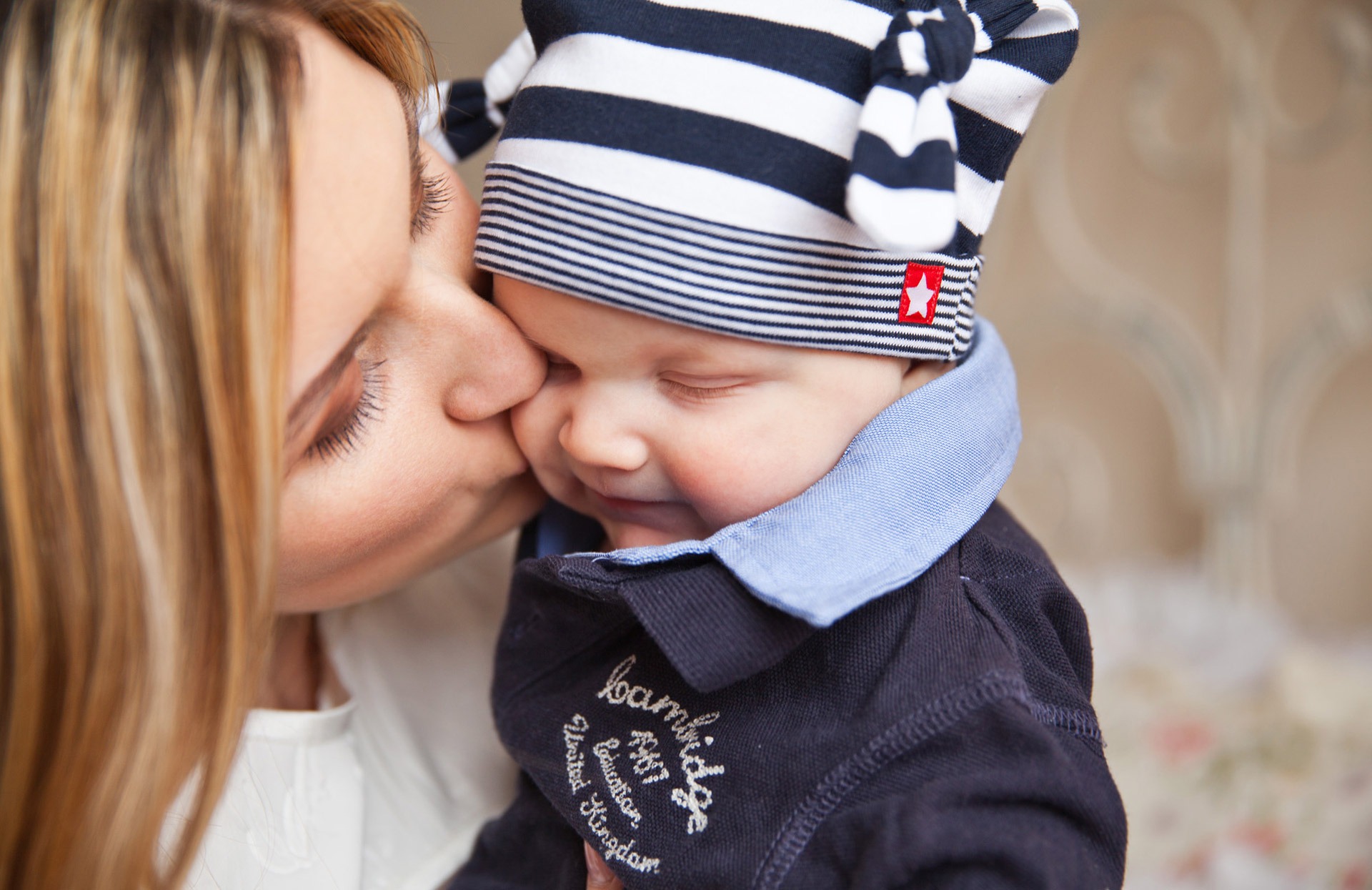 ü "I asked my 8 year old son and 10 year old daughter, who have had me working from home since their toddler years, how they would like to encourage other moms.
ü Their response was, 'Stick to what you're doing.  Do what is healthy for you and your kids.' As I began typing, I left out the 'you' part. My son immediately said, 'That's important. You have to remind the moms to do what's best for them, too.' He's right.
üWe are often so worried about everyone else, that we forget to take care of ourselves. 

How to Spot Opportunity?? Examples
Laundromat
Source: TOI-09-07-2017
My visits to Kuala Lumpur and Jakarta spotted an idea- Arunabh Sinha
More than 3000 in each City
U- Clean- A self-service Laundromat
Concept:  Convenience
How to Spot Opportunity?? Examples
Vacation Rental
Source: TOI-09-07-2017
My frequent Vacations spotted an idea- Aditi Balbir
V.Resorts an online portal platform to book experiential stays
Concept: Leisure Business
Why Use Social Media At All?
Sitesell
üThe key word here is "social."
üUsing social media (SM) is a great way to open two-way communication with your audience.
ü SM allows you to talk with people in a way that's more difficult to achieve on your website -- to tell your story in a more informal way.
Product Market Fit- Significance
vHigh fit means low customer acquisition cost, high loyalty, and high lifetime customer value.
vLow fit means high customer churn, high customer acquisition costs, and low loyalty.
v It really is like a magnet: in one polarity it attracts customers, and in the other, it repels them.
WoW Series #31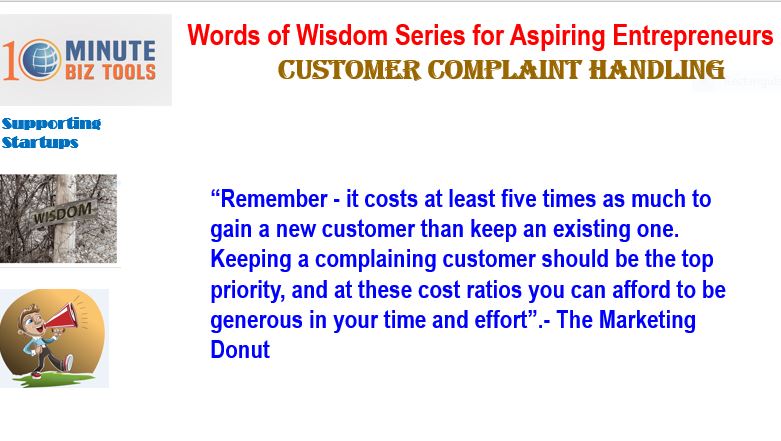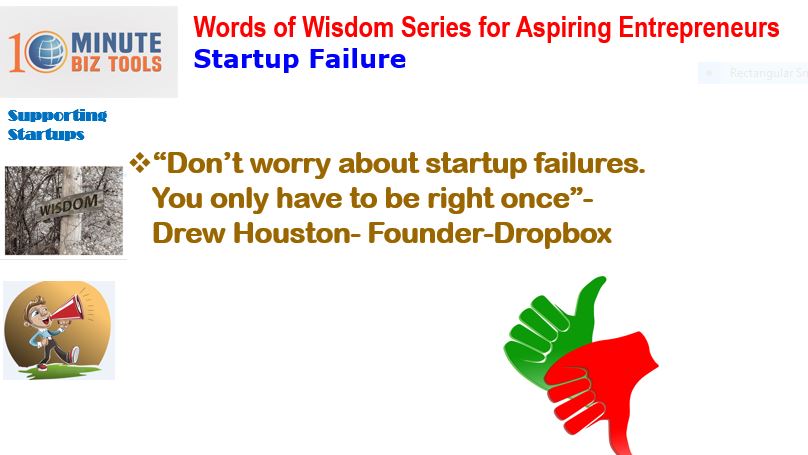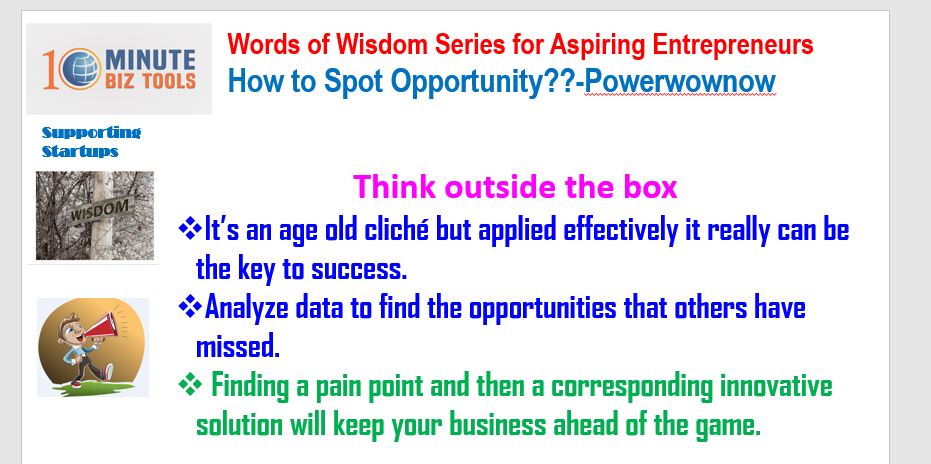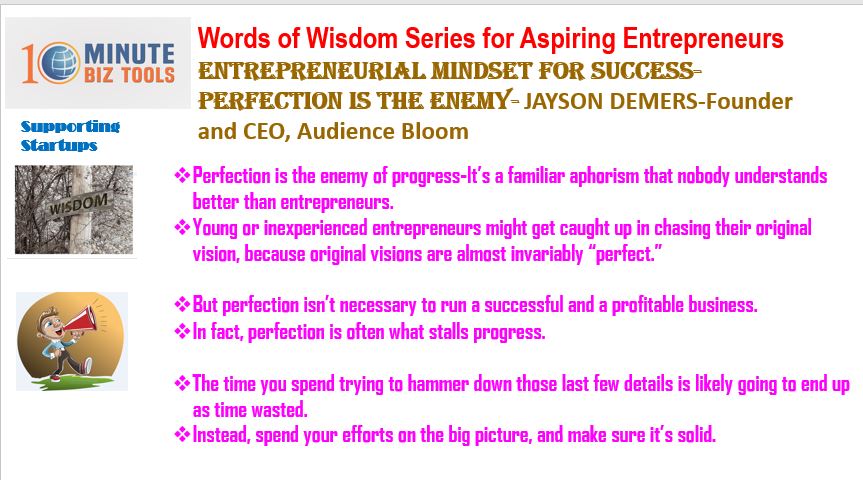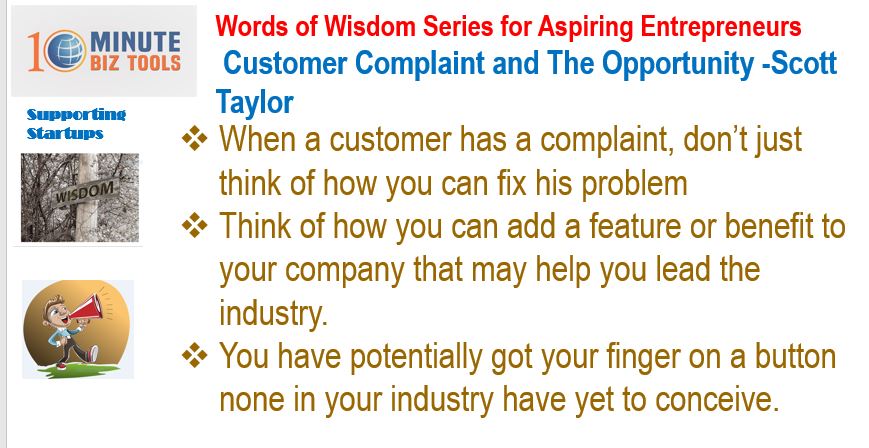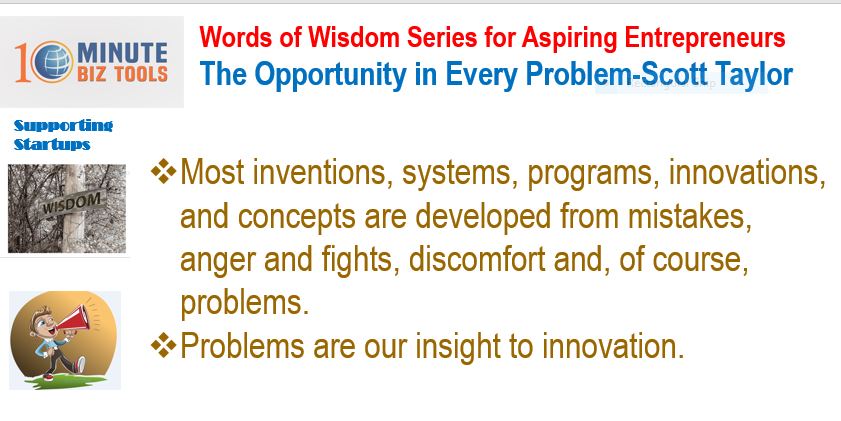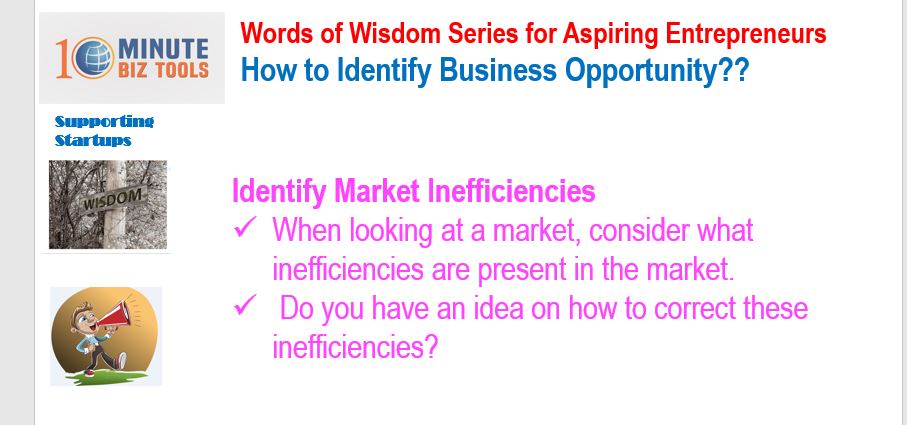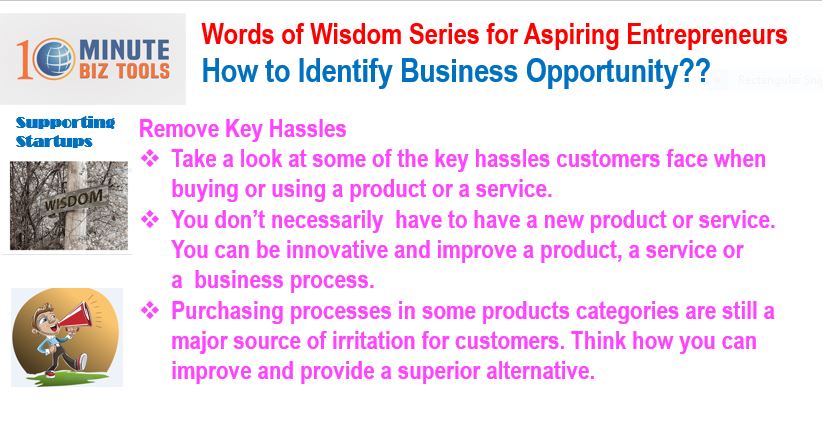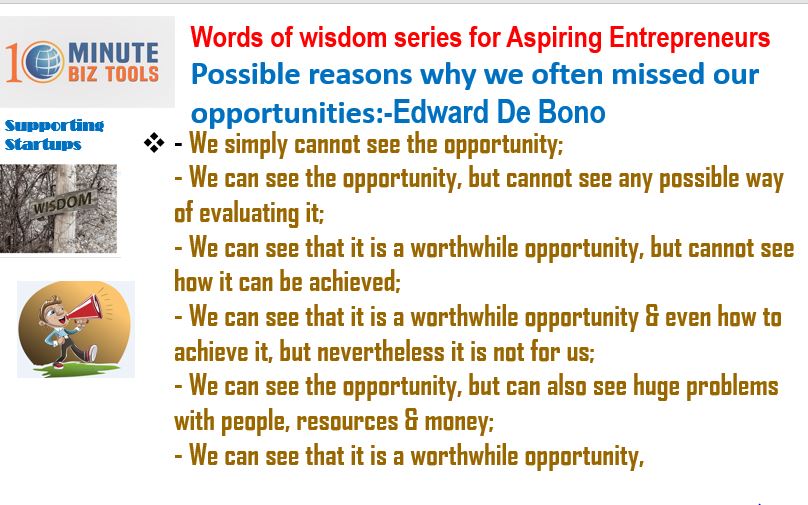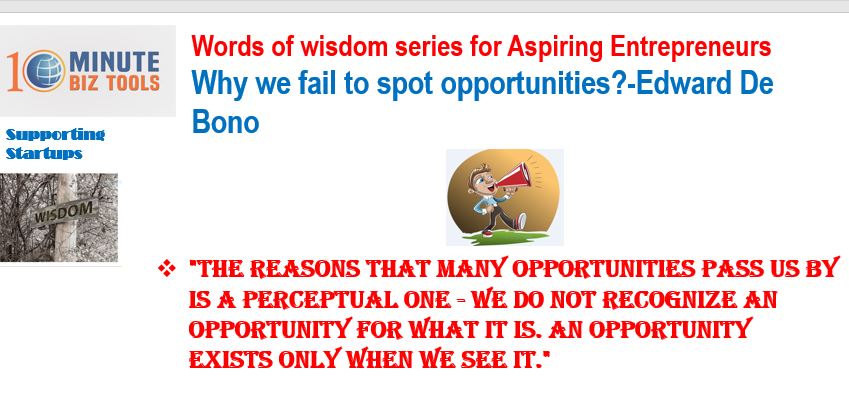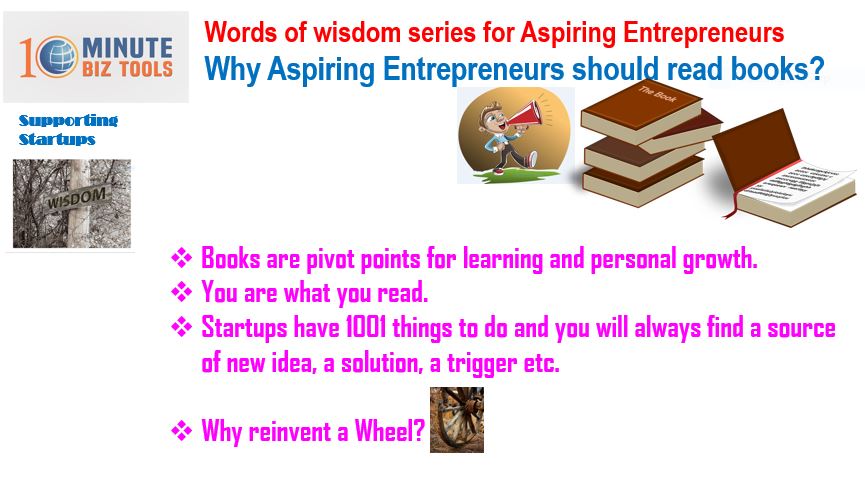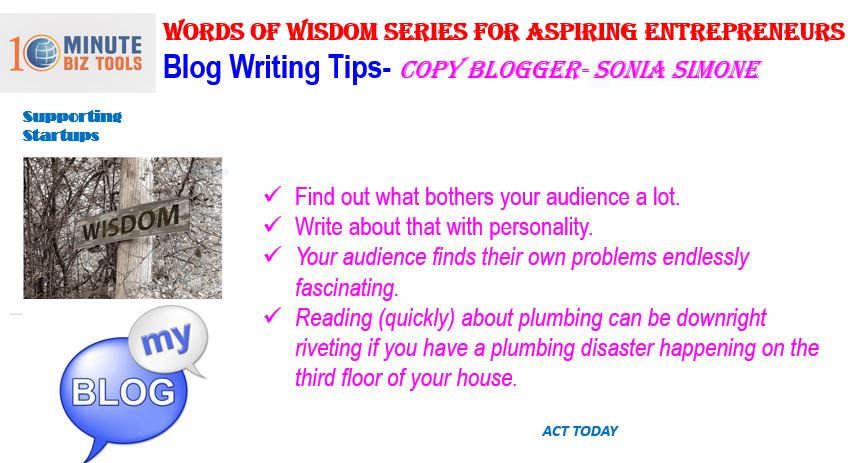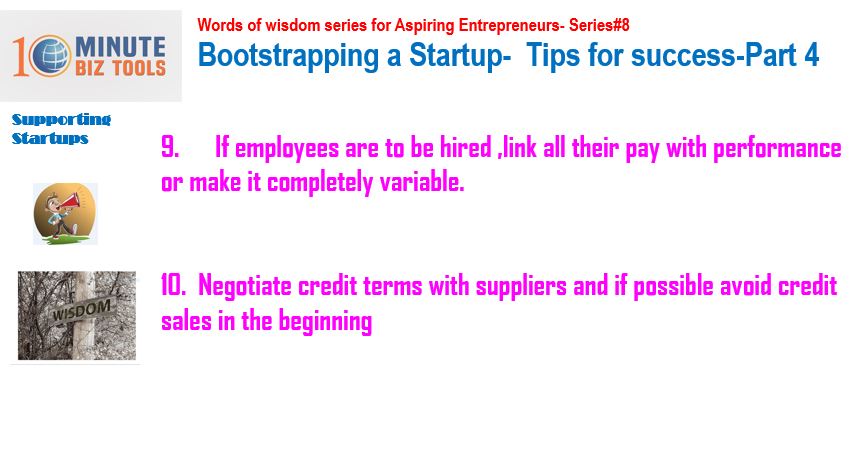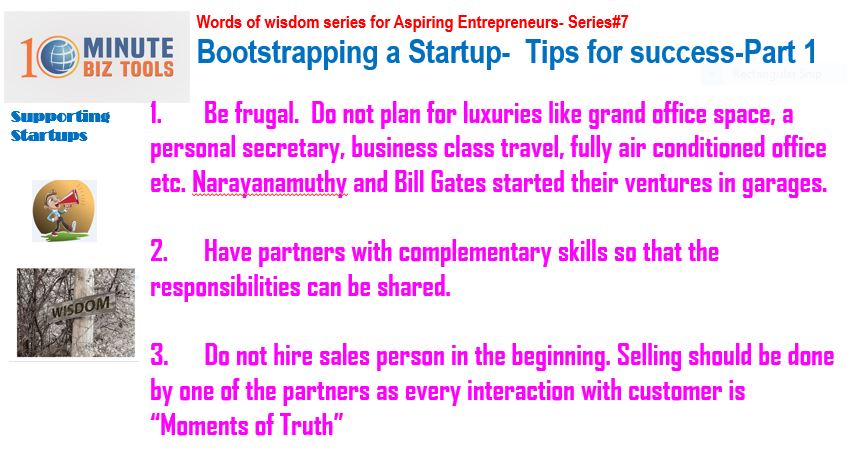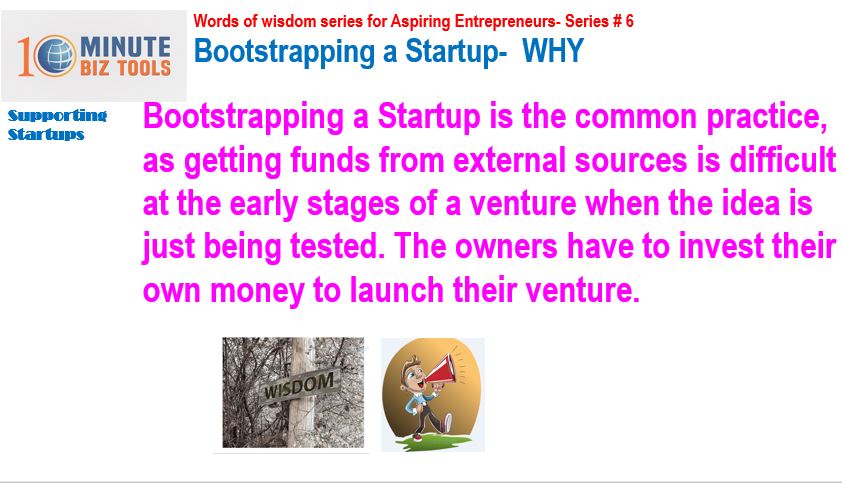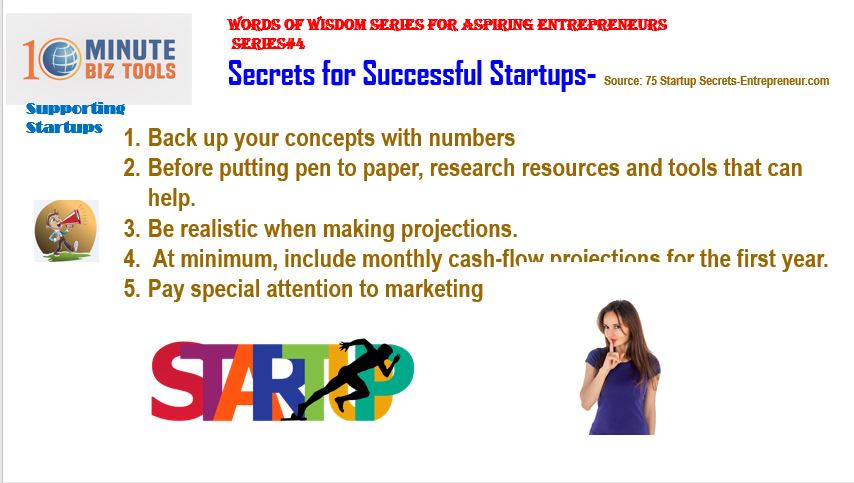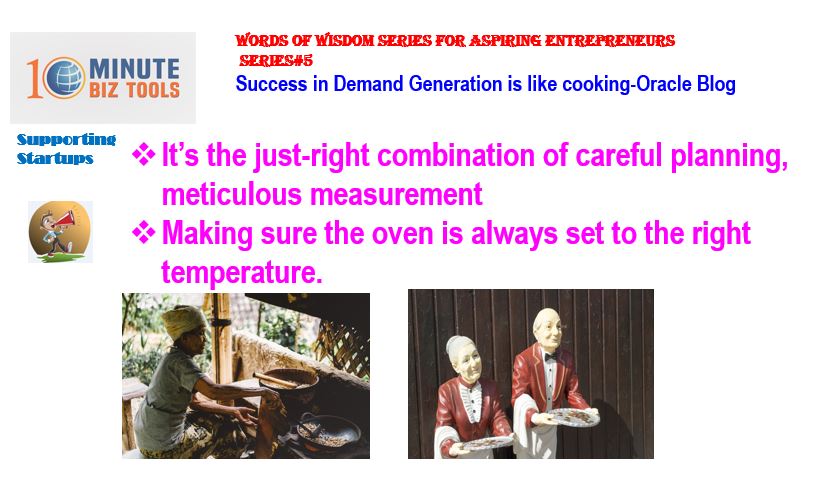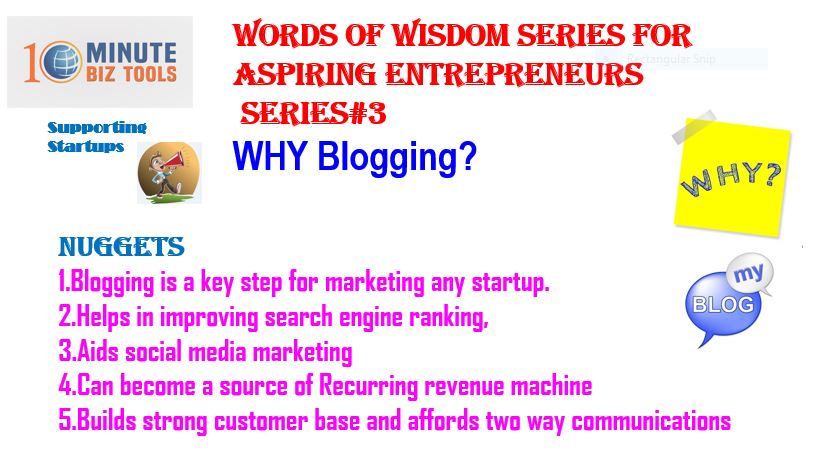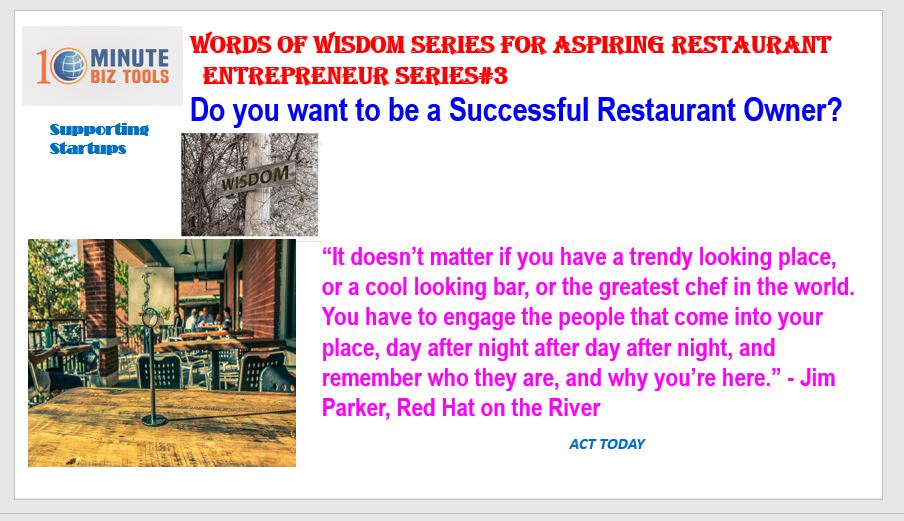 Your first paragraph ...
​