Start up- Blaze your own trail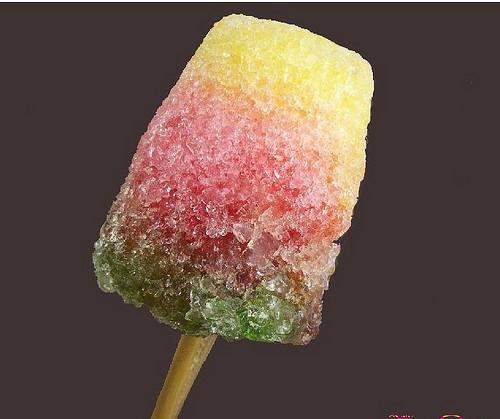 Only well known brands have franchising outlets not the startup. The brand name itself is enough to sell the product .But, here, an young couple dared to walk the less travelled road. They defied conventional wisdom and went the way of franchising just three years after starting their business.
Here is How
The couple decided on a startup of ice gola-an impulse buy product. It is finely shaved ice, topped with delicious flavors. Many of you might have enjoyed it  in carnivals
Why Franchise for a startup ?

 
Franchising is an established model for growth. It helps to capitalize on the brand image built by the owners. 
The product is an innovative one. The owners have established a couple of their own sales outlets.
 They are able to attract customers and the business is showing growth. Purchase and consumption happens at the point of sale. While the investment required is small for opening the outlet, the rentals are high in metro towns, especially in malls. 
 

The Foundation
The business started four years back with two company owned outlets. The product was well accepted because of its unique flavors.
Bold Move
The entrepreneur chose the franchising route to grow rapidly when the business was only 3 years young.
The product is an impulse buy and it has to have multiple stores, so that it is made available to more number of customers. 
Franchising will help in establishing the brand faster and they can have more number of stores opened in various cities. The business has a good ROI for the Franchisees

The Growth

 
First Franchise was given in early 2013. Within two years there has been a rapid growth..
There are already 11 franchises. The business has expanded beyond metro towns to tier 2 cities. They have specially opted for a master franchisee who has opened five outlets in his town.
Franchisor's learning about franchisee selection.
·         Critical to find the right people as Franchisee partners.
·         It is all about LOCATION!LOCATION! LOCATION!
·         Franchisee should align with franchisor's value systems
·         Should be  quality conscious
·         Capable of facing challenges independently
·         Sales will not be uniform throughout the year 
Franchisee Support​
Franchisor provides the Brand (logo, Designs of kiosk )

Flavors,

Machine,

Flower cups (USP of the Brand)

Training,

Marketing material.

Online Marketing to build the brand.

 
Franchisee Control
Quarterly audit of the franchisee is carried out to ensure   the franchisee follows hygiene guidelines so that brand reputation is not affected.
Licensee has to purchase the minimum number of Flavors agreed in the initial Franchise Agreement.
The contract is terminated if any one of the above conditions is not met.
 Nuggets- Uniqueness of startup business Model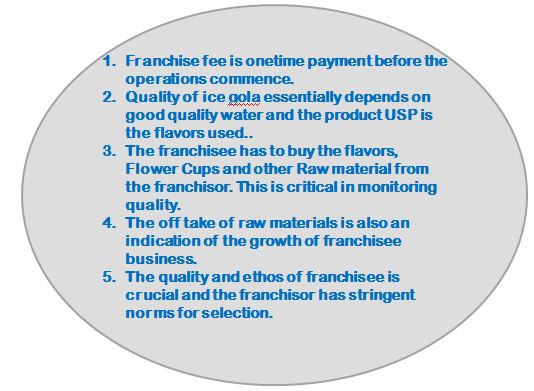 ​