Social Media Marketing
Social Media Marketing has almost become mandatory for any type of business. Presence in social media may not guarantee success but absence may be a negative factor. Social Media helps in large reach, at an affordable cost. This is helpful for startups.
Using social media for marketing can enable small businesses looking to further their reach to more customers. The customers interact with brands through social media. Therefore, planning a strong social marketing presence on the web is the key to tap into customers' interest. If implemented correctly, marketing with social media can bring remarkable success to any startup business.
What Is Social Media Marketing
Social media marketing refers to the process of gaining traffic or attention through social media sites.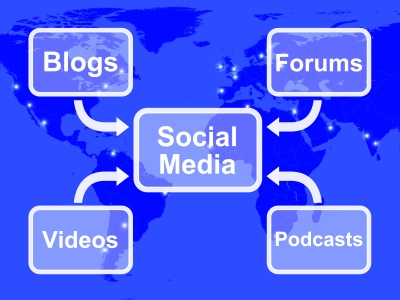 Image source; Stuart Miles
 Role of  Blogs
  Blog — Blogging is a great social media marketing tool that lets you share a wide array of information and content with readers. Your company blog can also serve as your social media marketing blog, in which you blog about your recent social media efforts, contests, and events.  
 Know Your Platforms
But getting started without any previous experience or insight could be challenging.
1.Facebook

Facebook is more for casual conversations and sharing personal information. It gives a friendly environment. Startup can create a Facebook page for the business and post information, images and videos. The message strategy should sound friendly and casual.
2.Google+
Google+ is an interest-based social network that is owned and operated by Google Inc . Features include the ability to post photos and status updates to the stream or interest based communities, grouping  different types of relationships (rather than simply "friends") into Circles, a multi-person instant messaging, text and video chat called Hangouts, events, location tagging, and the ability to edit and upload photos to private cloud-based albums.
The interest based group will help in segregating different users and each group can be targeted separately.
3.Pinterest
Pinterest is a web and mobile application company that operates a photo sharing website. Pinterest CEO Ben Silbermann summarized the company as a "catalog of ideas," rather than as a social network, that inspires users to "go out and do that thing." Pinterest's image-centered platform is ideal for retail, but anyone can benefit from using Pinterest for social media purposes.
Pinterest allows small businesses to showcase their own product offerings while also developing their own brand's personality with some unique pin boards.
The startups can create interest by making the users download pins on to their pin board. The popularity of brand increases if more pins are downloaded.
4.Twitter
Twitter is the social media marketing tool that lets you broadcast your updates across the web. Follow tweeters in your industry or related fields, and you should gain a steady stream of followers in return.
Mix up your official-related tweets about specials, discounts, and news updates with some fun and quirky tweets interspersed. Be sure to retweet when a customer has something nice to say about you, and don't forget to answer people's questions when possible.  Using Twitter as a social media marketing tool revolves around dialog and communication, so be sure to interact as much as possible.
5.LinkedIn
Linkedin  provides a common platform for professionals in similar industries or with similar interests to have a meaningful dialogue  and exchange ideas.
 Your business gets more credibility with new customers when your existing customer/clients give recommendation on your LinkedIn profile. Providing suitable answers to the questions posted on Linkedin, helps you get established and earns trust.
6.YouTube
Pictures can speak louder than words. As such you tube can be an incredibly powerful social media marketing tool.
Going viral seems to be the aim of many businesses when they post videos on You Tube. Instead they can focus on" how-to or "do- it- yourself" videos which may be more useful for attracting the right type of clients.
These how-to videos also have the added benefit of ranking on the video search results of Google, so don't under-estimate the power of videos.
 BOOKS
1.Social Media: How to skyrocket your Startup through "Social Media Marketing!" Mastering: Facebook, Twitter, Youtube, Instagram, & LinkedIn -  Andy Anderson
Review
Currently social media networks are present in most day-to-day activities, this can bring many benefits, since you can be everywhere at once, so it has become very important to learn how properly handle social networks, to start a new business, company, or even to yourself as a figure who wants to be famous. But, though it is not as easy as it seems to have so many followers. Since I am starting with a company, look for books that take as a reference the issue and I found this book, I bought it because it was on promotion. I can say that I liked very much, since it gives many important tips as to what you should and should not be, I recommend it to people having vision of self-improvement and achievement through social networks, excellent book. Bought this book on a promotion.

2. 30-Minute Social Media Marketing: Step-by-step Techniques to Spread the Word About Your Business -  Susan Gunelius
BIG PRESENCE isn't just for BIG COMPANIES anymore! A social media marketing handbook for small business owners on the go.
Social media has opened the door to anyone who wants to promote themselves--including small businesses. Designed specifically for busy small business owners, this book puts you on the fast track to maximizing your business's visibility and generating profits―regardless of the size of your marketing budget or the time you have to devote to it.
30-Minute Social Media Marketing provides 22 short chapters packed with real-world examples, templates, sample marketing procedures, and screen shots taking you step-by-step through the essentials. With little time and effort, you will master the arts of:
·         Blogging and microblogging
·         Social networking and bookmarking
·         Audio and video
·         E-books and webinars
·         Direct and indirect marketing
·         Brand and relationship building
·         Word-of-mouth marketing
·         Expanding your reach and establishing your position
·         Integrating with traditional marketing
·         Evaluating results
By the end of the book, you will have completed a social-media marketing plan that produces real results and created a strategy for future marketing plans--all in just 30 minutes a day.
Social Media Marketing - Conclusion
Several Social media platforms are available and a startup can use a combination of these platforms. The message should suit the kind of audience in those platforms. Leveraging the power of content and social media can help elevate the audience and customer base in a dramatic way. Posting blogs and developing an active reader base can help in creating brand value.
 But getting started without any previous experience or insight could be challenging. A startup can seek the help of marketing experts for formulating the strategy.
​