Small Businesses- Employee Retention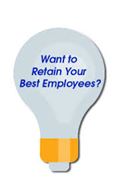 How Small businesses can retain employees?
How to hire and retain employees in a competitive world, where skilled employees are always in short supply? Business growth requires human resources addition at different stages.
The impact of a trained employee leaving the organization can have more consequences for small businesses as they cannot afford to have additional talent in the pipeline who can replace the exiting employee,compared to the large ones
"I am convinced that nothing we do is more important than hiring and developing people. At the end of the day you bet on people, not on strategies."

Lawrence Bossidy
Small Businesses-The Challenges  
Most of the businesses are run based on the idiosyncrasies of the owner. The owner is more focused on selling, managing cash and net working. Cost is a major consideration.. Monetary benefits alone cannot be used by the owners to attract and retain employees.
Growth
Globally small businesses are drivers of employment. Then how do they hire and retain employees?

Are there sound established principles in hiring and retention? Yes, it is possible to keep productive and motivated employees in small businesses.
Employee Perspective
Employees look for better working atmosphere, recognition and also want to be a part of decision making process. They are aware if the business grows they will also grow. Further salary alone is not a motivating factor.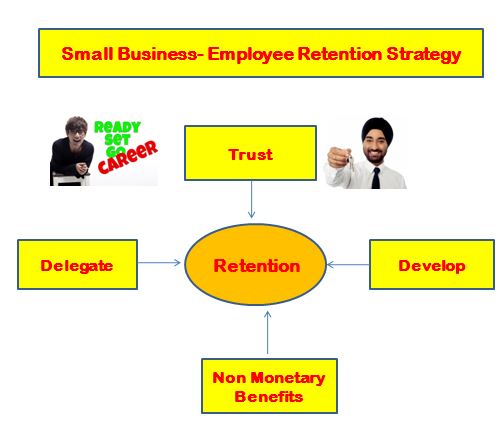 Image Courtesy:                         Geralrt                                                                                                          stock images
Strategy for Hiring
This is a case study of a small manufacturing unit which was amongst large industries.

The owner Ian was aware that he could not compete with large players in acquiring skilled workers. He
He himself was not an engineer. Therefore he worked in the shop floor of a friend's fabrication shop and learnt the ropes before he started his business. He hired only unskilled workers who were earlier farm laborers without a steady income. He trained them and paid higher salary on par with large industry. All the employees have completed only primary education.
 Strategy for Employee Retention
Most of his employees were from a town 100 km away and as such he provided them boarding and lodging.
In five years time he selected a lady employee to head shop floor operations based on her skill level.  He recognized b her commitment by giving her a designation- Manager- Operations. The owner slowly withdrew from the shop floor.
 Next he hired a retired army major when business started growing. He was designated as GM- Administration. The designation was beyond the expectation of the major.
Delegation and Trust
Ian  shifted base to a metro town 50 km away from the factory Initially ,he visited the factory every alternate day and  later reduced it to once in a week .He gave autonomy to both the GM and Operations Manager.

The operations ran smoothly as he had created a clear organization structure.- Operations and Administration.
Employee Welfare
Ian deposited their salaries in their  bank accounts and inculcated saving habits.
He encouraged the employees to educate their children and created a savings fund with matching contributions.
He had a total of 12 employees since he started his business twenty years ago, not even a single employee  has quit.
http://www.entrepreneur.com/article/76456
Nuggets
1. Trust
2. Delegation
3. Non Monetary Benefits
4. Growth Opportunities