Social Entrepreneur
Social entrepreneurs are individuals with innovative solutions to society's most pressing social problems. They are ambitious and persistent, tackling major social issues and offering new ideas for whole-scale changes.
Rather than leaving societal needs to the government or business sectors, social entrepreneurs find what is not working and solve the problem by changing the system, spreading the solution, and persuading entire societies to move in concentrated directions.
 Definition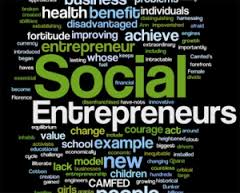 Who is a Social Entrepreneur?
Just as entrepreneurs change the face of business, social entrepreneurs act as the change agents for society. They see opportunities which others miss, to improve systems, invent new approaches, and create solutions to change society for the better. While a business entrepreneur might create entirely new industries, a social entrepreneur develops innovative solutions to social problems and then implements them on a large scale.
They often seem to be possessed by their ideas, committing their lives to changing the direction of their field. They are visionaries, but also realists, and are ultimately concerned with the practical implementation of their vision, above all else.
Contribution
ü  Build bridges between business and the poor for mutual benefit 

ü  For Business they include driving innovations building markets and strengthening supply chains
ü  For the poor they include access to essential goods and services, higher productivity, sustainable earnings and greater empowerment.
 Historical  Leading Examples
·         Susan B. Anthony (U.S.): Fought for Women's Rights in the United States, including the right to control property and helped spearhead adoption of the 19th amendment.
·         Vinoba Bhave (India): Founder and leader of the Land Gift Movement, he caused the redistribution of more than 7,000,000 acres of land to aid India's untouchables and landless.
·         Dr. Maria Montessori (Italy): Developed the Montessori approach to early childhood education.
·         Florence Nightingale (U.K.): Founder of modern nursing, she established the first school for nurses and fought to improve hospital conditions.
·         John Muir (U.S.): Naturalist and conservationist, he established the National Park System and helped found The Sierra Club.
·         Jean Monnet (France): Responsible for the reconstruction of the French economy following World War II, including the establishment of the European Coal and Steel Community (ECSC). The ECSC and the European Common Market were direct precursors of the European Union.
·         Kurian of Amul fame made a success of cooperative movement in diary industry
·         Anna Hazare  is a social activist who led movements to promote rural development
 Business Models
There are two business models.
1.       Receive Funds for running the business. The cause may be specified by the donors. They are called NGOs or NPO (Not for profit organizations)
2.   Run for profit business and use the profit to support social cause 
       The second model is truly an INCLUSIVE AND SUSTAINABLE BUSINESS MODEL
A Case Study-Inclusive Business Model
MITHILAsmita Art & Craft (P.) Ltd.- MD: Ihitashri Shandilya 
•      Started in the year 2010 as a Folk Art Organization to promote Madhubani Painting
•      Supports rural woman artists
•      The hybrid model– a For Profit Arm and a Non-Profit arm together, aims to tackle various challenges of the Traditional Art Ecosystem in India, currently focusing on the ancient Mithila (Madhubani) Paintings.  
Business Model
•      The For-profit arm creates a robust Marketing Platform, to generate opportunities for thousands of rural woman artists practicing the traditional Mithila art since ages through a combination of Folk Art Gallery, Online/Offline Stores, Art Exhibitions, Workshops.
•      The Non Profit arm is creating a Social Ecosystem for the art practitioners.
•      'Light for Art' LIFA is an initiative of MITHILAsmita to light up rural homes of the artists to make night lives safer and productive for them. 261 homes are lighted up so far under this initiative, with the support of eminent Corporates & Individuals.
•      Supports around 120 artisans 
 Books
1.Social Entrepreneurship: What Everyone Needs to Know- David bornstein & Susan Davis
Review by T.Prior
What do you get when you combine business skills with social conscience? A social entrepreneur. Social entrepreneurs recognize when a part of society is stuck and offer new ways to get society unstuck. They don't just give a fish or even teach people how to fish. They revolutionize fishing. Examples in the book of social entrepreneurs are the micro-loan Grameen Bank, Mothers Against Drunk Driving and Bangladesh Rural Advancement Committee. This book is great for people who see a big problem in society, e.g., high school dropout rates of 50%+ among Hispanic males, divorce rates 50%+ and unemployment rates of 10%, and tackle the issues using little money but lots of energy and innovation.

The Social Entrepreneur's Playbook: Pressure Test, Plan, Launch and Scale Your Social Enterprise Paperback – Ian c. Macmillan & James D Thomson
 Review by Mr. P 
I'm currently a student of Entrepreneurship in an MBA program, and quite recently discovered my love of social business as an approach to eradicate poverty and create wealth in developing nations. Coming from a developing nation myself I have experienced and remain aware the difficulties of navigating developing markets especially in Sub-Saharan Africa.

That being said. The book is a timely and simple-to-understand guide for those of us with an inclination towards people-centered business. When I first learned of this book from Wharton's website, it intrigued me. I immediately downloaded the e-book and soaked up all that I could from it.

I'm currently using this book as a framework to "pressure-test" & develop my own social enterprise. I recommend it to anyone thinking of doing the same.

This book is an encouragement with great ideas that may either require tweaking for success, or outright abandonment altogether.
Social Entrepreneur- Conclusion
They truly deserve appreciation as many of them have made personal sacrifices to serve society. They plough back the profits so that more deserving members of society get benefits. Their inclusive model has served the "Bottom of the Pyramid' ,bringing social justice.
Nobel Peace Prize winner Kailash Satyarthi gave up his job as an electrical engineer to dedicate himself to protecting and advancing child rights for over three decades now, freeing 80,000 child laborers and giving them new hope in life.
The world recognizes such  selfless leaders and Kailash Satyarthi was awarded Nobel peace Prize.