Startup Failure and Entrepreneur
Startup Failure and Entrepreneur examines the  competencies of an entrepreneur which lead to failure .
Startup by a solopreneur is vulnerable, as the entrepreneur's personal qualities / Competencies decide the success or failure. They believe in certain startup myths strongly which makes them blindfolded leading to trouble. These can be termed as "HONEST WRONG BELIEF SYNDROME". This can be attributed as a major cause of any failed startup.
No matter how great the passion, vision and other resources of a solopreneur, a few bad habits can drive a promising startup into the ground.
"It's usually two or three traits that cause us to blow up," Clay Clark  CEO; Thrive 15
Startup Failure and Entrepreneur-
Entrepreneurship – The Process
It is essentially a mind to market journey. The mind top can crash land or fly high in the sky.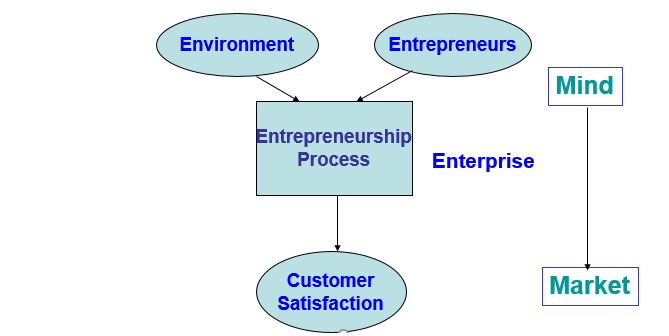 Startup Failure and Entrepreneur-
Entrepreneur's Competency Traits
Being Entrepreneurial means -
Innovative, risk taking, dynamic, flexible, growth-oriented, creative
The following are the  competency  traits of any entrepreneur. The success depends on the mix. One may not have all competencies but certain competencies are critical for success.
Initiative
Seeing and acting on opportunities
Persistence
Information seeking
Concern for high quality of work
Commitment to work contract
Efficiency orientation

Systemic planning
Problem solving
Self-confidence
Persuasion
Use of influence strategies
Assertiveness
Startup Failure and Entrepreneur-

Most common traits of entrepreneurs who end up failing. 

(Reference Business Insider.com)
No matter how great your passion and vision, a few bad habits can drive a promising business into the ground.
Clay Clark, CEO of small-business resource Thrive 15. He has consulted with entrepreneurs for years, and after hundreds of clients and his own experiences, he's noticed several recurring traits of business owners who fail.
1.    We've summarized them below.
2.   They failed to listen to and apply market feedback.
3.   The owner or founding team focuses so intensely on getting the business off the ground that there is little in place to keep it afloat.
4.   Entrepreneur with a strong but specific set of skills trying to fulfill too many roles, especially ones in which he or she has no experience.
5.    Poor management can take many forms, but an unwillingness or inability to delegate can be particularly detrimental to a fledgling startup.
6.They make excuses.
 7.They blame others or outside forces.8. Failing business owners are often too proud to admit they don't know something about running their company.9.They hesitate to make decisions.10 They have not defined a clear direction for the company. 11They are unable to handle confrontation.12They are not organized.
13. They are bad marketers.
Big-picture thinking
Entrepreneurs who are less likely to succeed obsess over details 21 per cent more than those who have found success, while classic big-picture thinking - taking in the whole scope of the business, strategy and direction - is found to be 30 per cent higher in those who have achieved early-stage venture success.identifying your own strengths and blind spots within can put you in a great position for fostering success in business.
Michelle Duval
https://www.businessinsider.in/15-Traits-Of-Entrepreneurs-Who-Fail/articleshow/36315623.cms
Honest Wrong Beliefs
1.Believe lowest price win
Believe lowest price wins. If you believe the lowest price is the reason people buy things, you will always find yourself suffering with cash flow and should become a clerk at WalMart or a waiter in a restaurant. 99.9% of all products on this planet can be replaced by cheaper alternatives. Most of the things that are purchased are not necessary to have, so if a person wanted the lowest price, the thing to do would be to not buy it at all. Price is actually a myth and not the reason people buy anything. Grant Cardone- Huffington Post
2. Believe persistence and pressure is a bad thing.
People normally do not make decisions without someone insisting on it. If you despise pressure or persistence you will find it taking forever to get your business working. Michelle Duval
Startup Failure and Entrepreneur- Recommended Book
"Thrive: How to Take Control of Your Destiny and Move Beyond Surviving... Now!"- -Clay Clark
He lists 15 of the most common traits of entrepreneurs who end up failing. 
THRIVE by author and Serial Entrepreneur Clay Clark, is a practical guide on how to specifically go from just surviving to thriving. It is great for anyone who is dissatisfied with where they currently are in life. If you have a functional brain and you embrace the truth that entrepreneurship is a viable option to take you from where you are to where you want to be, this book has the power to change your life. You now might be asking yourself, "What is an entrepreneur?" Basically, an entrepreneur is someone who seeks to solve a problem in the world in exchange for enough monetary compensation to achieve their own personal dreams.
Book Review-djraven
For anyone who owns a business that is on the verge of failure, struggling to get to the next level or has the desire to become an entrepreneur ... THRIVE by Clay Clark is a MUST read !! Yes it has great information and great stories ... my favorite things though are the lists. Lists, lists , lists. Lists of questions to ask yourself about your goals, lists of areas to grade yourself in, lists of other books to help you thrive and more. This book leaves you armed to the teeth for the adversities that come in life and leaves you with a mind set that says "I can do this !!" I keep a copy in my "man purse" as my entrepreneurial survival guide. It gave me knowledge I didn't have and action steps to take TODAY !! Edison said it best " Knowledge without application is meaningless"
<iframe style="width:120px;height:240px;" marginwidth="0" marginheight="0" scrolling="no" frameborder="0" src="//ws-in.amazon-adsystem.com/widgets/q?ServiceVersion=20070822&OneJS=1&Operation=GetAdHtml&MarketPlace=IN&source=ac&ref=qf_sp_asin_til&ad_type=product_link&tracking_id=10minutebicom-21&marketplace=amazon®ion=IN&placement=0996003207&asins=0996003207&linkId=aef2f5e31d2223bf8b5ac6ca38edbbe0&show_border=false&link_opens_in_new_window=false&price_color=333333&title_color=0066c0&bg_color=ffffff">
    </iframe>
https://www.amazon.in/b/ref=as_li_qf_br_sr_il_tl?ie=UTF8&node=976389031&tag=10minutebicom-21&camp=3638&creative=24630&linkCode=as2&linkId=96ff3bcf3ec2ff3c1b392c6420435d15
Startup Failure and Entrepreneur- 

Conclusion
The competencies of entrepreneur are critical for success.
A self-assessment of ones competencies before investing resources will improve chances of success.
"A good plan executed now is better than a perfect plan executed next week."- Gen. George S. Patton
​