Startup Ecosystem
A startup ecosystem is an enabler and catalyst for promoting entrepreneurship in any community. The 21st century has provided innumerable support systems. The support systems are from governments, academic institutes and individuals with wealth to invest or entrepreneurs keen to support ventures as business coach/mentors.
Technological developments have been a big boon for startup business. This has helped in lean startups and also one can start by bootstrapping instead of depending on external funding.
A startup ecosystem is formed by people , startups in their various stages and various types of organizations in a location (physical or virtual), interacting as a system to create new startup companies.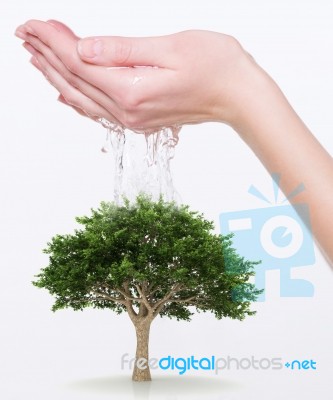 Image Source: Idea Go
Startup Ecosystem - Failure a Deterrent for Startup Businesss
Society and its honest wrong beliefs have an impact on any individual. The word FAILURE is completely unacceptable and this is dinned or drilled into our psyche from our early childhood.
Middle class aspirations have always been for a steady monthly income with all material possessions like house, car, etc.
Business is associated with risk and we need to avoid risk at all costs.
Paradigm Shift
The birth of many successful business icons and the opportunities they created changed the attitude of society.
The success of Bill Gates and Microsoft, Silicon Valley, Steve Jobs, e- bay, Amazon etc. created a strong tailwind to propel many small businesses.
Infosys has been a catalyst in India with the success of Mr.Naryanamurthy, from a middle class background. And only with a capital of INR 10000.   
However, it's important to highlight -and repeat over and over- that creating a startup and building a lasting company is not an easy task. Most startups close within the first two years of operations, thus increasing the importance of understanding that failure is part of the entrepreneurship and an experience people can learn from.
The ecosystem has certainly helped in reducing the failures. 
Startup Ecosystem
"What we want from Government is mentorship and handholding of startup entrepreneurs."- Pranshu Bhandari- Culture Alley
1, Government
The government's role has two components.
i)                  Policy Making
The policies of government both at federal level and individual states is to create a conducive climate for anyone to start a business. Tax incentives, well developed infrastructure, skilled manpower and of course, availability of capital through financial institutions.
Governments want to ensure that businesses are started not only in Metros but also in smaller towns and villages.
In India, there is a separate Ministry- MSME realizing the importance of creating small businesses.
Government is focusing on women entrepreneurs by providing collateral free loans.
ii)               Institutional Support
                                           I.            Research Laboratories
                                        II.            Material Testing Labs
                                     III.            Raw Material availability
                                      IV.            Promotion of Exports
                                         V.            Technical Training Institutes for skilled manpower (Vizag attracted a textile exporting unit due to availability of tailors from Government Institutes from nearby towns)
                                      VI.            Land Bank and Industrial Corridors
2.Academic Institutes
The Engineering and Management Colleges have realized the importance of promoting Entrepreneurship in their campuses.
The IITs actively support incubation of ideas among students by encouraging them to prepare business plans and participate in competitions. IIT- Madras & IIT -Kanpur have played a major role. They also support community entrepreneurs in their incubation centers by taking a 3-5 % equity in their ventures.
IIMs in Ahmedabad, Bangalore have well-established processes to promote entrepreneurship.
EDII- Ahmedabad has supported small businesses by conducting training programs and also has a two-year PG course in entrepreneurship.
ISB- Hyderabad is focusing on family businesses.
Entrepreneurship research and Entrepreneurship courses to all students to create awareness is the latest trend in almost all academic institutions. 
3. Industry Associations & Trade Bodies 
NASSCOM, FKCCI, CII etc. have representations in Government Policy making bodies. They help in removing policy hurdles and provide training and skill building activities. 
4. Corporates
In order to promote innovation , corporates  encourage intrapreneurship among employees. Corporate Entrepreneurship is a strategic initiative to nurture new businesses. Funding, Mentoring and market access is a critical support for budding entrepreneurs. Google, Microsoft, Yahoo, Cisco etc. are some of the MNCs who are  in the forefront.
The 10K women entrepreneurs development program initiative launched by Goldman Sachs   in collaboration with leading academic Institutes to give formal management   inputs has created a vibrant women entrepreneurs community across several countries
5. High Net Worth Individuals(HNI) 
The HNI Community have started investing in technology ventures for which capital was not available from traditional sources. Seed funding, Angel Investment and venture capital by HNI is supporting startups at different stages of their ventures. They not only provide funding but support as mentor and making available their network for the success of the startup businesses.
The erstwhile top management team of Infosys has supported several ventures. Ratan Tata, post his retirement, has actively invested in e-commerce startups. 
6. Mentoring/ Coaching Communities
National Entrepreneurship Network (NEN) has created a platform on cloud for mentors and mentees.
IIM-Bangalore through their NSRCELL(Incubation Center) is providing mentoring support.
Professional Business Coaching is also provided by many individuals. 
"There has been a 50% jump in the women participating in the startup ecosystem in the last two years."- Shaili Chopra- She The people
Startup Ecosystem- A few Examples
1.Urban Ladder which makes and sells furniture has attracted $ 77 million funding and counts Ratan Tata has one of its angel investors.
2. 25 and counting: Ratan Tata & startups' love story continues- Source-Your story 
3.COVERX an online distribution platform  has received funding from N.R. Narayan Murthy's private investment firm Catamaran Ventures.
4. Mohandas Pai participated in a $8 million Series-A funding of Zoom Car in October 2014, along with Sequoia Capital.
Startup Ecosystem - The 10 Hottest in the world

(Source-Sparklab Global Venture)
Seoul, Tel Aviv, Singapore, and London which have strong eco system which gives us a unique viewpoint on what is trending in terms of technology and innovation across the globe.
Last year, we began an annual analysis of the top global startup ecosystems in the world, and we've just completed our analysis this year. Silicon Valley, New York City, London, Stockholm, Berlin, Tel Aviv, Beijing, Seoul, Los Angeles, and Boston won out.
To find this top 10, we looked at eight factors: Funding Ecosystem & Exits, Engineering Talent, Active Mentoring, Technical Infrastructure, Startup Culture, Legal & Policy Infrastructure, Economic Foundation, and Government Policies & Programs. We aren't releasing the specific category scores until later this year since we are expanding this list to at least 20 cities. But for the first time we are revealing the cumulative scores (out of a total possible 80 points) with specific rankings: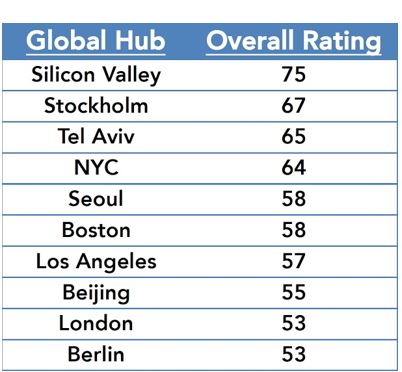 Startup Ecosystem- Conclusion
We can loudly proclaim that no time is better than today for starting businesses. There are several hands both from Government and private sector to strengthen the startup eco system.
A strong ecosystem is supporting right from ideation, implementation, marketing of products/services, seed funding for startups.
Technology is an enabler for lean startup.
'Startup Ecosystem is growing faster than in US'- Dave McClure Founder 500 Startups