Y

U

M

M

Y 

RECIPE 

CORNER 


Aspiring Blogger Series # 11
Yummy Recipe Corner 4
SPICY CHICONUT-CHICKEN THORAN 
Are you Ready to Savor -(CHICKEN STIR FRY WITH COCONUT)
Sweta Verma MBA 2nd Sem.-AIMS-Bangalore
Yummy Recipe Corner-4

A new name given to one of the most traditional chicken dish of Kerela. It is a classic chicken preparation of Kerela. The boneless chicken pieces cooked in an earthenware pot or man chatty along with spiced grated coconut. The interesting part of this dish is the slow mixing of spices, coconut oil and curry leaves, which gives the dish rich and aromatic flavor. It is simple to prepare and tastes so delicious. It pairs well with almost anything you can think of – flavored rice, ghee rice, kerela parotha and with any Indian bread.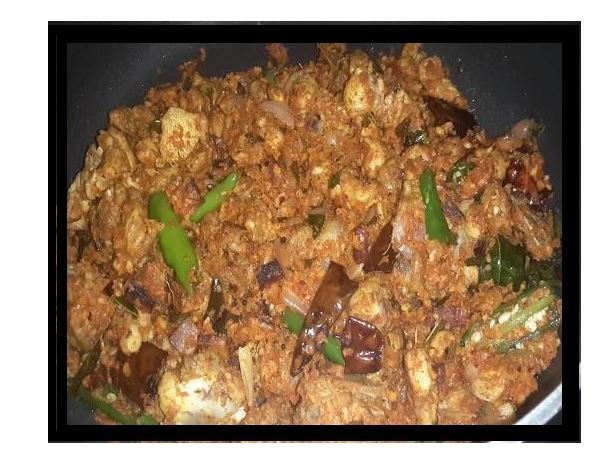 YUMMY RECIPE CORNER 4: KERELA CUISINE
When it comes to Kerela cuisine, it is well known for spices or known as "land of spices" and that's why so diverse and distinct from the rest of India. The intoxicating aroma of spices and mouth tingling local recipes tempts people to come back again and again to the gods own country. It offers multitude of both veg and non veg dishes prepared using fish, poultry, red meat with rice as a typical accompaniment.
Kerela food is traditionally served on a clean green banana leaf. Coconuts grow all over the coastline of kerela and consequently coconut shells, grated coconut shavings and coconut milk are commonly used in dishes for thickening and flavorings. The long coastline and rivers have resulted in strong fishing industry that supports the seafood obsession that most keralites display. Rice grown in abundant and could be said along with Tapioca to be the main starch ingredient used in Kerela food. So, cooking in Kerela is all about spices, aroma and texture.
YUMMY RECIPE CORNER: FAMOUS DISHES OF KERALA
Dosa, Appams (thin pan cake made with fermented rice flour), Banana chips, Tapioca chips, Coconut Toddy (special drink), Masala fried prawns (prawns curried in gravy with coconut milk and spices), Kanji (rice gruel), Kerela fish curry (fish marinated in spices and cooked in coconut and tamarind), Payassam (famous dessert made with milk, coconut extract, dry fruits, sugar etc and many base constituents such as dal, vermicelli etc as variations.
BONUS: KERALA ONAM SADYA RECIPES
https://www.yummytummyaarthi.com/2014/09/kerala-onam-sadya-recipes-onam-sadhya.html
Yummy Recipe Corner 4-Ingredients
Boneless chicken- ½ kg
Shallots- 2 cup
Sliced onion- 2 cup
Ginger- 1 tsp
Garlic- 1 tbsp
Green chili-4 to 5
Curry leaves- 4 sprigs
Grated coconut- 1 cup
Red chili powder- 2 tsp
Turmeric- ½ tsp
Black pepper powder- ½ tsp
Garam masala- 1 tsp
Mustard seeds- 1 tsp
Coconut oil- 3 tbsp
Salt- as per taste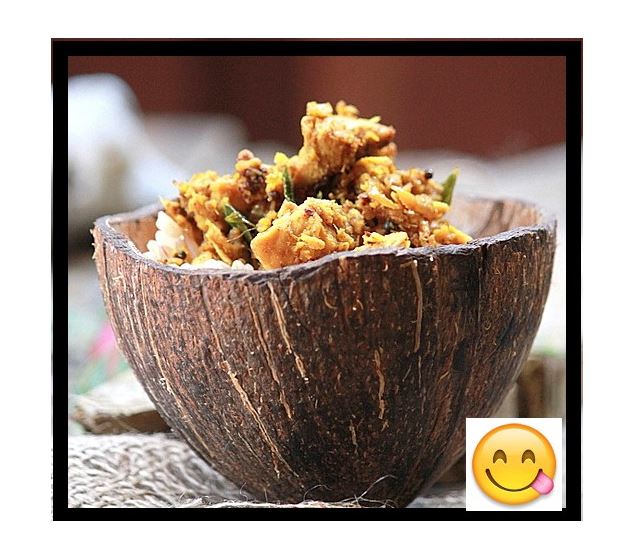 YUMMY RECIPE CORNER 4: METHOD OF PREPARATION
Clean and wash the chicken, drain and cut chicken into very small pieces.
Crush and blend shallots or red onion.
Using your hand, mix grated coconut with 3 sprig curry leaves, green chili, red chili powder, turmeric powder well and keep it aside.
Pour 2 tbsp of coconut oil, add mustard seeds, when crackled add shallots and sauté till it get golden brown.
Add the crushed ginger and garlic and sauté for a couple of minutes.
Add one cup of thin sliced onion and sauté till it get light brown colour.
Add the cleaned chicken pieces and then add the remaining cup of onion, mix well.
Close and cook over medium heat for 10 min or until the chicken is more than half cooked and ooze out water.
Now add remaining turmeric powder, garam masala, salt, black pepper powder, mix well and cook it for 5 more minutes.
Add the spiced grated coconut mixture and combined well.
Then add the remaining 1 tbsp coconut oil and dry roast it in medium heat till  it becomes brown (do not close the lid after adding oil.
Once the chicken mixture have attained dark brown in color and completely dried then remove from the fire.
Preparation time-15 minutes
Cooking time-30 minutes
Tasty and Spicy CHICONUT is ready to serve…………….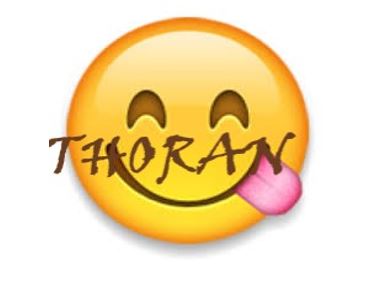 ​