Sales Funnel for Startups
Sales funnel for startups is a customer acquisition process. Hence it is highly relevant. All Startups start with zero customer base.
Sales Funnel for Startups

- Definition
A sales Funnel is the upside-down pyramid that represents the journey potential customers go through to become customers. Funnels are widest at the top and narrow down as a potential customer gets closer to the sale. -Infusion soft
A series of steps that a prospective customer passes through during the process of buying your product. Described as a funnel because some smaller population of prospects still exists at each step. -  startup definition.com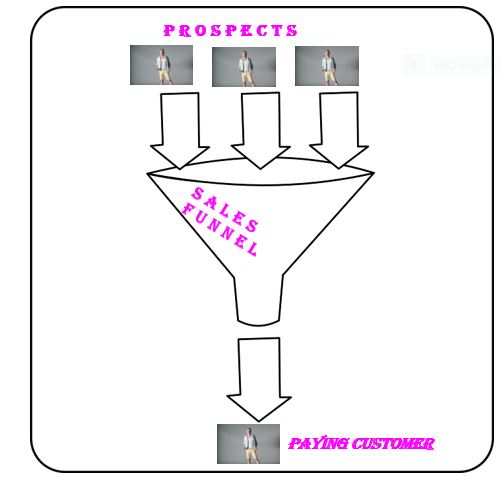 Sales Funnel for Startups- Relevance
The startup has to start from the top of the funnel with as many prospects as possible. This first step can be through friends, network or presence through social media channels. Every sale begins with a large number of prospective customers and ends with a much smaller number of people who actually make a purchase. Generally, there are four steps and each step the number dwindles.
i)Prospects ii) Suspects iii) High Potential iv) Paying Customers 
What is a Sales Funnel?

The definition of the sales funnel (also known as a revenue funnel or sales process) refers to the buying process that companies lead customers through when purchasing products. A sales funnel is divided into several steps, which differ depending on the particular sales model. One common sales process is divided into seven phases including:
Awareness Phase – in which prospects become aware of the existence of a solution.
Interest Phase – in which prospects demonstrate interest in a product by conducting product research.
Evaluation Phase – in which prospects or prospect companies examine competitors' solutions as they inch toward a final buying decision.
Decision Phase – In which a final decision is reached and negotiation begins.Purchase Phase – in which goods or services are purchased.
Reevaluation Phase – in B2B sales it's common for offerings to involve contracts that need to be renewed. As a customer becomes familiar with an offering, and especially as a contract draws to a close, a customer will enter a reevaluation phase during which they'll decide whether or not to renew their contract.
Repurchase Phase – in which a customer repurchases a product or service.
https://www.ringdna.com/inside-sales-glossary/what-is-the-sales-funnel

Sales Funnel- A simple Approach
 It's a really easy process that takes you through four stages that we'll break down even further:
1. Awareness
2. Incentive
3. Lead
4. Close 
http://www.marketingsolved.com/a-simple-sales-funnel-for-any-business/#
Sales Funnel for Startups- Lead Magnet
A lead magnet is something free that you give away in your sales funnel. It's your best stuff! It could be an ebook, cheat sheet, video, PDF, webinar, toolkit, etc. My suggestion is to just find something you already have if you have been blogging for awhile. You can also turn a blog post into a simple PDF or create a resource guide of the tools you use in your business. What is your market asking you for repeatedly? What are the needs of your market and how can you answer them? - classycareergirl.com-Anna Runyan
Sales Funnel for Startups-Recommended Books
1.Sales Funnel Growth: Discover The Secrets To Creating A Sales Funnel That Will Grow Your Business -by  Tom Kustra
Why sales funnels are THE most effective tool for sales
All the tools and resources you need to construct the ultimate sales funnel
1.How to target your audience and bring the right people to the first stage of your funnel
2.How to use persuasive writing to convince people to buy anything
3.How to engage your audience and build trust and real following
4.How to maximize conversion rates
5.How to make people buy from you more than once
6.How to utilize an understanding of psychology to skyrocket your sales
7.What the different options are for your sales funnels
8.How to stand out and be different
<iframe style="width:120px;height:240px;" marginwidth="0" marginheight="0" scrolling="no" frameborder="0" src="//ws-in.amazon-adsystem.com/widgets/q?ServiceVersion=20070822&OneJS=1&Operation=GetAdHtml&MarketPlace=IN&source=ac&ref=qf_sp_asin_til&ad_type=product_link&tracking_id=10minutebicom-21&marketplace=amazon®ion=IN&placement=B01LW9AUL9&asins=B01LW9AUL9&linkId=da00870f666eaae6332f4186e1f66a12&show_border=false&link_opens_in_new_window=false&price_color=333333&title_color=0066c0&bg_color=ffffff">
    </iframe>

2.Sales Funnel Success Unbound – Alex Major
Building a sales funnel is one of the most important aspects of successful online marketing. With this PLR package, you get a large bundle of content, graphics and supporting material to help you create your own sales funnel training product. You can use this package as is, break it down into parts, change it, alter it, add your branding, add it to membership sites and so on. There are a lot of business owners both online and offline that need access to this information. With this PLR bundle, you have all the tools you need to educate your audience on the best practices of sales funnel development.
Building a sales funnel is one of the most important aspects of successful online marketing. With this PLR package, you get a large bundle of content, graphics and supporting material to help you create your own sales funnel training product. You can use this package as is, break it down into parts, change it, alter it, add your branding, add it to membership sites and so on. There are a lot of business owners both online and offline that need access to this information. With this PLR bundle, you have all the tools you need to educate your audience on the best practices of sales funnel development
Sales Funnel for Startups- Conclusion
The statistics reveal that out of the 100 prospects in the first step only 3-4 make actual purchase. This should sound alarm bells in the minds of any startup as the first step of identifying prospective customers requires time and effort